Media Center Faculty Advisors
With television and radio studios, state-of-the-art control rooms, editing suites and social-stream monitoring technologies, USC Annenberg's Media Center is a high-energy, multiplatform news hub that is the center of our program. Students create work in a variety of formats and gain newsroom leadership experience, with guidance from faculty who have experience in digital, radio, television and public relations.
Christina Bellantoni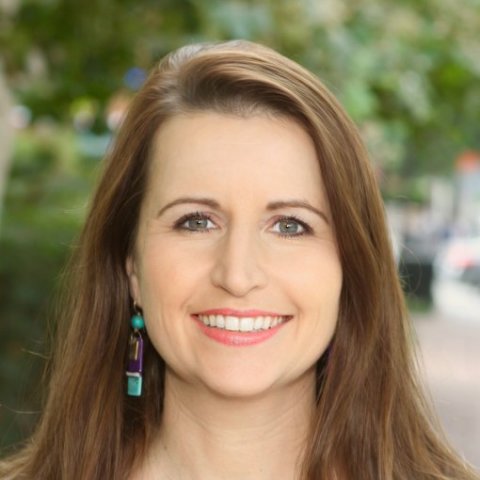 Christina Bellantoni is the director of USC Annenberg's Media Center. Over her 20 years in journalism, Bellantoni worked as a reporter and editor, behind the camera as a producer and in front of it as an analyst on national television. She has covered local, state and federal government, along with four presidential campaigns and the White House. At the Los Angeles Times, Bellantoni was a member of the masthead as an assistant managing editor. She came to the paper to create a politics project that would increase coverage of the state's power centers and congressional delegation, and reach the audience in new ways. 
Twitter: Christina Bellantoni
---
Dan Birman

Long Form Video Advisor
Dan Birman is the executive producer of Impact, the award­-winning news magazine and documentary series produced by Annenberg students and based at the media center. Birman is an award­-winning documentary producer and director whose many credits include programs for CuriosityStream, PBS, Discovery, TLC, Science, Nat Geo, and others. Birman is currently developing a documentary series with acclaimed author Thomas Cahill (How The Irish Saved Civilization, The Hinges of History).
Twitter: Dan Birman
---
Laura E. Davis

Digital Advisor
Laura E. Davis is the digital news director at the Annenberg media center. She joined Annenberg from BuzzFeed, where she was instrumental in developing its mobile news app. Davis also served as the deputy mobile editor at The Los Angeles Times, an editor at Yahoo News and a reporter for The Associated Press. Davis writes about digital journalism and is regarded as a pioneer in the fields of push notifications and social media.
Twitter: Laura Davis
---
Jenn de la Fuente

Web Developer
Jenn de la Fuente is Annenberg media center's developer. She runs her own web design and development company and spent ten years in journalism, primarily in sports. Her experience includes reporting, copy editing, and digital production for several publications including the Orange County Register, Arizona Daily Star, The News Journal (Wilmington, Del.), and The Sacramento Bee.
Twitter: Jenn de la Fuente
---
Rebecca Haggerty

Video/Digital Advisor
Rebecca Haggerty is the director of video and multimedia at the Annenberg media center. She has a background in broadcast and digital journalism, most recently as co­-executive producer of the public television program SoCal Connected, which won two Emmys during her time there. She also spent ten years at NBC News as a producer at Dateline and was the senior web producer for an international news program aired on public television. Haggerty has a doctorate in education from USC, where her research focused on motivation, creativity, and hands­-on learning.
Twitter: Rebecca Haggerty
---
Matthew Le Veque

PR advisor
Matthew Le Veque has more than 25 years of experience in integrated communication campaigns for a wide range of nonprofit and commercial entities. His areas of expertise include integrated campaigns, digital and social media, and emerging communication channels for public relations. Le Veque runs the real­time social data desk at the Annenberg media center where he trains students on enterprise software such as Salesforce Marketing Cloud and Crimson Hexagon to listen and analyze topics, trends, and conversations on the social web.
Twitter: Matthew Le Veque
---
Stacy Scholder

Video Advisor
Stacy Scholder is the director of Annenberg Television News. Scholder is an Emmy­ award-winning television news producer with more than twenty years of experience at local news stations in Los Angeles and New England. She oversees the student productions of Annenberg Media's live daily newscast as well as the media center's sports and politics coverage. Scholder has trained journalists now working as producers, reporters and media specialists across the country.
Twitter: Stacy Scholder
---
Willa Seidenberg

Audio Advisor
Willa Seidenberg is the director of Annenberg Radio News. Seidenberg oversees Annenberg media center's radio news operations. Prior to joining Annenberg, Seidenberg worked as a broadcast journalist for more than twenty years. She reported and wrote for public radio stations in Ohio and Massachusetts and local television stations in Boston and Los Angeles. She is the co­-author of the oral history/photo project: "A Matter of Conscience: GI Resistance During the Vietnam War" (published in 1992), which she produced with photographer William Short. "A Matter of Conscience" continues to be exhibited nationally, along with Seidenberg and Short's second oral history/photo project called "Memories of the American War: Stories From Viet Nam."
Twitter: Willa Seidenberg
---
Megan Chao

Impact Adjunct Advisor
Megan Chao is the line producer and online editor for Impact, the student-produced newsmagazine and documentary series based in the Annenberg Media Center. For nearly a decade, she has been an award-winning nonfiction television producer and editor, whose credits include shows that have aired on PBS, TLC, Discovery, and CuriosityStream. Prior, she was a health and science journalist who published in journals and online.
Twitter: Megan Chao
---