A New Paradigm
At a time when communication, journalism and public relations are at the heart of our culture, commerce and politics like never before, the USC Annenberg School for Communication and Journalism is uniquely positioned to lead the way forward and shape the future of the digital age. Our academic rigor puts us at the very top of the world's communication schools, and the excellence and energy of our faculty, students, facilities, technological capabilities and connections with our industries of practice are second to none. To lead and navigate rapid change, we need a new paradigm — one which will drive three priorities in the years ahead: new connections, new foundations and new conversations. Critical to the success of these priorities is you. Your support of these initiatives will empower students and faculty to disrupt, transform and lead the communication and media industries into the future.
Giving to USC Annenberg
Your Gift at Work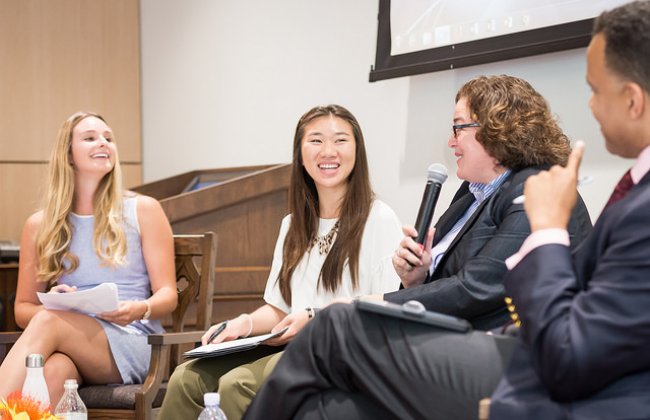 How Your Gift Helps
Your investment in USC Annenberg will:
Provide scholarships for today's best and brightest young scholars
Recruit and retain award-winning faculty whose personalized approach to teaching adds incalculable value to the Annenberg experience
Offer our students cutting-edge facilities and technologies that are the envy of journalism and communication schools worldwide
Underwrite research that impacts the way we live, work and communicate as individuals and members of society
Strengthen Annenberg's long-term reputation for academic excellence
For more information on how you can make a difference, call (213) 821-1660. Or to make your gift online now click below.
Contact Us
USC Annenberg School for Communication and Journalism
Development and Alumni Relations
3502 Watt Way, Suite 304
Los Angeles, California 90089-0281
(213) 821-1660 phone
(213) 740-3772 fax
ascalums@usc.edu - Alumni
ascfams@usc.edu - Parents

To contact members of the Development staff, please click here.