Celebrating the Classes of 2020 and 2021

Celebrating USC Annenberg's Graduating Classes of 2020 and 2021
USC will host commencement ceremonies to confer the degrees of graduates for the Class of 2020 and the Class of 2021 at the Los Angeles Memorial Coliseum. Socially distanced ceremonies will take place at a limited capacity. The ceremonies will take place twice a day from May 14 through May 25. The date and time of USC Annenberg's ceremony in the Coliseum will be assigned once RSVPs are received from all graduates.
In addition to the in-person ceremony, USC Annenberg will also host a virtual celebration for the Class of 2021 on Thursday, May 13. More information on this event, including the time, will follow.
Further questions may be directed to University Events at acevents@usc.edu.
Important Information and Reminders
Graduating students are required to RSVP, whether they can attend the in-person commencement ceremony or not, by April 15. Graduates should have received an email from Marching Order with the RSVP link; they may also log into usc.marchingorder.com with their USC email address.
2020 or 2021 graduates who did not receive an email from Marching Order to register for commencement, may fill out the form here to be added. Once the form has been submitted, please wait up to 48 hours for an email from Marching Order.
December 2021 graduates, who wish to walk this May, may submit the form here to be added to the list.
Graduates, who are unable to attend the in-person ceremony, may fill out the request form here to have a printed Commencement Program and/ or a Diploma cover mailed to them.
For graduates whose school and/or program is listed incorrectly in Marching Order, please contact University Events at acevents@usc.edu. Continue with registration regardless of the error and check back later in Marching Order to confirm the correction has been made. If your registration still shows the incorrect information by April 13, please contact acevents@usc.edu once more.
Regalia is required for the commencement ceremony in the Coliseum, and is available to rent or purchase through the USC Bookstore here. Graduates may order regalia via the USC Bookstore website, and it will be shipped directly to their homes. There is currently no option to pick up regalia on site the day of the ceremony. Please direct questions regarding regalia to gradproducts@usc.edu.
Undergraduate students, who earned a minimum 3.5 GPA, will receive honor cords. Eligible graduates will be contacted by USC Annenberg to receive one. Honor cords are free of charge and will be mailed prior to commencement.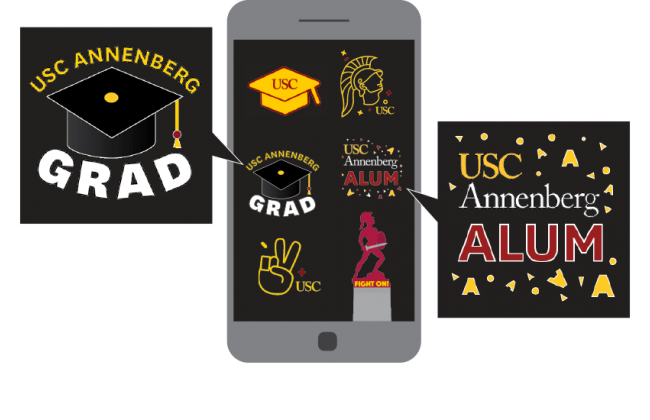 USC Annenberg Instagram GIF pack
Show your USC Annenberg pride and commemorate your accomplishments with these new USC and USC Annenberg animated GIFs. You can find them on Giphy or on Instagram by searching for USC or USC Annenberg. Make sure to use the hashtags #ASCJ and #USCGrad in your posts!