Dean's Report 2019

This year, inspired by our students' talents and commitment and the support of our USC Annenberg community, we strengthened our academic foundations, fostered new intellectual connections and reinforced our position as a thought leader.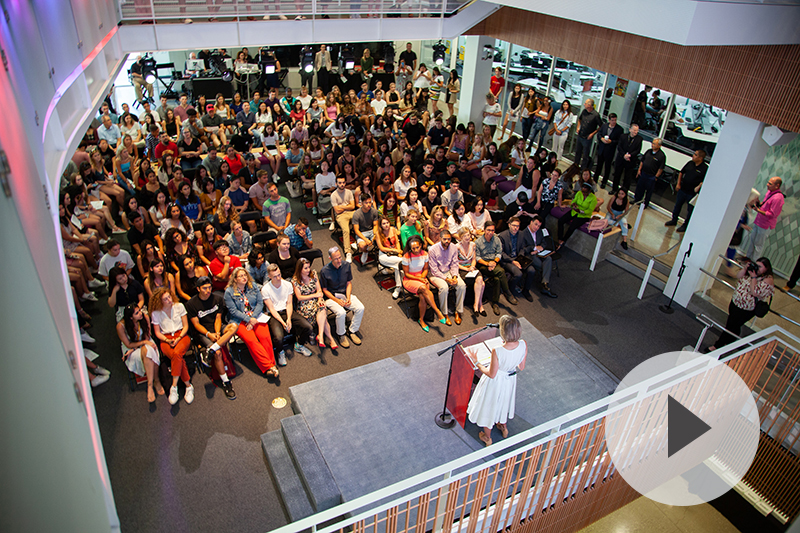 As we prepare the next generation of leaders who will transform our fields, we offered meaningful opportunities to engage with scholars and industry experts. Fostering conversations globally, nationally and locally around critical issues facing our society and reshaping our industries of practice, we advanced our understanding of the important role communication, journalism and public relations play in this era of complex and rapid change. Our events and public programs combined with the media's coverage of our faculty and student's research, reflect our robust engagement with the issues — scholarly and professional — that is essential to propelling our academic disciplines and industries into a vibrant future.
Willow Bay
Dean, USC Annenberg School for Communication and Journalism
Walter H. Annenberg Chair in Communication
Critical Conversations
Our position at the heart of Los Angeles and USC provides the perfect epicenter for advancing dialogue among scholars, industry leaders and cultural icons. This year, we learned about race, gender and identity from Nigerian author, cultural critic and feminist Chimamanda Adichie. We talked with Academy Award-winning actor Mahershala Ali about how he maintains a deep sense of purpose and intentionality. Actor and director Elizabeth Banks explored the importance of female-driven projects. This Fall, our students took center stage to question 2020 presidential candidates about their climate change proposals as part of MSNBC's Climate Forum.
275
events hosted by USC Annenberg
By the Numbers