For doctoral students, presenting their dissertation topics in front of relative strangers is an often nerve-wracking part of the PhD process. The 21 students who gathered in the Sheindlin Forum in Wallis Annenberg Hall the week of June 3-8 faced added wrinkles: Most of their dissertations weren't finished yet, and their audience included not only their peers from many other top universities, but also several tenured and tenure-track professors.
In his opening remarks for the 2019 USC Annenberg-University of Pennsylvania Annenberg Summer Doctoral Institute on Difference in Media & Culture, Josh Kun, director of the School of Communication at USC Annenberg and Chair in Cross-Cultural Communication, implored the students to relax. He noted that the institute was intended as a workshop and mentoring space — "a place of safe failure, a space to [mess] up a little bit," he said, using more colorful language, to a round of hearty laughter.
"These institutes, to me, are the most important work that we do as faculty," Kun said, both in terms of the work itself, in terms of "building the community that this work requires, and in creating new models of scholarly kinship and connection."
Running from about 9 a.m. to 4 p.m. Monday through Friday, the institute allowed the doctoral students to present overviews and excerpts from their work. Each would then field questions and feedback not only from their peers, but from the professors serving as mentors for the week.
Like Kun, most of the faculty were from USC Annenberg, including summer institute director and Associate Professor Taj Frazier; Assistant Professor Allissa Richardson; Associate Professor Ben Carrington; and Assistant Professor Cristina Visperas. Also offering tips and comments to the doctoral students were former Visiting Professor Safiya Umoja Noble, who is now at UCLA, and Professor Michael X. Delli Carpini of the University of Pennsylvania.
The doctoral institute, established in 2014 by then-USC Annenberg Professor Sarah Banet-Weiser, has been held three times before. After taking a year off, the institute returned this year with Frazier as the new director, and with a new collaboration with Penn.
"This is an opportunity for students to workshop a chapter, workshop an idea," Frazier said. "We really want it to be an environment that nurtures and nourishes their work."
This year's cohort included five doctoral students from USC Annenberg and one from USC Cinematic Arts, with the remaining 15 coming from the University of Pennsylvania, Northwestern University, Vanderbilt University, New York University, Columbia University, the University of Washington and UCLA.
All of the student participants gave 30-minute presentations on their dissertation topics — but all of them were at slightly different stages of the process. Some presented overviews and/or chapters that were complete or nearly so, while others were using the institute as a forum for thinking about potential directions for dissertations that were still nascent.
Many of the participants found the unstructured time at least as valuable as the panel discussions as they engaged with both their peers and their mentors. "Lunch was like office hours," Visperas said.
Carrington, for his part, exhorted the participants to offer substantive, frank critiques of each other's work. "Don't sugarcoat anything in this kind of space," he said.
Appropriately for the field of communication, many of the presentations examined aspects of popular culture and media, often from the perspective of critical race theory or gender studies, zeroing in on areas of putative mainstream consensus that they sought to "problematize" or "complicate."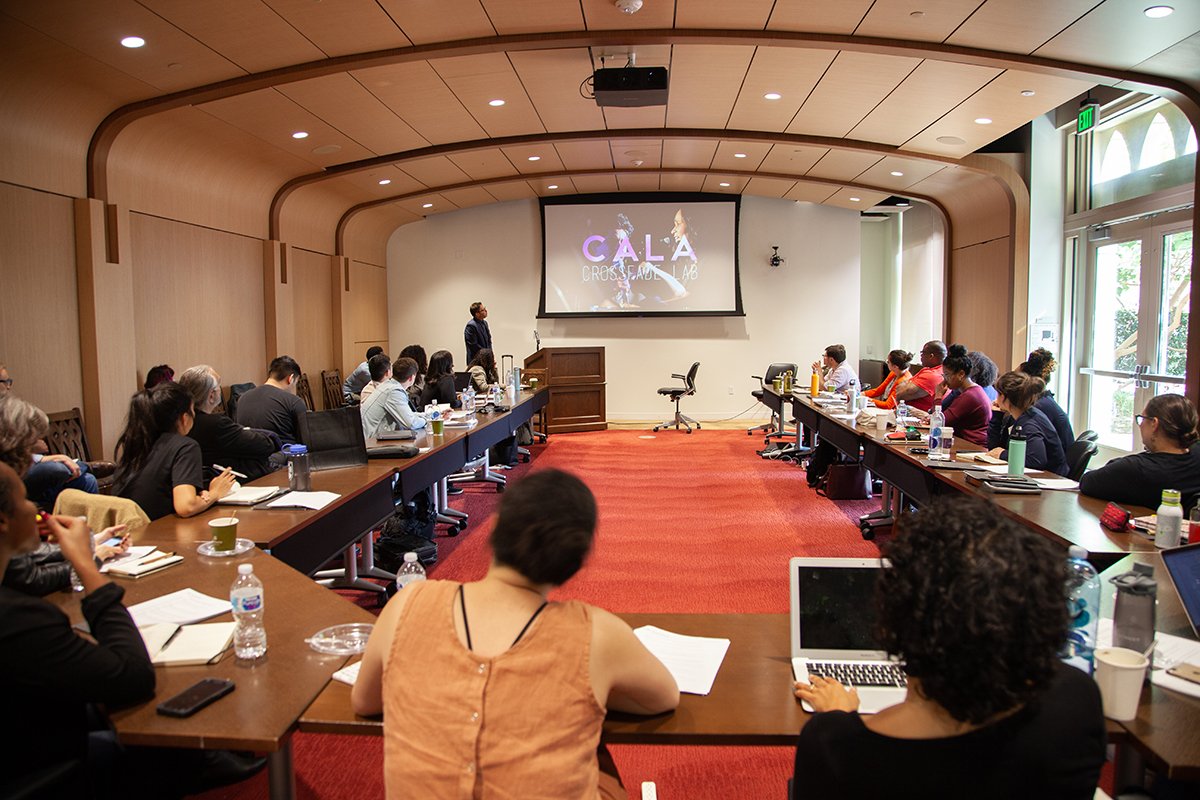 Photo by: Olivia Mowry
Among the USC Annenberg participants, Brianna Ellerbe explored how representation and messaging in children's television affects "the construction of childhood"; Azeb Madebo reviewed her ideas on how to approach the communications strategies and techniques used in recent Ethiopian politics; Sulafa Zidani shared her preliminary work studying the use of bilingual memes, looking for the political meaning in the mixing of cultures; Matt Bui discussed how his dissertation will examine the proliferation of urban datafication and data science in the city of Los Angeles, focusing on questions of racial equity and justice; and Lauren Levitt went over a chapter in her dissertation on how sex workers at a New York City BDSM dungeon cared for each other's physical health and well-being.
"I took away a greater appreciation for the deep and cutting-edge scholarship I'm exposed to through the stellar faculty here at USC," said Bui, who is in his final year at USC Annenberg. "It was also great to meet other students from across the nation with very different interests but similar core values in their work."
Each of the faculty members also gave presentations. While most gave an overview of their own scholarly and professional work, Carrington used his presentation time to contrast the confident and polished presentations of the professors with the sometimes more tentative offerings of the doctoral students — though one student joked, "Ours are better designed!"
Carrington emphasized that he wasn't critiquing the substance of their work, only their performance. "You need to be prepared to perform well. Say what's at stake, and why it matters."
The turning point for all academics, Carrington said, comes when "you stop speaking in the language of your supervisors, and start speaking in your own voice."