"I seem these days always to be in search of what is affirming," said Chimamanda Ngozi Adichie. "I am desperately drawn to what is meaningful, what is human, what is beautiful."
Upon accepting the USC Norman Lear Center's 2019 Everett M. Rogers Award, the Nigerian author, cultural critic and feminist noted how deeply encouraging it was to be in the company of past honorees and their scholarship.
Adichie is the author of six books, including Americanah, which won the National Book Critics Circle Award and was named one of The New York Times' Top 10 Best Books of 2013. Her "The Danger of a Single Story" is one of the most-watched TED talks of all time. A MacArthur "Genius" Fellow and a member of both the American Academy of Arts and Letters and the American Academy of Arts and Sciences, she was named one of TIME magazine's 100 Most Influential People in the World in 2015.
On Feb. 7, a crowd of hundreds gathered in the Wallis Annenberg Hall Forum as Adichie was honored for her inspiring contributions to the global conversation about gender, race and identity.
Lear Center Director Martin Kaplan hailed Adichie for her gifts as a storyteller to inspire and empower.
"Chimamanda Ngozi Adichie uses stories to grow our empathy and our aspirations," Kaplan said. "In her fiction and her essays, in her novels and her talks, she weaves her insights into the narrative of human experience."
Dean Willow Bay echoed Kaplan's praise for the impact of Adichie's storytelling. "We must be deliberate in recognizing and celebrating the power of stories, but we must also be deliberate in naming and celebrating our storytellers," Bay said.
Bay also introduced special guest presenter Danai Gurira, an actor, playwright and activist best known for her roles Okoye in the film Black Panther and as Michonne from the television series The Walking Dead.
In introducing Adichie, Gurira spoke of their work together in adapting Americanah into a television miniseries. She also recognized how deeply Adichie's writing has spoken not only to her own journey, but to countless others.
"Her body of work proves that great storytelling, storytelling that is courageous and unflinchingly pursues the truth, storytelling that delves with specificity and complexity into places both uncomfortable and unexpected," Gurira said. "That sort of storytelling is universally appealing and shatters seemingly insurmountable walls about whose stories get to be boldly told. That sort of storytelling forms bridges, bringing us all that much closer together on equal footing."
In Adichie's own words, here are four takeaways from her remarks, which included an audience Q&A.
Fake news and the what ifs
As a storyteller, I'm interested in the singular and the specific, because from this, I believe springs the universal. And I'm also interested in the idea of what is possible. I read all genres, I like to think of myself as a very catholic reader, but one genre that I've had very great difficulty getting into is speculative fiction. And yet I found myself thinking in speculative terms lately. So what if? What if everyone simply refuses to use the expression "fake news"?
Because it is saying that over and over again that gives it legitimacy. There is inaccurate news, there's biased news, there's incomplete news, but that expression "fake news" is heavy with the ugly connotation that journalism is some kind of deliberate conspiracy. It is not.
And the man who has made that expression, "fake news," so common really just uses it to mean news that he does not like. Whether it is true or not is irrelevant. What if? What if journalists all over this country decided to burn, forever, that idea of false equivalences?
What if? What if instead of focusing on balance, we focused on truth? What if we stopped pretending that both sides of an issue are equal, when they are not? What if we decided that news should not entertain us, but should inform us and educate us? What if we all agreed that we have to be nimble and alert and clear-eyed and skeptical, that we have to be active rather than reactive?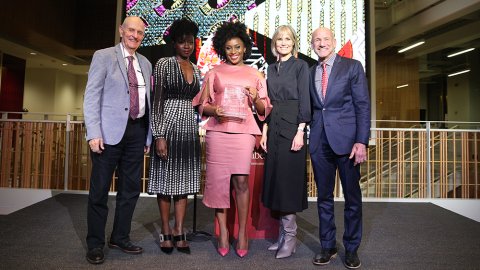 Photo by: Katie Chin
The link between critical thinking and empathy
There are, today, valid and worrying concerns that face our future as humans. There's inequality, gender, racial, economic, there's climate change [and] artificial intelligence, but I find myself most worried about the possible death of critical thinking, and consequently, the death of empathy.
Because both are central to how we understand and deal with all of the other challenges we face. It might seem odd to connect critical thinking and empathy, but the two are related. If we are able to think critically, then we're more able to exercise empathy. Critical thinking is, quite simply, the ability to think clearly. To hold ideas in your mind, to weigh them. To dissect them. And if we're able to do this, then we're able to truly see other human beings.
Kalu Makan says that to read a book is to be alive in a body that is not your own. And I would broaden that to storytelling, to listen to stories is to be alive in a body that is not your own.
That, for me, is the best example of that link between critical thinking and empathy. To be alive in a body that is not your own. To hear another person's story. To truly see another person. And this matters. It matters because empathy and critical thinking are starting points, will radically change the way we deal with everything.
'Stop canceling people'
On the one hand, there's something I find very encouraging about activism, about young people who are all really, I think, coming from a well-meaning place, which is that they want better for everybody. What worries me is that … it very often feels quite extreme in the way that it seems like people no longer think of people as complex humans, that one slip and you're done, right? And people say you're canceled and you're no longer relevant, and it seems to me not a very productive way of thinking about these things, and also really not practical because we're all flawed, and in some ways, then it becomes a question of how many flaws can you take?
So, what I would say … is it's not so much that you shouldn't call people out … it's also that maybe you should read a little more. And I'm not kidding. And by read a little more, I mean don't have an opinion until you look at the primary source…. And maybe just read things that are outside of social media. I think sometimes context is lacking in the way that things are seen….
The people who are canceled are actual human beings who often mean well…. I was talking to a young person the other day and I said, "Well, do you want to know what they really think?" She said, "No, no, no, I already know the world." So that's bad. It's almost as though … there's no room for nuance, there's no room for sort of expanding on what one word means.
Listening, reporting and humanizing
[W]henever the foreign journalist is going to Africa and sometimes they sort of think that I have all the answers to things, right? … [T]hey're like, "So, what should we do when we go to Africa?" And I love having that power, because of course I don't have all the answers, right? But I kind of pretend I do. I'm like, "Yes, well, the thing to do when you go to Africa..." But really what I say is just if it's possible to put everything you know about Africa in a backpack, right? And then leave that backpack behind when you go. That's the way to go. It's just to have an open mind.
I think that often when you're reporting on something, you find yourself trying to make your story aligned to what you already have in your mind…. [I]n general, I would say the problem with stereotypes really, again, is not that they're false ... it's that they're incomplete. And I think what's important in, especially covering communities that are powerless, communities that are marginalized, is that the humanizing of those communities has to be, in my opinion, center stage.
[T]he thing that surprises you about people, the thing that doesn't align with what you expect, often those are the things that humanize people, and in some ways, I think fiction writing is similar…. [I]t's things that surprise me about humanity that I make note of, and those are the things that I find to be worthy of storytelling. And in some ways, I think journalism is similar, and I think that's how we ultimately humanize people and end up not making them stereotypes.
Chimamanda Ngozi Adichie: 2019 Everett M. Rogers Award Honoree

Internationally acclaimed author and global humanitarian Chimamanda Ngozi Adichie is being honored with the 2019 Everett M. Rogers Award. Dean Willow Bay and Marty Kaplan of the Norman Lear Center provide opening remarks, followed by Danai Gurira, actor on Walking Dead and Black Panther. Adichie will be honored for reframing the discourse on race, gender and identity. Join #theafricanarrative Chimamanda Ngozi Adichie Danai Gurira USC Annenberg Norman Lear Center

Posted by USC Annenberg School for Communication and Journalism on Thursday, February 7, 2019
---
For more photos from the event, see the Flickr page.
About the Everett M. Rogers Award
Presented since 2007 on behalf of the USC Annenberg School for Communication and Journalism's Norman Lear Center, the award honors the late USC Annenberg professor Everett M. Rogers, whose Diffusion of Innovation is the second-most cited book in the social sciences. The award committee is listed here.
This piece was also published in the Spring 2019 issue of the USC Annenberg Magazine.