When Houston-area native Kaleigh Finnie was searching for the ideal college experience back in 2013, it quickly became clear that USC was the best fit.
"When we went to visit the school, she fell in love with it right away," said Shaun Finnie, Kaleigh's father. And with her vibrant, outgoing personality and burgeoning interest in journalism and media, she knew that USC Annenberg is where she wanted to be.
"Kaleigh was very high-energy, extremely funny," Finnie recalled. She was the co-captain of her cheerleading team in high school, and when "she was out with her friends, you'd think she didn't have a care in the world," he added.
Finnie said that despite her outward appearance, his daughter could be moody and had received some counseling during her high school years for anxiety. By her senior year, however, she seemed to have improved significantly. Yet, unbeknownst to everyone, Kaleigh continued to struggle with mental health issues throughout her freshman year of college, and in the summer of 2015, while back home in the Houston area, she took her own life.
"After she passed away, we stayed in touch with her USC friends," Finnie said. "We gained an appreciation for the Trojan Family and how much these kids love their school. The more time we spent with Trojans and the more time we spent on campus, the more we realized what a special place USC is."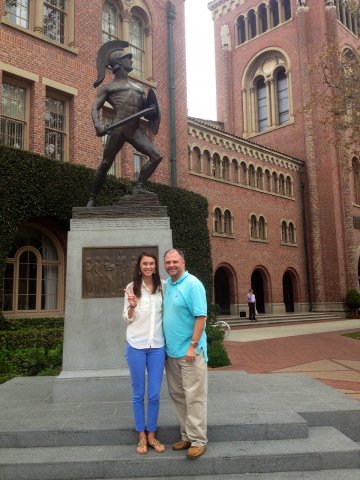 Photo courtesy of the Finnie family
As the family came to terms with their loss, the Finnies decided that, in addition to supporting organizations that promote mental health, a great way to honor Kaleigh's memory would be to support students who are studying mental health issues at the university she loved. The Finnies, in partnership with USC Annenberg, hope to raise meaningful awareness around the critical issue of mental health and bring more widespread attention to the mental health crisis.
With the family's gift, USC Annenberg has established the Kaleigh Finnie Memorial Endowment, a merit-based fund that provides scholarships and awards to USC Annenberg undergraduate and graduate students who will contribute critical research and generate important conversations around mental health.
"Kaleigh was a proud Trojan, and this endowment pays tribute to her life by raising meaningful awareness of the critical issue of mental health," said Willow Bay, dean of USC Annenberg. "We are thankful and humbled by the Finnie family's desire to honor Kaleigh's memory."
That connection with the Trojan Family was highlighted at USC Annenberg's 2018 commencement ceremony — the year Kaleigh would have graduated. "I emailed Dean Bay out of the blue and said, 'Here's who I am, I had a daughter who loved USC. It was her dream school. She passed away after her freshman year, and I'd like to attend what would have been her graduation. How do I go about doing that?'"
The family not only attended the commencement, but were recognized from the podium by Bay. "The fact that Willow was thoughtful enough to do that really touched me," Finnie said. A week later, the Finnies received a diploma cover and special certificate from USC Annenberg honoring Kaleigh, saying that she would be part of the Trojan Family forever.
"I want Kaleigh's life to matter," he said. "Even though she's gone here on Earth, how can she still have an impact? I know she would have been a tremendous alumna and supporter of USC. So, it just came to me, why not do something in her name related to communication that addresses mental health issues?"
USC Annenberg is now accepting applications for the Kaleigh Finnie Memorial Endowment Fund scholarship. "I hope these funds will help USC Annenberg students do the kind of work that will give students like Kaleigh not only knowledge and awareness about the mental health issues they face, but will also support these kids and provide hope for their futures," Finnie said.
---
Note: Counseling resources are always available for any USC students, faculty or staff who feel that they may need support: USC Counseling Center (UPC) (213) 740-7711 for students; (213) 743-2770 for faculty and staff.