Only 6% of consumers say they're influenced by TV advertising to make a purchase decision, while 35% rely on online reviews. But when it comes to tattoos and people's love of brands, the Harley-Davidson logo slipped down to 6% of tattoo choices this year, and people's favorite logo to put on their bodies is a family brand, Disney. This data comes from a brand-new survey by the University of Southern California's Annenberg School for Communication and Journalism.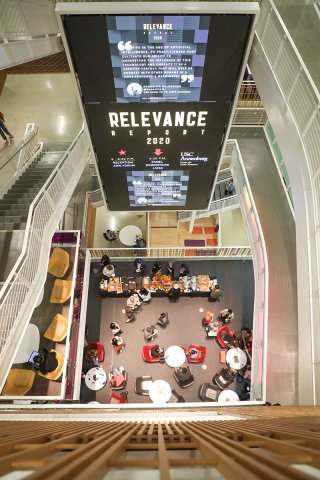 Photo by: Olivia Mowry
As part of the USC
Center for Public Relations
' 2020
Relevance Report
, released on Nov. 7, the survey reflects what brands, apps, politicians and influencers will be most relevant to U.S. consumers. The survey focused on 20 questions with responses from 1,000 people representing the U.S. Census sample, and all findings are included in the Relevance Report, available for download on the USC website.
This fourth edition of the USC Relevance Report is a curated series of short essays from leading executives, academics and students in the public relations field, all of whom are connected to USC Annenberg. The report covers a wide spectrum of topics and trends — from artificial intelligence to homelessness — that will impact American society in the coming year.
"Relevance is hard to define, and even harder to achieve," said Fred Cook, director of the USC Center for Public Relations. "It's not the same as fame or popularity or power. It's more ephemeral, more elusive and more important. When a story is relevant, people listen. When content is relevant, people share. When an issue is relevant, people act. Everyone is striving to earn the attention of the people they want to reach by understanding what is truly meaningful to them."
This year's Relevance Report offers a glimpse into what average Americans will tweet, stream and discuss in the coming year, along with which brands, technologies and media will connect with consumers in a meaningful way. These findings are based on a nationwide survey conducted by the USC Center for Public Relations, in conjunction with the Institute of Public Relations and Golin, a global public relations firm.
Highlights of the survey's findings include:
From traditional news sources, voters' viewpoints will be influenced most by CNN (20.2%) and Fox News (19.8%). BuzzFeed (18%) leads the way for digital sources.
When consumers were asked what brand logo they would likely ink on their bodies in the coming year, Disney (15%) was their first choice, with Nintendo (11%), Nike (7%) and Apple (7%) not far behind.
The majority of consumers will rely on mobile phones for information. To express their opinions, they will turn to social media, primarily Facebook (43%), followed by Instagram (20%) and Twitter (14%).
Only 6% say they will be influenced TV advertising, but they are still eager to watch a few advertising spokespeople, who all happen to be fictional characters — like Mayhem from Allstate (20%). Instead, online reviews are most relevant, with 35% of respondents saying they influence their purchases.
Most viewers who stream content will opt for Netflix (43%), with Amazon Prime Video (14%) a distant second.
When it comes to apps that simplify their lives, Venmo (18%) and Waze (18%) top the list.
On a broader scope, preventing climate change (16%) is the societal issue to which people are most likely to donate time and money. Education (15%) is next on the list, followed by healthcare reform (15%), gun control (12%) and homelessness (12%).
47% of people are tired of hearing about Kim Kardashian, compared to the only 6% who want to hear about Vladimir Putin.
"It is clear from our study that relevance is both vast and variable," said Cook. "Americans are deeply connected to a wide spectrum of products, personalities and perspectives, and what is relevant to one person may not be to another. Deciphering that equation is critical to anyone who wants to be heard in a very noisy world."
Additional responses are available in the USC Annenberg full survey and 2020 Relevance Report.
The Relevance Report seeks to add science to public relations by adding human insights that lead to relevance. By incorporating more metrics and analytics into public relations, brands and industry professionals will have the necessary tools to determine what messages and stories will resonate with their intended audience.
---
Download the full 2020 Relevance Report here.