USC Annenberg's Center on Communication Leadership and Policy (CCLP), together with partners from across USC, is launching an innovative training program that empowers election and campaign officials nationwide to reinforce their defenses against digital attacks that may affect the integrity and outcome of elections.
With generous support from Google, the bipartisan initiative will provide in-state training sessions in all 50 states.
Election 2020 is just 12 months away, and experts anticipate that the United States will be the target of foreign and domestic cyberattacks that could compromise the country's infrastructure, local and state governments, and news and information.
Starting in January 2020, the Election Security and Information Project will launch in-state programming consisting of a day-long series of briefings and exercises. While the curricula will be designed for state and local election officials, campaign officials of all parties, academics, nongovernmental organizations, journalists and students, programming will be open to the public and media to ensure maximum transparency.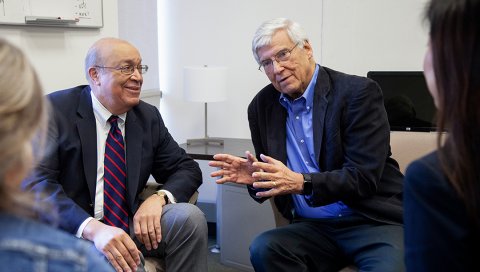 Photo by: Olivia Mowry
"Our goal is to help state and local officials be better prepared for foreseeable threats — regardless of source, origin, party or candidate targeted," said USC University Professor
Geoffrey Cowan
, the project's principal investigator.
With grant support from Google, CCLP will build upon this effort by leveraging faculty expertise from six of USC's schools to create and deploy leading-edge, bipartisan election security curricula.
"In advance of the 2020 election, we are committed to enhancing election security for voters, campaigns and journalists alike," said Kristie Canegallo, vice president of Google's Trust and Safety team. "We're proud to support USC's Election Security and Information Project to provide comprehensive training to candidates, campaigns, academics, elected officials, and NGOs to help them prepare for security challenges before the 2020 election."
In the coming weeks, Adam Clayton Powell III, the project's managing director and director of CCLP's Washington programs, will spearhead the curricula development by convening a series of working sessions in Washington, D.C., and Los Angeles, drawing on faculty expertise from the USC Dornsife College of Letters, Arts and Sciences; the USC Gould School of Law; the USC Marshall School of Business; the USC Sol Price School of Public Policy; the USC Viterbi School of Engineering; as well as the USC Annenberg. The effort will be supported by USC political experts, including some who have run presidential campaigns for candidates from both parties.
"We are grateful for Google's generous support to develop this multi-disciplinary project," Powell said. "We look forward to creating an initiative that will demonstrate the important role that academic institutions may play in helping to protect the integrity of our elections."
USC has a rich history and significant experience partnering with other leading private and public academic and research institutions; where possible, this project will work to present the in-state programs with a state university or college partner.