Telling powerful stories of trauma, loss and injustice can drive social change.
The world knows that George Floyd was killed by a Minneapolis police officer on May 25 because the crime was recorded on a smartphone. When the video footage became public, it sparked outrage and protest. Beginning in Minneapolis, then across the United States and around the world, hundreds of thousands of people called for an end to racism and police violence against the Black community.
The throngs in the streets of cities and towns, large and small, were a testament to the power of the act of witnessing. Allissa Richardson, assistant professor of journalism and communication, has been one of the leading public voices on how smartphone videos have created so much momentum for change.
"It's been an incredible journey in terms of smartphone witnessing," Richardson told ABC World News Now on June 2. "These kinds of videos actually lend credence and give proof to what many African Americans knew for a very long time: Police brutality is persistent in our society," she said. "We now have the proof that we need to move the needle forward in conversations about that brutality."
Richardson has made bearing witness to violence against Black people central to both her research and practice. Her new book, Bearing Witness While Black: African Americans, Smartphones, and the New Protest #Journalism, released in May by Oxford University Press, struck an immediate chord with the public: By the second week of June, the paperback was sold out on Amazon.
Richardson's unflinching commitment to sharing the Black community's experiences with police brutality is just one of the ways USC Annenberg's faculty, students and alumni are giving voice to those facing trauma and injustice. Whether it's the Floyd protests, the ongoing COVID-19 pandemic, mass shootings, unjust incarceration, the drug war in Mexico, world hunger, or the plight of international refugees, they are using an expanding repertoire of tools and media platforms to bear witness to those experiences and push for positive change.
"Bearing witness" is a term used by psychologists, who note that listening to and watching others recount their traumatic experiences can be key to recovery and healing. Richardson has made that concept central to her work ever since she took a class trip to a prison as a graduate student at Northwestern University's Medill School of Journalism.
"All I saw in there were men who looked like my brother or my dad," said Richardson, who is Black. Richardson vowed right then that, whether as a journalist or a scholar, she would incorporate some kind of advocacy in her work.
In 2010, while teaching at a historically Black college, Richardson saw the potential for mobile devices as storytelling tools, particularly for communities whose voices weren't well represented in mainstream media. She taught her students to use iPhones and iPads for the first time to create news. The success of her initial efforts led to invitations to lead mobile journalism programs in Morocco and South Africa.
Going back to school to earn her PhD at the University of Maryland, Richardson began not only teaching and practicing mobile journalism, but also researching how it fit into a long tradition of witnessing in the African American community. The killing of Philando Castile, Richardson says, represented a "tipping point."
"I realized that, not only is mobile journalism essential for telling one's story, but also, livestreaming specifically was going to become very important for citizen journalists to shine a light on problems with police brutality," she said.
In her book, Richardson explains how mobile storytelling — primarily by nonprofessional citizen journalists —
allows the people targeted by police violence to build their own news networks and control their own narratives. Now that the smartphone recording of the killing of George Floyd has completely reshaped the narrative around police brutality, Richardson says she sees the potential for citizen journalism to have an even greater impact.
"This moment is showing how professional journalists and citizen journalists can work together to create a complex, nuanced, complete story — and drive real, systemic change," Richardson said.
Richardson shares those lessons on witnessing with her students. Her "Engaging Diverse Communities" class, a required course in the undergraduate journalism program, challenges students to question their own assumptions about how stories about people different from them — demographically or politically — are told in the media. A key part of the final exam involves writing a profile of someone from an underrepresented community.
"They actually investigate how the framing of the witnesses can differ from those of the mainstream media," she said. "I teach them to understand that these witnesses are subject matter experts on their own lived experiences."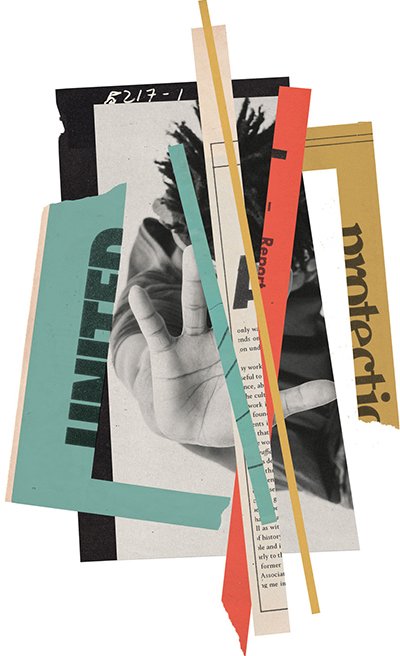 Richardson's is one of several USC Annenberg courses that prepare students to connect with people who face traumatic events. One such course grew from a unique collaboration between USC Annenberg and the USC Shoah Foundation.
Housed at USC since 1994, the Institute is dedicated to documenting and preserving Holocaust survivors' memories through oral histories — in-depth video interviews — and building an extensive Visual History Archive.
Rob Kuznia, then-coordinator of external relations for the Institute, conceived of the idea to apply this oral history model to capturing stories from survivors of mass shootings. He partnered with Mark Schoofs, visiting professor of journalism, to launch the course, "Documenting an American Tragedy: The Mass Shooting Oral History," in Fall 2019. Students in the class had the chance to interview and film long-form documentaries with survivors of three mass shootings: San Bernardino (2015), Route 91 Harvest Festival in Las Vegas (2017), and the Borderline Bar and Grill in Thousand Oaks (2018).
"This course brought students as close as they possibly could be to the reality of a mass shooting," Schoofs said. "They sat down for a couple of hours with a person whose life has been shattered by gun violence. And they had to engage deeply with many of the intellectual aspects of mass shootings."
The course also offered students a chance to hear from guest speakers who had, in one way or another, borne witness to mass shootings.
Dawn Megli, who earned a master's degree in journalism in 2013, spoke to the class about her experiences covering the Borderline shooting, in which 12 people were killed. A reporter for the Thousand Oaks weekly newspaper, The Acorn, Megli not only covered the shooting as breaking news, she continued to write and report about its aftermath: the victims, their families, the survivors, their friends, the entire town suffering from loss. Her series, "Surviving Borderline," includes dozens of articles chronicling loss, grief and survival.
"I was aware that I was documenting a very particular and powerful moment in our city's history," she said.
Schoofs and Kuznia emphasized that this was more than a class: The video recordings the students made will serve an important archival purpose, documenting the experiences of the survivors.
Felicia Tapia, who earned a master's degree in journalism in the Spring, said that her own interview subject, who had survived the Las Vegas shooting, wasn't reticent about her story. "She was very open and willing to talk about her own experience," Tapia said. "I think that's a testament to how these conversations need to be happening."
The kinds of in-depth interviews conducted by the students in the "Documenting Tragedy" course are key to another storytelling form, documentary filmmaking, that works on an even longer time scale to fully explore its subjects' stories.
When Daniel H. Birman began working on a documentary film in Tennessee in 2003, he knew he wanted to shine a light on the juvenile justice system in the state — one of the most punitive and restrictive in the United States. What the professor of professional practice didn't know was that he was about to embark on a 16-year journey in which he and his colleague Megan Chao, one of his former broadcast journalism graduate students, would chronicle one of the most controversial murder cases in recent history.
Birman had just begun his reporting when 16-year-old Cyntoia Brown was arrested. Brown had endured a difficult childhood, which led to her running away from home and being forced into prostitution by an abusive boyfriend. On the night of August 6, 2004, she was picked up by a 43-year-old man, went back with him to his home and, maintaining that she feared for her life, shot and killed him.
Birman immediately began cultivating a relationship with Brown, her family and her attorneys. Birman recalls it took about three months after the arrest for Brown and her family to agree to let themselves be filmed.
"That level of trust takes time," said Chao, who joined Birman on this story in 2009 and is now an adjunct instructor. "You have to prove that you're a trustworthy person and that you don't want to exploit their story."
"I teach my students that what we do is not a right, it's a privilege," Birman added. "We're entering somebody else's world."
Their exhaustive reporting throughout Brown's case, in which she was convicted of murder and sentenced to 60 years in prison, resulted in a 2011 PBS documentary film, Me Facing Life: Cyntoia's Story. The documentary garnered considerable public attention and widespread calls for a reduction of Brown's sentence, as well as increased scrutiny of the juvenile justice system.
Birman and Chao stayed in touch with all of their sources, and the film got its ending of sorts when, in early 2019, Tennessee's governor granted Brown clemency. She was released from prison in August 2019; her journey to freedom is documented in Birman and Chao's new film, Murder to Mercy: The Cyntoia Brown Story, which was released on Netflix in April.
"Life in prison, it's not a life," Brown says in the film after having been incarcerated for 12 years. "So, you have to kind of fight to carve out a life for yourself that has some kind of meaning, and some kind of worth, and some kind of value."
In her efforts to create that sort of meaning, Brown earned a college degree while incarcerated — including taking a course taught by one of the state prosecutors who earlier worked to deny the appeal of her conviction.
"Time and proximity are funny things because they can change adversaries into allies," the prosecutor, Preston Shipp, testified before Brown's clemency hearing in the film. "Here I am, 10 years later, not arguing against her, but arguing in favor of her release. And I do that because I have borne witness, along with all these other folks, to the kind of person that Cyntoia is."
Capturing that moment, and so many others in the two films, were a matter of persistence, patience and a sense of mission for Birman and Chao. "There are no instant solutions to in-depth storytelling," said Birman, who shares his personal filmmaking process with students each semester. "As journalists, at our core, we have to look beyond the superficial. We've got to be there, and we've got to be looking for things that aren't maybe necessarily on the surface."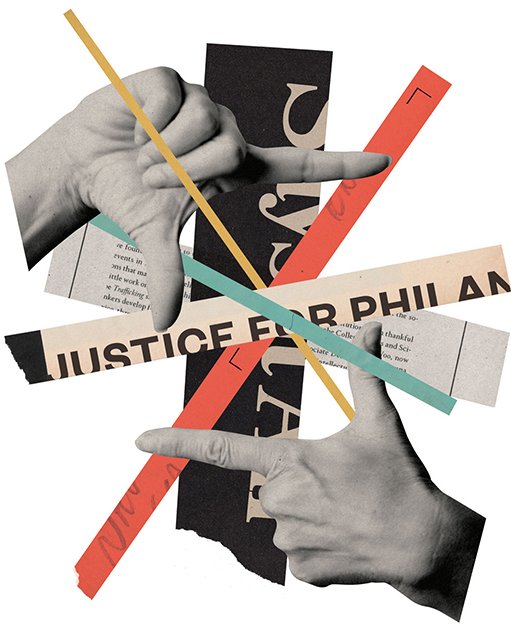 Bearing witness to the trauma of another often comes with an emotional cost — a cost that can be even higher when the trauma literally hits close to home.
For Hector Amaya, his research is not only extensive, but deeply personal. The professor of communication and incoming director of the School of Communication has written a new book, Trafficking: Narcoculture in Mexico and the United States. Released in May by Duke University Press, the book examines how Mexico's drug war has not only affected lives and livelihoods of the country's people, but how it has changed the way they relate to and communicate with one another in the public sphere.
"The book is my personal answer to the need to do something for the country I love," Amaya said. "The violence is also particularly terrible in Sinaloa, the state in Mexico where I grew up. I felt compelled to try to do something about it; the book tries to address the pain of being a Mexican today, seeing your country come apart at the seams."
Rather than focus directly on the drug trafficking or violence itself, Amaya explores the way that cultural
expressions have been shaped by criminal drug organizations and violence. "I was particularly interested in the way that violence has captured our imaginations — as journalists, artists, public persons," he said.
One of the main forms of communication Amaya focuses on in the book is the narcocorrido — songs that portray drug traffickers as folk heroes. Amaya wanted to better understand the continued appeal of such music at a time of omnipresent violence. "The people who are consuming it can't have any illusions about the actual, real impact of this violence on their country," he said.
He also looks at the work of several independent bloggers in Mexico — most of whom have had to be extremely careful about what subjects they take on in their writing. The act of witnessing, which is so central to the work of both professional and citizen journalists, is extremely dangerous in Mexico. Because of that, Amaya points out, one of the casualties of the drug war has been the ability to bear true, authentic witness to the drug war itself.
"That's the issue: The public sphere is now a space of danger," he said. "And because of that, it cannot occupy the same role that we imagine in a safe, liberal democracy."
When a country's crisis becomes severe enough, thousands, even millions of people can be displaced, making them some of the most vulnerable on the planet: refugees. Numerous agencies, charities and NGOs exist to help refugees, but Aimei Yang's research has shown that the very strength of those entities can be turned against the people they seek to help.
Yang, associate professor in public relations, is an expert on the ways corporations, governments and NGOs use social media. In 2016, she began researching how refugees become targets of hatred and disinformation on social media.
Yang saw that refugees — people with literally nothing, uprooted most often by war in places such as Syria or Sudan — were being framed not as human beings in need of help, but as a threat. She observed that something was interfering with an honest witnessing of their trauma.
"When I was first starting to look at this, I was just blown away by how much human suffering there is in this population; it is just heart-wrenching and hard to believe," Yang said. "But then I saw the ridiculous stuff some people say about refugees online: They're terrorists; they're bringing disease; they're coming across the border to vote for Hillary Clinton."
Yang identified two worlds of information when it came to refugees. The first is a world of facts, where entities like governments dealing with large influxes of refugees, NGOs, and the United Nations share information. The second is a world of fantasy, promulgated by online conspiracy theorists connected to anti-immigrant media outlets.
"That's what caught my attention: The disconnect between the conspiracy theories and reality," she said. "I wondered how people continue to believe these false narratives, and what kind of voices become the loudest voices, and to what degree these voices influence policy."
Using data-mining techniques and expertise in analyzing "clusters" of like-minded social media accounts, Yang began researching how the right-wing, anti-immigrant conspiracy theorists were able to amplify their messages.
"Obviously, one thing that these NGOs can do is not engage with misinformation or conspiracy theories," Yang said, "but that is difficult when the misinformation is things that are directly harmful to refugees."
Telling accurate stories about international crises in a chaotic online information space is also an ongoing challenge for Gary Karr, a senior communication advisor for one such NGO.
Karr, who earned his bachelor's in journalism in 1984, raises awareness of world hunger for the World Food Programme (WFP) and builds relations with those who can support their work.
"There is so much information out there, so many channels, everything is so fractured that it's difficult to communicate the truly dire situation that so many people in the world are facing when it comes to food insecurity," Karr said.
In the mid-'80s a single huge event, Live Aid, raised relief aid for famine in Ethiopia. Karr notes that since 2017, four countries have been very close to famine, but there was little awareness of that among the general public.
"We only get funding if we have political and donor support from wealthy countries, and to get that, people have to know about the problem," he said.
Karr believes it's his responsibility to share the stories of the people suffering from hunger through a variety of channels. In addition to its website and social media, the WFP recently launched its Storytellers project, which trains recipients of food aid on using smartphones and other mobile journalism tools to tell their own stories.
"The key is to amplify the true voices of the people who are the beneficiaries of our work, and also make sure that people around the world see those stories as part of their own stories," Karr said.
With the ongoing coronavirus pandemic reshaping daily life across the world, that shared story is nearly universal, differing only in degree. From the very outset of the COVID-19 crisis, USC Annenberg students, faculty and alumni have been using their talent and training to find innovative ways to document the most compelling public health event in generations.
Not long after travel restrictions were established in March, all USC courses moved online and most of campus was shut down — including USC Annenberg's Media Center, the high-tech hub of the school's digital and broadcast storytelling. Annenberg Media, the student-run, multi-platform news organization that operates out of the media center, had to adapt to reporting and producing their own content under social distancing requirements.
Students and faculty worked together to come up with creative ways to report on what was happening, while finding unique angles on what was then the biggest story in the world.
"The question was, how would students at Annenberg Media continue to do the great work that they do on so many different platforms, day in and day out?" said Christina Bellantoni, media center director and professor of professional practice. "They really needed to innovate."
Zoom became a key tool, both for meetings and for conducting interviews across all the platforms. "They have not been going out, because they want to observe physical distancing," said Stacy Scholder, director of Annenberg TV News and professor of professional practice. "But the students were still researching, they were still finding people to interview, and conducting interviews via Zoom."
Scholder proudly notes that ATVN didn't miss a single show in their four-days-a-week schedule. On the audio side, Annenberg Radio News produced a series of feature-length audio stories for a special broadcast titled "Portraits of a Pandemic" that spoke to college students' very personal experiences with the disruption caused by the coronavirus.
Students and recent alumni have been sharing stories about COVID-19 not only through USC's platforms, but also through professional media, including the Los Angeles Times.
In April, Mitchell Landsberg, a senior editor at the Times, reached out to Diane Winston, associate professor and Knight Center Chair in Media and Religion, asking for help on its ambitious coronavirus reporting project, which seeks to write obituaries for every Californian who has died of COVID-19. Faculty and staff quickly secured private and foundation funding to support six full-time summer internships at the newspaper for USC Annenberg students and recent graduates.
In mid-May, the new interns began contributing to the series, titled "The Pandemic's Toll: Lives Lost in California."
"I think it's a fantastic opportunity for our students to memorialize the stories of people who might otherwise be forgotten," Winston said. "It's hard to make that first call to someone who's lost a loved one and intrude upon their grief. However, it becomes almost a gift to the journalist to be let into a circle of intimacy, and to come to know the person who died."
With COVID-19 hitting communities of color particularly hard, Tomás Mier, who graduated this May with a bachelor's degree in journalism, says that a strong sense of mission drives him as he works on the L.A. Times project this summer.
"Half the cases of coronavirus in the state of California are Latinos," Mier said. "As a Latinx person myself, I felt that the L.A. Times would need more Latinos to interview the families of the deceased, who might not speak English. Seeing my own community disproportionately affected by this virus really motivated me to try to cover my community effectively and share their stories."
While the pandemic will continue to be a critical story, the killing of George Floyd has forced a worldwide reckoning with the ongoing crisis of racism and police violence. Allissa Richardson says that the shocking nature of the video itself certainly contributed to the level of public outrage, but she adds that the video also had a captive audience: a country largely sheltered in place.
"When we thought about reopening and getting back to business, we took a look at ourselves and decided we didn't want to get back to the business of racism and police brutality," she said.
Richardson says that the protests have led to a rapid change in the way these issues are discussed. "It was once considered radical to say, 'Black Lives Matter,'" she noted. "Well, now 'Black Lives Matter' is painted on the street that leads to the White House. The power of witnessing has forced this concept into the lexicon. That makes me very hopeful for the future."