Facilities
Annenberg School for Communication Building (ASC)
Designed by the midcentury modern firm A. Quincy Jones & Associates, the Annenberg School for Communication (ASC) building was completed in 1979 and exhibits elements of the late modern style. With four floors filled with learning spaces, research areas, and faculty and staff offices, the structure boasts approximately 95,000 square feet of usable space. In 2014, the ASC building was designated a Historic Cultural Monument by the Los Angeles City Council.
Following the establishment of the Annenberg School of Communication in 1971 and Ambassador Walter Annenberg's founding gift in 1972, groundbreaking for the ASC building's east wing occurred in September 1974. With approximately 54,000 square feet and exterior staircases to connect to the outdoors, the building also featured a grand lobby extending over three floors. At the time of its opening in November 1976, the building was lauded by academics and media practitioners for its cutting-edge communications technology, including audience response units under its auditorium seats, a graphics production center (including a darkroom), and the capability to video-record lectures.
Completed in February 1980, the ASC building's west wing was opened — originally to house the Annenberg Center for the Study of the American Experience — and added approximately 34,000 square feet. In the early 2000s, the west wing was expanded north to create additional space.
Today, the ASC building is home to the school's student services suite, including academic advisement, career development and international programs. In addition to classrooms and faculty and staff administrative offices, the building also a hub for a number of the school's research centers, including the Annenberg Inclusion Initiative, Annenberg Innovation Lab, Center on Communication Leadership and Policy, Center on Public Diplomacy, Center for Third Space Thinking, Institute for Diversity and Empowerment at Annenberg (IDEA), and the USC U.S.-China Institute.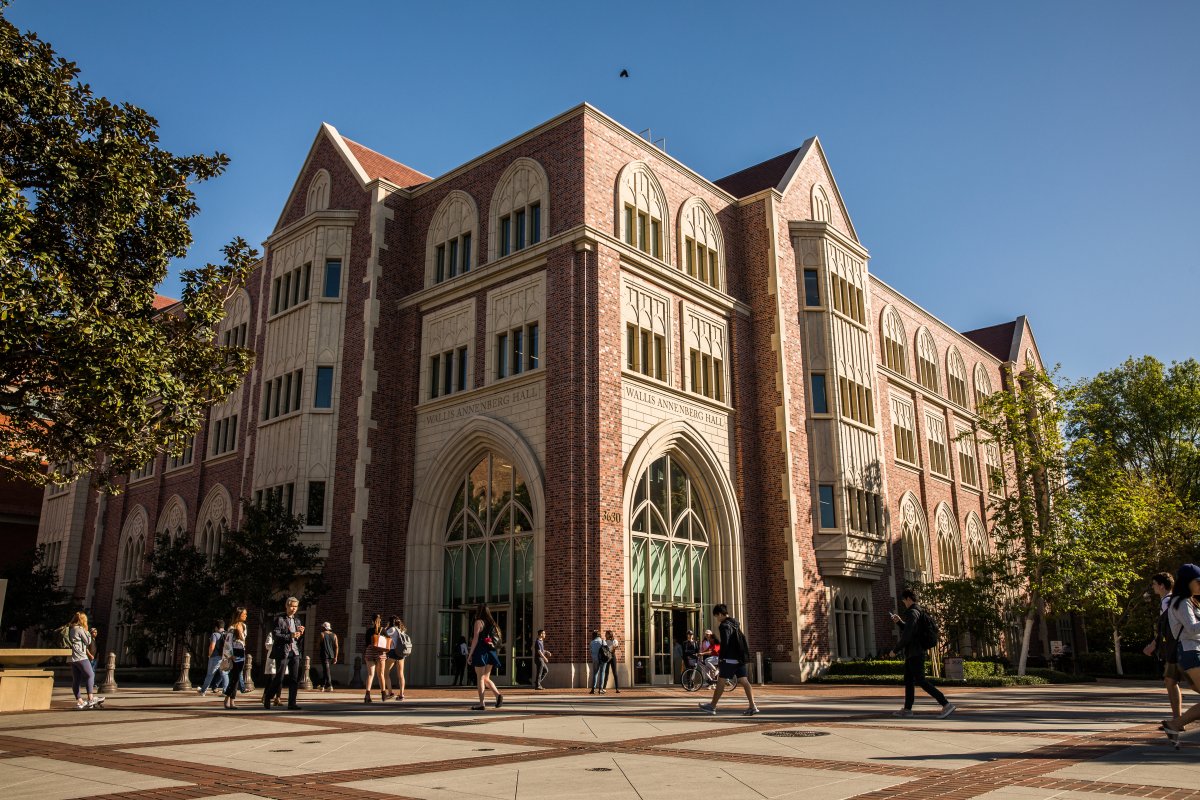 Wallis Annenberg Hall (ANN)
USC Trustee and USC Annenberg Board of Councilors member Wallis Annenberg continued her father Walter Annenberg's founding legacy with her generous gift to construct Wallis Annenberg Hall (ANN), which opened in September 2014.
Over the decades that followed the Annenberg School of Communication (ASC) building's construction, USC Annenberg grew to 2,200 graduate and undergraduate students pursuing degrees across communication, journalism, public relations and public diplomacy programs and, thus, a need for expanded facilities emerged.
In preparing for the expansion, USC Annenberg turned to international space planning company DEGW, which held a series of workshops and interviews with the school's faculty, staff and students to create a set of guiding principles: innovation, versatility, collaboration and transparency. The architectural firm Harley Ellis Devereaux (HED) incorporated these guiding principles as their charge.
While ANN's exterior maintains the traditional "vocabulary" of USC's University Park campus, the building boasts a very modern interior. HED began its design of ANN's approximately 88,000 square feet across five stories with the building's center: a ground-level public Forum designed as a space for the entire USC community to convene for conversations with expert scholars, industry leaders and cultural icons. From the Forum's center rises a four-story atrium with a rooftop skylight and a multi-story digital media wall showcasing programming along with social media feeds and live broadcast news.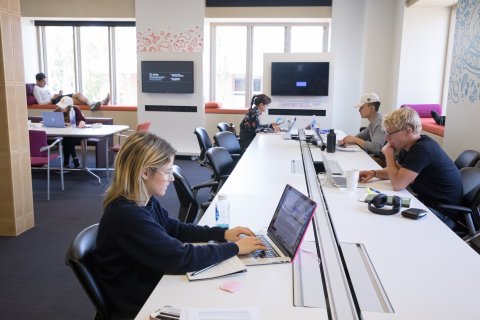 Directly adjacent to the Forum is USC Annenberg's 20,000-square-foot Media Center, which is often referred to as the "heartbeat" of ANN. This unique newsroom, classroom and incubator provides experiential learning so students can cover breaking news on the web and on the air, create high-impact journalism on multiple platforms, produce and publish podcasts, and integrate audience analytics. The center's focal point is the Jacki and Gilbert Cisneros Assignment Desk, where editors monitor multiple sources to produce the day's news. A state-of-the-art television, radio and direct-to-Web video broadcast studios, professional-quality control room, and suites of editing bays and flexible production spaces round out the space.
In addition to faculty offices, a 148-seat auditorium, and dozens of collaborative spaces and technologically enabled classrooms, ANN is home to the Marilou and Mark Hamill Family Office of the Dean, The Sheindlin Forum and the Digital Lounge, which provides technology training and support.
The building is also home to Café Annenberg, which features Illy coffee, breakfast and lunch items, and spots to sit and study.