About the Relevance Report
The annual Relevance Report from the USC Center for Public Relations identifies emerging issues and forecasts topics and trends impacting society, business, and communication in the coming year. The book features contributions from PR industry leaders, and USC academics and graduate students.
Our 2021 edition, published on Oct. 14, 2020, addresses the impact the COVID-19 pandemic and social justice protests will have on the future of the PR profession. Contributors analyze how communicators can address these and other topics in their internal programs, external campaigns, and other outreach efforts. Authors include agency leaders at Golin, Edelman, WE Communications, Weber Shandwick, Day One Agency and Peppercomm, and corporate communication leaders at AEG, Best Buy, Disney, Experian, Google, and IBM, among others. In addition, USC Center for PR's Burghardt Tenderich shares "Best Practices in Brand Purpose Communications," the result of a comprehensive study conducted by the center about PRWeek's inaugural cause marketing awards.
So how exactly do we define what is relevant? USC Center for PR Director Fred Cook explains that relevance is something more ephemeral and more important than fame, popularity, or power. At its most basic, relevance is about being heard and it is something every PR campaign strives for.
"When a story is relevant, people listen. When content is relevant, people share. When an issue is relevant, people act. When a brand's relevant, people buy." – Fred Cook (@fredcook)
Download the 2021 Relevance Report
Communication leaders from Best Buy, United Airlines, eBay and Toys "R" Us are among authors who contributed to a new report from USC Annenberg's Center for Public Relations (CPR). The Relevance Report, released this week, forecasts topics and trends impacting society, business and communications in the coming year and features contributions from PR industry leaders, USC faculty and graduate students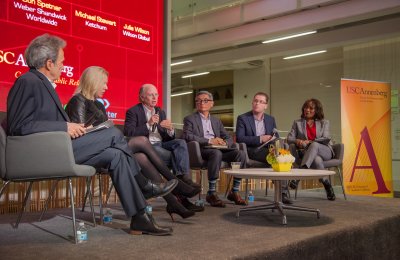 On December 1, 2016, a group of public relations visionaries came together at Wallis Annenberg Hall to discuss the...
Meet Our Sponsors
The 2019 Relevance Report was sponsored by: