About the Relevance Report
The annual Relevance Report from the USC Center for Public Relations identifies emerging issues and forecasts topics and trends impacting society, business, and communications in the coming year. The book features contributions from public relations industry leaders, and USC academics and graduate students. The essays in the 2020 Relevance Report are brief, insightful, and cover a broad range of topics including media, communication, artificial intelligence, homelessness, technology, marketing, and society. It is designed to give those studying and working in public relations a preview of what the coming year holds for the PR industry, society and people's careers. Authors include communication leaders from LinkedIn, The Kroger Co., Clif Bar, and Google, and PR agency leaders from Golin, WE Communications, Weber Shandwick, and more. All are advisory board members of the USC Center for Public Relations.
So how exactly do we define what is relevant? USC Center for PR Director Fred Cook explained that relevance is something more ephemeral and more important than fame, popularity, or power. At its most basic, relevance is about being heard and it is something every PR campaign strives for.
"When a story is relevant, people listen. When content is relevant, people share. When an issue is relevant, people act. When a brand's relevant, people buy." – Fred Cook (@fredcook)
Download the 2020 Relevance Report
Previous Relevance Reports
Communication leaders from Best Buy, United Airlines, eBay and Toys "R" Us are among authors who contributed to a new report from USC Annenberg's Center for Public Relations (CPR). The Relevance Report, released this week, forecasts topics and trends impacting society, business and communications in the coming year and features contributions from PR industry leaders, USC faculty and graduate students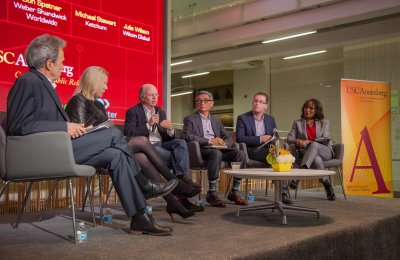 On December 1, 2016, a group of public relations visionaries came together at Wallis Annenberg Hall to discuss the...
Meet Our Sponsors
The 2019 Relevance Report was sponsored by: