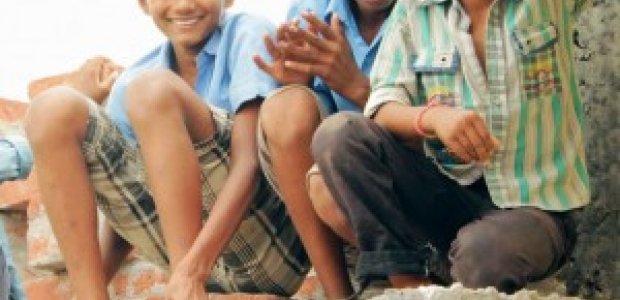 Boys watch as visiting writers group meet with village members in Bodh Gaya, India.
Hollywood, Health & Society Director Sandra de Castro Buffington and HH&S program administrator Chris Dzialo recently traveled to India for the public launch of its global center called The Third Eye, bringing in local writers for a series of panels, classes and storytelling workshops, and taking them on a research trip to explore the kinds of health-related challenges facing young girls and women in a remote village.
The Third Eye, a joint project with the Asian Center for Entertainment Education, is borrowing a page from HH&S—a program of the USC Annenberg Norman Lear Center—to serve as a free resource for accurate information for the Bollywood TV and film industries on storylines, especially in areas such as maternal and child health, vaccine-preventable illnesses and family planning. The project's director is Vinta Nanda, a television writer and producer well known for her pioneering work in the popular series "Tara," a ground-breaking show that depicted gender-based stories about the lives of contemporary Hindu women.
The two-week HH&S visit in July included the official launch of The Third Eye website during a press conference at its offices in Mumbai; a master class directed by Indian filmmaker Mahesh Bhatt that was followed by a panel led by Buffington—both drew more than 200 people from the Bollywood entertainment industry; storytelling workshops for local writers that were led by Hollywood writer-producers Carol Barbee and Karen Tenkhoff; and a story tour with a group of local writers to Bodh Gaya, a village in the northern state of Bihar, to inform and inspire them on topics ranging from domestic violence and women's courts to family planning and martial arts training for girls. (More photos of India trip here.)
Buffington said one of the biggest accomplishments on the visit was conveying to Bollywood industry professionals that HH&S and The Third Eye was not out to tell writers what stories to write on health topics.
"We showed them that the [Third Eye] project is simply a new tool in the writer-producer toolbox," Buffington said. "Entertainment and creative freedom come first in the HH&S model. We're simply a free resource to ensure accuracy for all kinds of commercially successful TV shows and films."
Hollywood, Health & Society provides entertainment industry professionals with accurate and up-to-date information for health and climate change storylines, recognizing the impact that the entertainment industry has on individual knowledge and behavior. HH&S offers free resources such as briefings and consultations with experts, case examples, panel discussions about timely health issues, and a quarterly newsletter. From 2009 to 2012, HH&S' work resulted in more than 550 aired storylines across 91 shows from 35 networks.
— Russell DeVita