In Fall 2017, I had the opportunity to intern at a leading consumer insights agency, Hypothesis Group. Located right next to the 7th Street/Metro Center station and down the street from Figat7th, their beautiful DTLA office was in a highly convenient and easily accessible location (especially for USC students!), surrounded by countless delicious food vendors.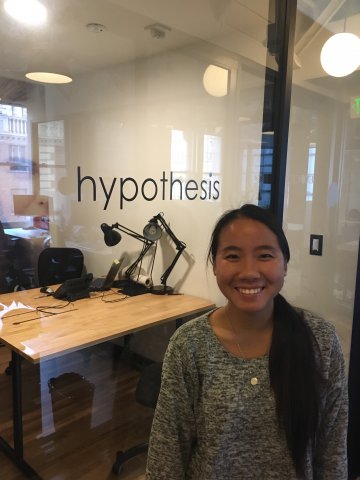 I applied for the intern job posting through Annenberg Career Link and received an interview invite shortly before the semester started. Upon arriving for my interview, I spoke with the two Intern Coordinators, Joshua Erdman and Bonnie Tam, and took an assessment that simulated the nature of work that I'd be doing at Hypothesis. Within the next week, I received an offer letter and began work at the beginning of that semester.
Both Josh and Bonnie had been through the intern program themselves, and since then had risen through the ranks to become Associate Consultants. Every few months, they would hold 1-1s with each intern to monitor our growth and progress and provide us with a chance to ask any questions.
Amongst my fellow interns and coworkers, there were many members of the Trojan Family present, and I appreciated having this immediate connection with them. In addition, Hypothesis was full of many driven and passionate individuals, who served as stellar role models, mentors, and managers for me during my time in the office.
As a Bangkok-born city girl, I enjoyed the hustle and bustle of the daily commute to work. Similarly, Hypothesis Group also offered a fast-paced and fascinating environment where I had the opportunity to work on multiple projects with clients such as eBay, Toyota, Disney, and Starbucks. I helped with many tasks from proofing surveys and tables (link and tab checking) to pulling data for slides (slide pulling) and editing presentations (clean reading).
However, as much as Hypothesis valued working hard and producing great results, they also emphasized fun and enjoyment as well. From Happy Hours to homemade salsa competitions, there was more to my experience than just work. Every so often, over free Starbucks or a Porto's pastry, I would be able to bond with my coworkers, getting to know people that I highly admired and making new friends, while also learning more about the market research industry.
Overall, I had a great time interning at Hypothesis Group. Although it was a challenge balancing work and academics, I think the semester really taught me a lot about what it means to work at a real-life market research firm. Even as students, gaining work experience at a company like Hypothesis is an invaluable resource – it allows us to test the waters, discover work that we enjoy, and realize what it is that we wish to pursue whole-heartedly after graduation and throughout the rest of our lives.
- Thanya Chat, Professional and Managerial Communication Minor