I stepped onto the picturesque Hollywood studio lot on a warm spring day. I wasn't here for a tour, nor was I here to visit a friend – I was here for an interview! I can only imagine the possibilities of where my career will go if I worked here. I'm greeted by Jed, who says he is here to take me to my interview. He casually hops onto a golf cart and turns it on, waiting for me to get into the passenger side. I was so surprised– my first time on the lot, and I already get to ride a golf cart! One phone call and two interviews later, I received an offer and accepted.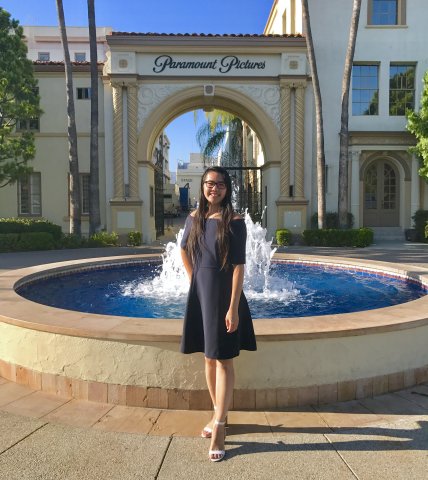 I feel right at home at Paramount Pictures. There's a Coffee Bean for morning coffee before work, much like the two Coffee Beans we have at USC. The Paseo runs down the length of the lot, similar to Trousdale Parkway, and both are made of red brick! Both locations have fountains accompanied by iconic landmarks – Paramount's fountain with Bronson Gate, and USC's fountain nestled between Tommy Trojan and Traveler. Both my school and work environment are rich with history, and I never get tired of either of them.
I believe one of the most important things in finding a successful career is to love where you work. On the fourth floor, the windows across my desk have a stunning view of the Hollywood sign and Griffith Observatory every day (regardless of smog!). I walk by the Forrest Gump bench to lunch on a daily basis – part of which was filmed at USC. Occasionally I'll see a young actor in a school uniform on a break from filming School of Rock. In the back corner of the lot, Dr. Phil tapes his shows on a weekly basis. Working on a movie studio lot is exciting, because every day is something different.
I absolutely love working with my International Digital Marketing team at Paramount Pictures. Our weekly team meetings would open with the latest Game of Thrones episode discussion, and our Friday lunches are always a great way to get to know each other (and find out which food delivery service is least likely to mess up our large orders). Thanks to my amazing team for giving me this amazing opportunity. I appreciate each and every one of you – you have all taught me so much!
In the International Digital Marketing department, some of my duties include weekly competitive research and analyzing data from our social platforms to measure a film's performance in international territories. I've watched countless Transformers and Baywatch videos and even tested Snapchat filters! I love working in international marketing because it forces me to think bigger – not every country has the same holidays nor do they like the same content, because there are so many different cultures on Earth. This internship has allowed me to understand not just digital marketing, but marketing in a global perspective.
Paramount's summer internship program included guest speakers (with free lunch!), movie screenings and TV tapings, discussions with executives, and networking with other employees and former interns. Undergraduate interns also made a video project, which my team won 1st place! (Shout out to Team Internpossible!)
I transferred to USC to study Communication at Annenberg, and it was one of the best decisions I've made. I had no previous connections at Paramount Pictures to get my foot in the door, but Annenberg has prepared me to jump into whatever industry I choose to pursue – entertainment. The similarities between my school and work environment allowed me to feel more comfortable in a new environment, and I've built up my skills and have learned so many new things this past summer.
- Lily Hoang, Communication