Two facts: I made a Youtube channel in 5th grade and my least favorite subject in school is math. This past fall, I found myself working as an Audience Development Intern for AwesomenessTV, a numbers heavy position at a Youtube-centric company.
What does an Audience Development Intern do? I wasn't exactly sure either, but scrolling through AwesomenessTV's Youtube channel, I recognized many faces from my days of creating my own and watching lots of Youtube content. From some of Logan Paul's Team 10 members to Lauren Elizabeth, my entire 5th grade experience flashed before my eyes and was enough for me to send in an application.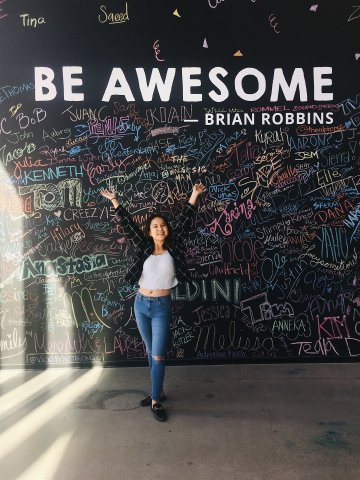 An Audience Development Intern uses data-driven insights to make decisions for content strategy. In other words: they use numbers to optimize content. Recall that math is my least favorite subject in school. But, through my internship I discovered a new way of looking at them. A way that numbers could be creative, less formulaic, more interesting. I learned how to use Google Trends, Sprinklr, Listen First, Excel, and a host of other data collecting and organizing tools to advise AwesomenessTV on what times are best to post a new video, what version of a title would get the most people to click, and how long a video should be to retain the most viewers.
My other responsibilities included onboarding the company to Sprinklr, a social media management system. This entailed going back in our content records to tag and organize our past to have data to help us create future content. I also tracked our audience engagement on our biggest social media platforms: Instagram and Snapchat. I got to attend meetings with some brilliant minds and even present my own vision for our Instagram content.
Despite all of the new skills and perspectives I picked up at AwesomenessTV, my biggest takeaway was my preferences in a work environment. Office culture is almost, if not as equally as important as enjoying the work you do. In my previous internships, I've always felt young and too new to have the confidence of articulating what I did or didn't like in an office or the people who worked there. I was grateful for whatever was handed to me and just enjoyed being in any office with any team doing anything. I don't regret coming into new positions this way because it kept my perspective grounded when I didn't have experience. But, for the first time, with my small, but mighty team at Awesomeness, I felt like I was more than their young intern. I was their colleague, one of their friends, and I could picture myself working there full-time the very minute I was given my first project. I hadn't experienced that before.
Perhaps it was the free lunches. Or, the fact that the company itself is young and employed people closer to my age. Or, maybe it was that my team only consisted of 5 people that I sat directly next to. Or, that I followed all of them on Instagram a week after I started. Whatever it was, being the Audience Development Intern at AwesomenessTV taught me more than just a new perspective on creative content and the roles I could take within that realm. It has been my favorite internship to date because of the environment, the people, and the relationships I built.
- Sierra Lai, Communication