While perusing the Annenberg Jobs & Internships of the Day email, a news internship opportunity caught my eye. I decided to go on Annenberg Career Link to see what it was all about.
Undercover work. Hidden cameras. Stake outs.
Seeing those words on CBS's Investigative News Internship application reeled me in, yet made me a little hesitant to apply. Although I previously held two newsroom internships and had been involved in the USC Annenberg's Media Center, I was nervous because I did not know what to expect. I used to think of investigations as intense as the television show CSI or as casual as some type of social media stalking my friends asked me to do for them. I figured the worst that would happen was that I would not get a response so I took a chance and submitted my resume and cover letter.
Little did I know that in less than a month, David Goldstein, CBS's investigative unit's main talent would personally reach out to me to schedule an interview. Time seemed to move quickly as I pulled into the Studio City lot when I was scheduled to speak to him.
Days after I spoke to David and was able to walk around the CBS LA newsroom, I was offered the position and was scheduled to start a 5-month long internship in the spring as an investigative intern.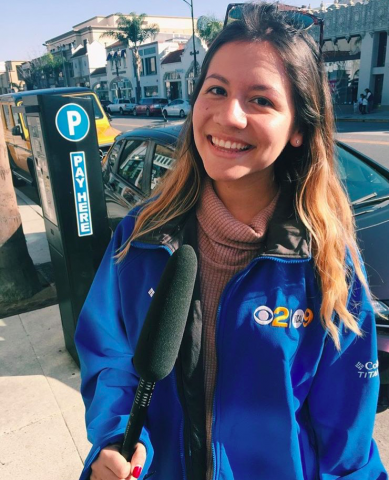 To say my semester flew by in an instant would be an understatement. I was the only intern who worked on Mondays and Fridays, which meant I was responsible to be in the station for two full eight-hour, proactive shifts. Our unit consisted of David, the main talent, Mike, the photographer, and Catherine and Lorraine, the two producers. Being a part of the small team allowed me to get hands-on experience where I never for once felt like I was just "the intern."
From my first day there, I was immersed into the current project the unit was working on. I was expected to record and respond to all of the tip-line suggestions that viewers would frequently call in. This duty opened my eyes to how much of an impact local stations have on their viewers. There is an outstanding amount of respect and trust people have for the investigative unit because they have uncovered so many stories that affect such the broad Los Angeles audience.
I also got to spend a lot of time with the unit on various interviews, stake-outs and ambush. I assisted, was on the ground and on watch for various stories. They ranged from unmarked trucks being rented by the city of Los Angeles being used like personal vehicles, fake non-profits posing to be rescue shelters and chiropractors signing off on disability placards, to name a few.
Witnessing David conduct an ambush was exciting and made the long stakeouts worth it. Not to mention, setting cameras up and even just watching how he interviewed was a learning experience in and of itself. I was trained how to use hidden cameras and even got to practice out in the field! During my last day, I got to help out on a shoot where I met Lisa Vanderpump! Being able to be a part of the investigative process both in and outside of the studio was an invaluable experience I never thought I would be able to handle.
After every story, I got to log video and see every shot that Mike captured with precision and talent. In addition, I was invited to watch the editing process. I was able to learn from some of the best editors to see how the pieces would be broadcast, which showed me how many legal and aesthetic details must be discussed before the package would air. There were no questions too silly or too complex that would not be answered, which made me feel comfortable and allowed me to grow as a journalist.
I am currently gearing up to begin my summer internship and I can't help but to be thankful for everything the investigative unit taught me.
As journalists, we are constantly told to step out of our comfort zones to see what kind of stories we would like to report. I am certainly glad I did.
- Gabriella Fernandez, Broadcast and Digital Journalism