Most college students go home after a long day of class and work to binge-watch Netflix, Hulu or HBO. Me? I prefer endless hours of CNN. Anderson Cooper is my Beyoncé and Poppy Harlow my Taylor Swift. Over the past couple of years while studying in LA, I've been fortunate enough to have held numerous internship positions within the news and media industries, but as my last undergraduate summer approached I knew there was one specific network I had to experience: CNN.
I have always had a great love and respect for Anthony Bourdain; to me he is a crazy talented journalist with a unique voice, always staying so true to himself. It was September of my junior year and weird, career-obsessed me was already beginning to think of my summer internship plans. My goal was to work with Mr. Bourdain and throughout that entire year I reached out to anyone and everyone I could find who was associated with him in a professional capacity.
After that strategy yielded absolutely nothing, I went the traditional route. After 14 separate online applications and three interviews I was finally notified in mid-April that I was headed to NYC for CNN's summer internship program with a position on my dream team.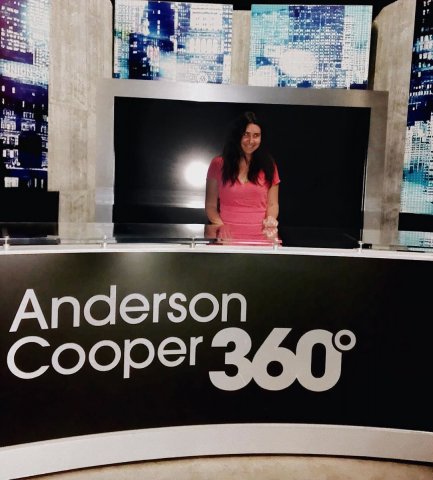 It's extremely difficult to concisely sum-up the most influential summer of my life. All it took was ten weeks and one company to redirect my career goals and completely solidify my love for this ever-changing craft. While it was summer break, and I was more than 2,800 miles away from the Annenberg classrooms, my education hardly stopped. I worked under Amy Entelis in CNN's Program Development & Talent Recruitment department. This position was especially dynamic because I reported to three separate departments, all with very distinct roles.
Program Development focused on developing future shows in the unique subset of CNN Original Series (Anthony Bourdain: Parts Unknown, United Shades of America, This is Life with Lisa Ling, etc.). Each of these nonfiction, multi-part series, unlike the news, are produced through a cinematic lens and put overall news themes into context via adventurous, provocative, smart and entertaining storytelling. Much of my days were spent logging, screening and reviewing incoming pitches from agents and producers. I was constantly updated on new materials and current projects which enabled me to follow along and give input during weekly pitch meetings with executives. As someone with extensive production experience, it was fascinating to see the backend process of how things come to fruition.
Talent Recruitment not only scouts for on-camera talent for CNN 365 days a year, but is also constantly developing and training our already contracted correspondents both internationally and on the domestic front. FOR ALL YOU ASPIRING REPORTERS OUT THERE, these are the people you need to know and impress!! During breaking news moments, I was tasked with scouring both social media and traditional linear broadcasts to find reporters breaking news and track those exclusive hits. I assisted in-studio talent training sessions and consequently worked with Pulitzer prize winner, Sara Ganim, Senior Technology Correspondent, Laurie Segall and primetime anchor, Erin Burnett.
'How It Really Happened with Hill Harper' Production. How It Really Happened is an HLN (CNN's sister network) true crime series.. I supported production for season two by compiling case research packets, transcribing interviews and assisting on shoots. The coolest part about the HLN team was that three of their production assistants actually held my exact internship position at some point.
One morning my senior director surprised me with a one-on-one coffee meetup with CNN Jerusalem correspondent, Oren Liebermann. As a native Hebrew speaker who is passionate about the Middle East, being able to discuss on-the-ground issues relating to reporting ethics in the region was an actual dream and something I never imagined could have transpired in a short summer role.
The greatest part about CNN truly is the people. They not only encourage you to network outside of your specific department, but facilitates such engagements. We had weekly speaker series where met the network's president, Jeff Zucker, and had intimate, real conversations with producers, reporters and executives from a variety of different areas throughout the company. Because of one of these meet-ups, I fostered a relationship with the executive producer of Reliable Sources, and then went in nearly every Sunday to help production on their live show. The other incredibly talented interns from across the country have become my lifelong friends.
During the last week of the internship my manager, Jon, called me into his office. I was nervous...had I done something wrong?
"Clear your schedule today, I'm sending you on a special project," said Jon.
My task was to travel around New York City in search of the finest Portuguese cheeses and wine and assemble a gift basket to be hand delivered to Anthony Bourdain as a season finale gift. When he told me this, I think my entire body went numb. I spent the next six hours venturing up and down the island of Manhattan to assure that Mr. Bourdain was to get the snazziest gift basket of all time. I delivered the package to his front desk, unit number in hand. It was a full-circle moment.
- Chanele Czopp, Broadcast and Digital Journalism