A 1A Los Angeles Times story on May 18 about food truck safety was cooked up by two students in a USC Annenberg data journalism class.
Caitlin Plummer (B.A. Print and Digital Journalism '17) and Michael Radcliffe (Journalism M.S. '16), wrote a story about how 27 percent of L.A. County food trucks inspected since 2014 received lower than A grades. Both were students in USC Annenberg adjunct professor Ben Poston's spring-semester JOUR 546: News, Numbers and Introduction to Data Journalism class at USC Annenberg and shared a byline with him. Poston is an assistant data editor at the Times.
The story found, by comparison, slightly less than 5 percent of brick-and-mortar restaurants and about 18 percent of food carts fell below that mark.
Plummer recalled how in class, she and Radcliffe pitched different story ideas to Poston, which didn't pan out. Then, three days before their rough draft was due, Poston suggested looking into food inspections.
"Ben did a ton of work on the final project because he ended up doing some data cleaning. We had never even looked at the difference between food carts and food trucks," Plummer said.
She said she felt lucky taking the class with Poston.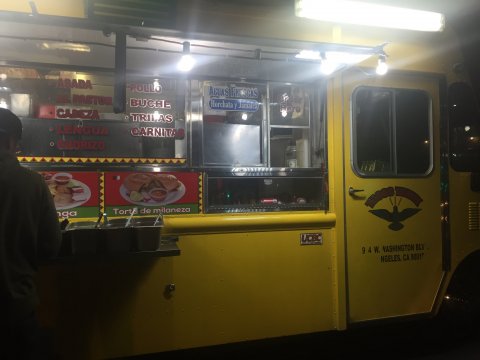 Courtesy of Caitlin Plummer
"The fact that I almost didn't even take the class and stumbled onto this story three days before the rough draft was due, and Ben took the initiative and really saw something in it -- to really give us this opportunity," she said.
USC Annenberg recognized years ago it has to prepare students for this type of in-depth, detailed work, said USC Annenberg Professor Vince Gonzales.
"Leaving journalism school these days without at least a passing reference to data is like graduating without knowing how to type or write a lead. It is a crucial skill set that all journalists have to be familiar with," Gonzales said.
The class was designed to make sure all USC Annenberg graduates work with data and is a required course for all graduate students, he said. The class also serves as an introduction to data journalism.
"This class provides basic math literacy skills so that graduates leave knowing how to use and read a spreadsheet, understand basic statistics and have a basic grasp of numeracy skills," he said.
Gonzales said the goal of the course is not to turn anyone into a math whiz.
"If graduates can perform simple accuracy checks and then know when to ask for help, when to not trust a number that has been thrust at them, then the course has been a success," Gonzales said.
Please read the Los Angeles Times story here.