Two USC Annenberg students, Cole Sullivan (BA Broadcast and Digital Journalism '18) and Brad Streicher (BA Broadcast and Digital Journalism '17), were among the top 10 finalists in the 57th annual Hearst Journalism Awards' Television One Features Competition announced last week. Each student submitted two stories for the competition.
Sullivan came in second and was awarded $2,000 while Streicher won third place and a $1,500 award. Both are qualified to move on to the semi-finals, and following the semi-finals, the top five television finalists will be chosen to participate in the 2017 National Broadcast News Championship in San Francisco, along with the radio, writing, photojournalism and multimedia finalists.
The Hearst Journalism Awards Program rewards outstanding undergraduate journalism work from the 106 member universities of the Association of Schools of Journalism and Mass Communication and includes writing, photojournalism, and multimedia competitions.
Both students wrote their stories in Journalism professor Judy Muller's class last fall and credited her and Media Center faculty Stacy Scholder for invaluable feedback both inside the classroom and in the Media Center.
"Both Stacy and Judy were really helpful with both of these stories," Sullivan said. "I couldn't have done it without their support. I did the legwork but having the support of the faculty really made the difference."
Sullivan's submissions were "Political Impersonators on the Ballot," about political impersonators impersonating Hillary Clinton and Barack Obama during the 2016 Election, and "I Never Thought It Would Happen': USC Students Share Stories of Sexual Assault," on sexual assault on campus.
"They were two very different types of stories, one was a feel good feature and one was a serious news story I spent 11 months reporting," Sullivan said. "I was excited they both were recognized for different reasons."
Access to the Julie Chen/Leslie Mooves and CBS Media Center allowed Sullivan to use radio, video and social media for the story.
"Especially with the sexual assault story, the Media Center provided a platform where I could show my work and get it out to other students across mediums," Sullivan said. "It was great to be able to have that platform to base it off."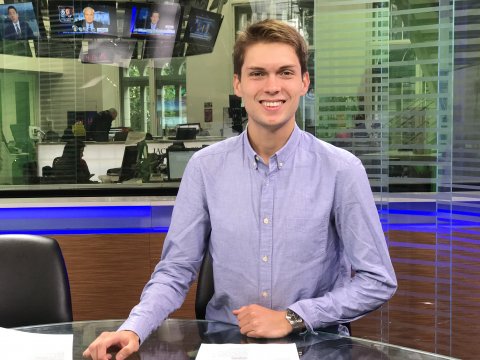 Streicher's story "Graffiti Artist Betters the Streets of South Central" followed Clinton Bopp, a graffiti artist in Los Angeles. His second story, "Porn Stars Fight Against Condom Regulation," was about Proposition 60, a failed California proposition from the November election ballot that looked to require adult film stars wear condoms while working.
"I think the most exciting part of it for me is the Annenberg School really trained us to try to tell compelling stories, to tell someone's story that wouldn't otherwise be told," Streicher said. "Being a finalist was a personal accomplishment and a testament to the strength of the school's journalism program."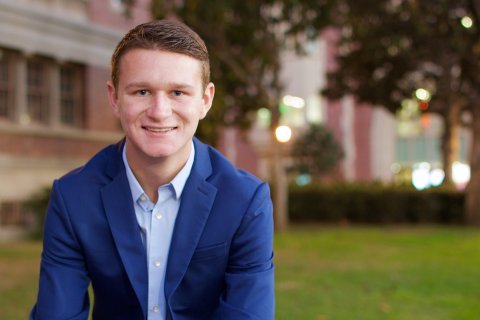 With the Proposition 60 story, he was able to share two sides of a complicated issue.
"By talking to the people involved I found there was a lot more to the controversy than people may originally think," Streicher said.
Muller said the Hearst Journalism Awards Program's Television One Features Competition are a "very competitive competition."
"Second and third place is a feather in our cap," she said. "Both those guys will be soon reporting out in the world and we will see great things from them."
Scholder, Media Center faculty, said both students were deserving of their wins.
"They are both go-to reporters for Annenberg Media who are really reliable and who are totally ready for the professional world," Scholder said. "They are going to get out and get real jobs and hit the ground running."