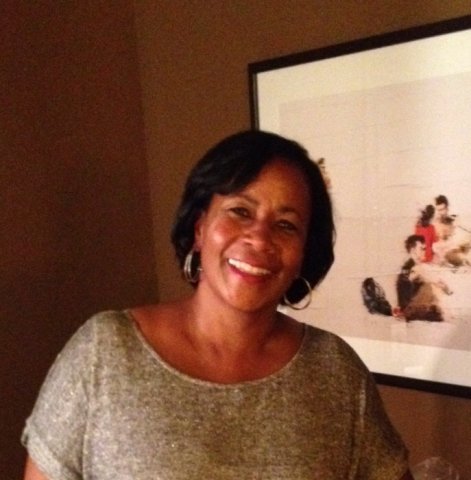 By most accounts,
Darlene Lovell-Parker
's path to the USC Annenberg online
Masters of Communication Management Program
, from which she will graduate this spring, was anything but conventional.
"I was a late bloomer," Lovell-Parker said, recalling an academic career which spans several decades and continents. A U.S. Navy veteran and government employee for the past 30 years, Lovell-Parker spent more than six years obtaining her Bachelor's degree while working around the world in the military, and tried out several different Master's programs before enrolling in the MCM program at USC.
The decision to attend USC Annenberg, according to Lovell-Parker, came about somewhat indirectly and coincidentally, the result of just one of the many memorable experiences which define her academic and professional career. That experience? Happening to be seat mates, while on the flight back from President Obama's 2009 Inauguration in Washington, D.C., with none other than Annenberg Dean Ernest J. Wilson III.
For Lovell-Parker, who had been enrolled in a Master's program at another school at the time and was unhappy with her field of study, the rest was history. "When I circle back to the happiest moments of my life, they had to do with communicating or writing," said Lovell-Parker, who grew up in Compton, Calif. and fondly remembers attending USC cheer camp and being the editor of her high school's newspaper as a teenager. "I did a lot of investigating and soul-searching, and I decided that this program had all of the rigor I wanted and more."
As a full-time government employee for the Department of Defense, Lovell-Parker has found that the online MCM program works well for her life, allowing her to work on her Master's degree from her home in San Diego. She admits that this style of learning did require something of a learning curve, though, and she was initially skeptical about enrolling in an online program.
"I never thought I would want to do online classes, but I find this to be my preference," Lovell-Parker said. "In hindsight, I've realized that I don't do well in brick and mortar classroom settings, and when I look back at [my other Master's programs,] I had less contact with that professor than I do with my professors now, and less access than I do now."
Transitioning from a successful career as a high-ranking Naval officer―having served her ship as the first female command master chief, the most senior enlisted sailor in a U.S. Navy unit―to being an older college student also took some adjusting for Lovell-Parker.
"In the military, by the time I hit my thirties, I was an authority on so much. I had all the answers," she said. "Now, I don't have all the answers. There are a lot of really sharp people in the program, and the whole school, and it's a very humbling experience. It's making me grow so much more than I thought I would at this time in my life."
The MCM program, which typically takes about two years to complete, is a trying undertaking for most students. But for Lovell-Parker, who works full time as a command security manager and program manager for the Navy's higher education transition program, the experience has been particularly demanding. Though Lovell-Parker isn't yet sure exactly how she'll utilize her degree come May, she knows that, whether she continues her current job as an advisor in the Navy College Program for Afloat College Education, which helps sailors earn degrees while deployed, or pursues another career opportunity, she'll be more than prepared.
"I selected this program because what I'm learning now, I could apply to anything," Lovell-Parker said. "When I go on to my next job, whatever it is, I'll be able to utilize it. I'm one of those folks that I still don't know what I want to be when I grow up."
Much of this preparation was due to the support system Lovell-Parker was able to find in her advisors and instructors, including Dr. Cynthia Martinez, Dr. Mathew Curtis, and especially her advisor, Dr. Daniela Baroffio, whom she describes as her "lifeline" in the program.
"Darlene is the ideal graduate advisee; she is self-motivated, emotionally resilient to learn, and intellectually driven," Baroffio said. "It is a pleasure working with a student who takes responsibility for her objectives as well as her struggles in reaching these objectives."
The network of mentors and colleagues that Lovell-Parker has developed at Annenberg has been key to her success, she said, as an older student in an online Master's program. "They are just so brilliant, and the students are brilliant, too," Lovell-Parker said. "It has not disappointed. I don't have a social life anymore, but I'm enjoying the ride."
In the meantime, as she enters the home stretch of the program, Lovell-Parker is constantly motivated to push through any challenges she may face by an experience she had many years ago, while enduring boot camp as a new Navy enlistee. "We had to run in boot camp, and it was really difficult. I remember one of the other girls saying to me, 'You might as well stop now because you won't make it anyway,'" Lovell-Parker said. "I think your tenacity, your persistence, pushing beyond, 'Oh, I'm tired, I'm stressed,' your inner desire to push through it; I think that has a lot to do with your experience in life."
Lovell-Parker is not the first member of the Armed Forces to complete an online MCM at USC Annenberg.
Read about Army Maj. Mike Nicholson, who earned his master's degree online – from Afghanistan.