USC Annenberg
On Thursday, Annenberg journalism and communication students, engineers from Viterbi, innovators from the Jimmy Iovine and Andre Young Academy and entrepreneurs from across USC gathered at Wallis Annenberg Hall for a night of thought-provoking insights from investor Peter Thiel.
Thiel graduated from Stanford University and was a founder of PayPal. He was an early investor in Facebook and also created the Thiel Foundation and Fellowship, which is geared towards promoting innovation and "freedom in all its dimensions." His current billion-dollar venture, Palantir, provides big-data tools to the NSA, CIA, domestic law enforcement, corporations and non-profits interested in mining large, heterogenous data sets.
Willow Bay, director of the journalism school, introduced Thiel with a nod to one his signature provocations: paying young "Thiel fellows" $100,000 to skip college and go directly into entrepreneurship.
"[You've] sparked a debate between learning and formal education," Bay said, "but you have an open invitation to come back and teach here at Annenberg."
Thiel had just stepped off a flight from Berlin but did not miss a beat, giving the assembled audience a powerful lecture on innovation and the need to keep "searching for secrets." Elaborating on themes contained in his new book on economics and society, "Zero to One: Notes on Startups, or How to Build the Future," Thiel urged listeners to keep developing themselves and their skills, and to also refuse pessimism when it comes to pursuing their dreams and ideas.
"It's self-defeating telling ourselves 'it's impossibly hard' or that there are no more secrets left to find," Thiel said. "[Innovation] involves something idiosyncratic. It will come from a new category no one is thinking about."
"I read his book and wanted to hear him elaborate on concepts from the book," Marshall masters student Anthony Vassallo said. "One of the concepts he asserts is that you need to monopolize a function to play in a bigger market. He makes a lot of aggressive statements and I wanted to hear more about that off the pages of his book."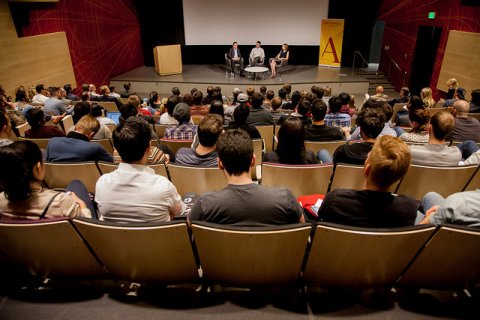 USC Annenberg / Brett Van Ort
After his remarks, Thiel, J.P. Morgan banker Alexander Cox and director Bay asked an initial set of questions about Los Angeles as a tech destination and the founding of PayPal.
Questions from the audience focused mainly on the growth successful startups, but author and School of Communication professor Robert Scheer wondered whether technologies like those pioneered by Palantir could have negative implications for privacy and democracy.
Thiel's response was it is only through the deployment of more sophisticated technology that we become truly secure.
"I think the [goal] for information technology is more security with fewer privacy violations," Thiel said.
The overflow event filled much of Wallis Annenberg Hall, with the crowd spilling out of the auditorium and into the forum space, where attendees watched a livestream of Thiel's remarks on the media wall. For director Bay, the new building's ability to host multifaceted discussions was one of the most exciting parts about the event.
"I think his message is about thinking in unconventional ways; not simply following conventional wisdom; not simply following the conventional path," Bay said. "And I think in journalism there have never been more opportunities to do that. There have never been more tools available to really push the boundaries of what we know across platforms and across formats."
Following the question and answer period, Thiel signed copies of "Zero to One."