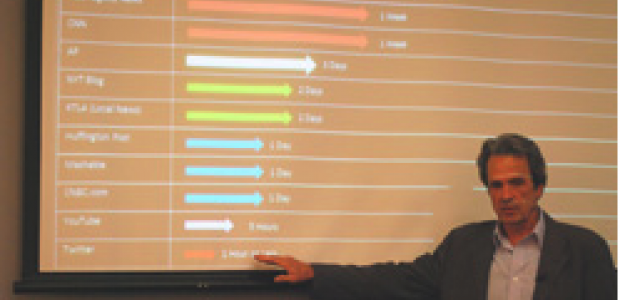 GolinHarris CEO Fred Cook
GolinHarris CEO Fred Cook shared his public relations agency's new organizational model, "g4," at the Oct. 11 Journalism Director's Forum.
The agency restructured its employees into four specialized groups: strategists, who come up with ideas; creators, who produce content; connectors, who are "experts at story telling;" and catalysts, who organize collaboration between groups.
"Most importantly we wanted to move from generalists to specialists," Cook said.
The public relations world is growing more complex, and he wanted GolinHarris to "PRevolve," change intentionally, to make sure the agency would survive industry changes.
"What I learned from it was there was an enormous appetite for change, that people in our industry and in the advertising industry had been talking about change for a long time," Cook said.
He said many public relations experts think GolinHarris' bold move will transform the industry forever. This leaves some public relations students, who have been taught to know a little bit of everything, confused and worried about their futures.
Cook maintains there will always be a place for those jacks of all trades in the industry as catalysts, but g4 places specialists from each group on each account. So an awesome writer will do the majority of the writing, while a digital fiend will focus on social media for a client.
"A lot of clients today do not want to work with seven different agencies for seven different channels of communication, they'd like to have one agency who can do all of that," Cook said.
The next Journalism Director's Forum, on Tuesday, Oct. 18 at 12 p.m., welcomes Ramin Asgard, director of Voice of America's Persian News Network.