For Joy Ofodu, the "Aha!" moment came early during her Bay Area Maymester trip with 16 fellow USC Annenberg journalism and communication students.
She had studied up on the companies that filled their two-week itinerary – Google, Instagram, Pinterest, Pixar and a full roster of top-tier media tech companies. She suited up, as she puts it, "to the nines." Still, she couldn't help feeling like an imposter.
But what she and her cohort soon realized, in board rooms, creative suites and workshops, was simple – and mind-opening.
They could do this.
They listened in on the planning behind national campaigns, talked with executive suite leaders, bounced ideas off creative strategists. They saw firsthand the convergence and disruption in media, communication and web technologies. And their possible place in it.
"What made the most impact was realizing there are so many roles for young communication professionals within the tech industry," said Ofodu (B.A., Communication, '18). "I had never before seen myself at a company like Google or Facebook. But communication within tech is so essential. It's the glue that holds everything together.
"That was a big revelation."
Planning for the 2017 Maymester is underway, and the cohorts have been selected. The program's itinerary has grown more ambitious each year since launching in New York in 2015. School of Journalism Director Willow Bay opened her own rolodex to help students establish personal connections with major media companies. Led by Bay, School of Communication Director Sarah Banet-Weiser and Dean Ernest J. Wilson III, students visited companies shaping the future of communication, journalism and public relations fields.
NYC visits have included ABC News, the NBA, The New York Times, Refinery29, Good Morning America, Bloomberg, BET, TIME Inc., YouTube, The Met, Food Network, NBC News and HBO.
Last year, a Bay Area program was added, allowing students firsthand access to the media tech side of the communication industry. Besides Google, Pixar, Instagram and Pinterest, they spent time behind closed doors at Edelman San Francisco, Salesforce, Pac-12, Intel, Bloomberg TV and Brigade Media.
"It was a lot to take in, in a two-week span," Ofodu said. "Besides executives, we heard from casting directors, storyboard artists, customer reps, analysts – they all had such different titles."
(Produced by USC Annenberg student Joy Ofodu).
But everyone they talked with, Ofodu found, essentially was responsible for the same thing:
"Using communication as an art or math or science to solve the problems facing the organization."
It was another epiphany, she said.
"It was really inspiring to me, to realize my career could look like anything," Ofodu said. "I could fill five or six roles just with my degree from Annenberg. It's all fluid, because the industry demands that we're fluid."
Students describe the small-group settings, where they meet with company leaders, as something akin to mini-internships. The sessions are true deep-dives, as students hear about the challenges facing these organizations. They often reveal specific problems, and how they're dealing with them amid the disruption that shifts the landscape daily.
What follows is often a workshop-style conversation, as leaders ask for input and get students' take on possible communication solutions. They share the companies' own ideas for addressing a problem – or the outcomes of campaigns they launched.
"Having conversations with them, we were the important people in the room, and they wanted to know everything we were thinking," said Lauren Bickford (B.A., Communication '18), who participated in Bay Area Maymester last year. "It was eye-opening, because it was the first time we realized we have something unique we can offer to the work world. We can bring a totally new set of skills."
She found the brainstorming in that setting exhilarating, she said.
"It was very fast-paced, high-energy, and a lot of creativity comes out when we're trying to think of new ideas for the industry," Bickford said. "It's a fun environment, and gets you thinking about the larger picture of how technology, media and business are all related."
The experience was a perfect transition into her summer internship at Buzzfeed.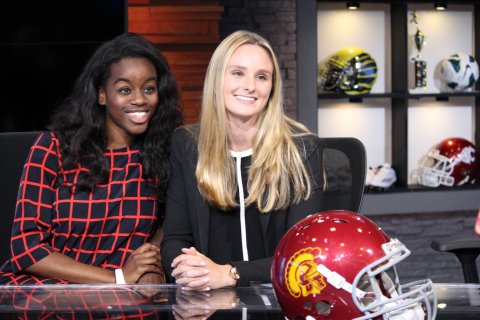 Courtesy of Lauren Bickford.
"Maymester was like an intro course for my internship at a young tech and media company," she said. "I was able to apply classroom knowledge in a new way, seeing the industry inside-out, and then my internship was experiencing it in a work setting. Maymester was that middle connecting point."
As much as she loved the Bay Area experience last year, Bickford still dreams of a career in New York, she said. Toward that end, she's taking on NYC Maymester this summer.
"Now that I have a better grasp of all the innovation that is happening, I'd like to understand more about how some of these legacy companies started," she said. "I think it's all part of understanding what is happening in the industry. I need to keep exploring."
The Maymester programs, managed by USC Annenberg's Career Development team, are application-only and highly competitive.
Aaron Glazer (B.A., Broadcast and Digital Journalism '19) was selected for the 2017 NYC Maymester, and calls the opportunity for an insider's view a privilege.
"Not every college student gets to go behind the scenes of Good Morning America and talk to producers and anchors. We're going to so many places of that caliber, and all at the same time. I think that's truly something special," he said.
Courtesy of Lauren Bickford.
Glazer hopes to gain a deeper understanding of what makes the industry tick, he said, and an appreciation for the people who run it. He wants to make long-lasting connections.
"I hope to start conversations that can continue, that can lead somewhere," he said.
That's what the hosting companies would like as well, said Talia Williams, CNN Recruiting Manager and USC Annenberg alumna (Broadcast Journalism '03).
Williams welcomed Maymester students to CNN's New York bureau and will host them again this year. She has seen the impression it makes on students, some of whom were seeing a top-tier newsroom for the first time.
"There's nothing like seeing something in person, going into the newsroom, seeing the living, breathing environment that you can visualize yourself working in," she said. "It might push someone who is wavering, to readily see that there are opportunities and options."
Students prize the opportunity to meet face-to-face with CNN leadership, but the network sees it as their gain, Williams said. "We want to hear what they're learning, how we can shape ourselves to help them grow," she said.
Not to mention, they get to spot rising stars.
"These are the cream of the crop," she said of Maymester students. "The earlier we can meet them and bring them into the fold, find ways for them to contribute and work with us – the better."
Students describe the program, on either coast, as a once-in-a-lifetime experience. It wasn't just the heady access – on the set of the Food Network, in a conversation with Bobby Flay, or hanging out with the celebs of GMA.
It's the feeling of confidence, of self-assurance that they do indeed belong in the industry they chose, Ofodu said. There is place for them.
"We left feeling that we will have roles in the industry, as long as we apply ourselves," she said. "You realize that with the right resources, tools and preparation, you can really tackle anything."
Ofodu has since landed an internship at Instagram this summer, where she will work directly with the teams she connected with via Maymester last year. As a Teen Community intern, she will conduct marketing research on the platform's new services and how teens are using them.
"Maymester," she said, "cleared the imposter syndrome."
Seventeen students will travel to the Bay Area from May 14-26; Eighteen students will be in New York City from May 13-26. USC Annenberg will follow up with them, for a report detailing their experiences.