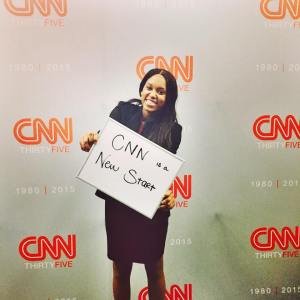 It took one internship, one summer, and one company to not only change my career goals but my entire perspective on the media industry. Over the last few years, I've been fortunate enough to have several news internships and jobs. As I was entering my final undergraduate summer, I knew there was one more company I had to check off my list — CNN. But little did I know, I would meet my soon-to-be boss long before I even applied to the company.
During my ATVN executive producing shift back in January, I was asked if I could quickly grab a camera to interview two people from CNN. I wasn't given much information but rushed down to check out a camera and set up my tripod. Turns out, I was interviewing the senior vice president of CNN, Andrew Morse and CNN supervising producer, Wendy Brundige. After the interview, the three of us talked about digital journalism, the shifts in the field and opportunities at CNN. I learned Wendy was a USC alumna who had also worked as an ATVN producer. I remember leaving the Media Center thinking they both had the coolest jobs in the business. The Video Content Development department at CNN was a relatively new unit and focused on delivering digital content on top stories, breaking news and features. I desperately wanted to find a way to be part of the emerging platform.
When it was announced their department would be having summer interns, I applied immediately. I stayed in contact with Wendy, interviewed over the phone and was ecstatic when I was selected for the summer internship. A few weeks later, I was on a plane heading to New York to intern in CNN's Video Content Development department. From the first day on the job, I knew my time at CNN would help define and shape my career goals after college. Yet, the internship far exceeded my expectations — and I credit my two amazing supervisors, Wendy Brundige, Vivek Kemp and their staff for making that happen. They wanted my internship to be as hands on as possible and made sure I was getting the most out of the program.
Our department was split into two units, news and features as well as long form digital videos. It was the perfect blend, creating a unique opportunity to learn how to produce two different types of content for one digital site. My fellow intern and I became heavily immersed in all aspects of digital production, learning the importance of pushing out dynamic and in depth coverage for an audience that desires concise and convenient information. From the equipment, to the shots, to the graphics, animations and music– I absorbed all the information I could. By the end of the internship, I was able to pitch, shoot and help produce my own story, "Date While You Wait," which is now up on CNN.com. Not to mention, I was able to meet the president of CNN, Jeff Zucker and several other executives through the internship program's speaker series.
As I approach my final semester at USC, I can't help but be thankful for the amazing summer I had at CNN. I couldn't have worked under more creative, welcoming and innovative people. The staff in the Video Content Development department went the extra mile to show me the ropes and inspired me to pursue a career in digital video. I am now helping start up a digital unit in Annenberg's Media Center, taking all the skills I learned in New York and putting them into action at USC. It took one internship, one summer, and one company to change my career goals and perspective on the media industry — and I'm so grateful it did.
— Rachel Scott, Broadcast and Digital Journalism