I still remembered one of the interview questions was, "So which brand's marketing strategy do you like the most in the digital space?"
(blank for almost 90 seconds)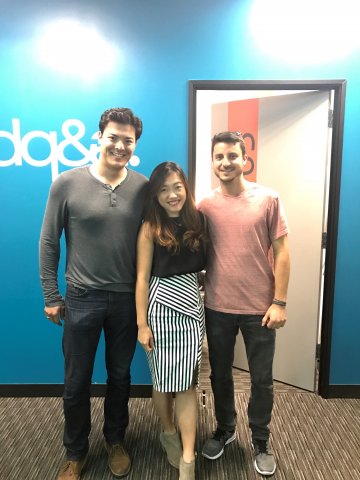 "I think it should be Nasty Gal, because they really target at what you want and customize the ads to you.
Three days later, I received an email titled as "An Unofficial Yes". From there, I started my four-month internship as a digital marketing analyst intern at DQ&A media group in Playa Vista.
DQ&A Media Group is an international digital marketing company, specializing in digital advertising technologies. We have international office locations across Europe, and the USA office started in early 2011. Currently, LA office focuses on the company's main division-Adsimilis, where I worked at. Adsimilis is a full-service digital agency and affiliate network that specializes in performance marketing, branding and web development.
As a digital marketing analyst intern, I closely worked with performance media coordinator in the internal team every day. My job mainly included social and search advertising performance analysis, online user behavior target and optimal ROI media buying solution design. Our company has more than 50 advertising campaigns going on every day in different countries across the world.
The beginning of my internship was absolutely not easy because the digital media industry is a whole new world for me. A lot of you might think digital media/digital marketing equals to……Social Media? (One of my friends kept thinking my internship was about clicking the likes on Instagram throughout the whole time I was interning…..:/) Trust me, I thought exactly the same before. However, social media is just a portion of overall digital media space. (There are also SEO, blog, email marketing…etc.) When it came to specific performance metrics like Cost per Click, Click-through rate or Cost/Revenue per Conversion for analyzing the user behaviors, I got buzzed.
It had been a significant change for me in the beginning two months of the internship. I needed to understand and memorize all the digital terms and used them to analyze hundreds of rows of campaign data to optimize our ads and raise ROI. It also had been the most rewarding experience I ever had in my life when I witnessed my recommendations actually led to revenue increase and more online engagement.
Of course, I was working with a bunch of passionate, outgoing and talented "marketing geeks". I love the working vibe in Playa Vista, or so called "Silicon Beach" area in LA. Every noon, there are different food trucks parked in the complex. There's a Whole Food market across the street. Sometimes, our team would just go down to Venice beach and have Mediterranean or Brazilian food. Thanks to my super patient and nice boss Tim, every question I had got answered, in a super detailed way. Another thing I love about our company is that even if people are in different teams, they are always there for you. Because of such a "low-hierarchy" working culture, I got a lot chances to mingle with people in the company and learn from their experiences in the industry.
As a comm major, I am often asked: "Oh, so…what are you going to do with your communication degree? It sounds pretty broad." Before this internship, my focus was on brand marketing and social media content management, like a lot other Annenberg students I believe. However, the flourish of big data and the competitive trend of customized consumer journey start to challenge our views toward traditional marketing and change my mind about my own path. If you ask me whether I am going into the digital marketing or consumer data analysis fields after graduation a year ago, I would definitely think you are crazy.
Well, I am still not sure what I am going to do in the future. However, one big thing I learned from my internship experience is that: NEVER LIMIT YOURSELF. There are a lot things you will never know, and a lot areas still have doors open for you to discover.
– Qinyu (Hailey) Ji, Communication