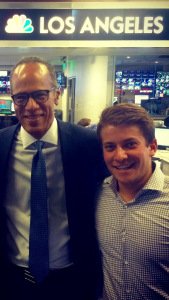 Opportunity. That's what I saw when I accepted my internship at NBC Nightly News. The opportunity to learn, the opportunity to meet new people in the news industry, the opportunity to make an impact on how news is covered, and most of all the opportunity to grow as a journalist.
When I walked in to the Brokaw News Center for the first day of my internship, I had three goals in the back of my mind that I wanted to accomplish during my time at NBC: a safety goal, a realistic goal, and a dream goal. I had always been told that an internship is what you make of it, and I knew it was up to me to learn the most that I could while I worked at my dream job.
My safety goal was to grow as a journalist. I knew that working alongside veteran reporters, producers and anchors would teach me skills I wouldn't be able to learn about in the classroom. From rushing to get as much information as quickly as possible in the hours following the Umpqua Community College shooting in Roseburg, Oregon to searching for links between victims of the Paris Attacks and Southern California, real news with real deadlines cannot be replicated in the classroom. Watching, listening, and observing the professionals helped me see the skills that it takes to be successful in journalism.
My realistic goal was to learn from some of the best in the business. From watching Lester Holt anchor NBC Nightly News from Los Angeles on multiple occasions to getting feedback and critiques on my own work from NBC correspondents, I tried to learn as much as possible during my time at NBC. I tried to grow from every piece of advice, criticism and complement that the professionals gave me so that one day I can hopefully be in their position.
My dream goal was to go out into the field to cover a story. Universal City, LAX, San Bernardino, Colorado Springs. As an intern for NBC Nightly News, my job location switched to wherever news happened. I've always been the type of person who wants to be at the center of anything important that's happening. Watching reporters on television at the scene of a news story is interesting; being at the scene helping to report to the rest of the world what is happening is even more interesting. Two dead and 12 injured in Colorado, airline computer outages cause major delays for travelers in Los Angeles, 14 dead at a social services center in San Bernardino: news happens everyday, it's the responsibility of news teams to report it. During my internship at NBC Nightly News in the Los Angeles bureau, I was given that responsibility.
Opportunity. An internship is an opportunity, and I knew it was up to me to make the most of it. At NBC Nightly News, I grew as a journalist and discovered something I couldn't have learned in a classroom: that I wanted to be a journalist for the rest of my life.
— Marc Sallinger, Broadcast and Digital Journalism