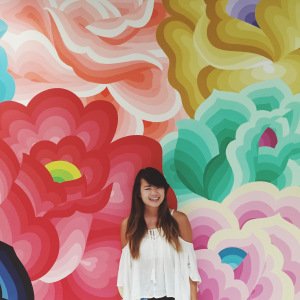 This summer, I spent three months at Facebook as a content strategy intern. I'm a communication major with a double minor in communication design and marketing, but I have roots in tech – I grew up in Palo Alto, and always hoped I'd find my way back there after graduation. I stumbled across the opportunity on the Facebook Careers page, and after submitting writing samples and going through several rounds of interviews, I ended up landing my dream internship.
Content strategy is a relatively new field, and I encourage anyone interested in a writing-related career, especially journalism, copywriting, or marketing, to look into it. At Facebook, content strategists work with many different people, from product designers to engineers to researchers, to design the Facebook user experience. Specifically, content strategists shape the Facebook voice and tone and work with the internationalization team to use language that a global audience of 1.5 billion users can understand. Over the course of my internship, I learned that there's a lot more to content strategy than rewording sentences and deleting Oxford commas. The content strategy team crafts each word, from buttons to category headers, to be simple, straightforward, and human; for example, changing the event RSVP option from "Decline" to "Can't Go". I worked with two other content strategists on the Pages team, where I learned to write business-facing content and helped develop new messaging features for Pages.
The Facebook internship program offers many incredible opportunities to learn and grow. During my first two days of orientation, I met the head of design at Instagram and the sound designer for Messenger (he created the sound you hear when someone messages you). In addition to Mark Zuckerberg's weekly Q&A's with the whole company, interns get our own Q&A's with Mark, Sheryl Sandberg, and other execs from Instagram, Oculus, and WhatsApp. What sets Facebook apart from other companies is its open and collaborative culture – interns are encouraged to ask questions, take initiative, and make an impact. We're treated like employees, which means we're given the responsibility to solve complex and challenging problems, but we're also paired with mentors who teach us the Facebook ways and help us see our projects through from start to finish. It's really cool to be able to point to something on Facebook and say that I wrote or designed it.
One of the most memorable experiences from my summer was the company-wide hackathon. Every year, Facebook holds a day-long hackathon where employees can take a break from their regular work to come up with creative ideas involving Facebook products. At the end of the hackathon, each team presents their idea at a prototype forum, where a handful of the best projects are chosen to be presented to Mark. My friends and I came up with a safety-related project that ended up being picked, and we spent a crazy 24 hours turning our whiteboard scribbles into a working prototype, which we got to demo in Mark's office. (He said our project was "really cool.")
Overall, my internship at Facebook was challenging but incredibly fun and rewarding far beyond my expectations. I'm excited to return next September as a full-time content strategist!
— Lauren Wong, Communication