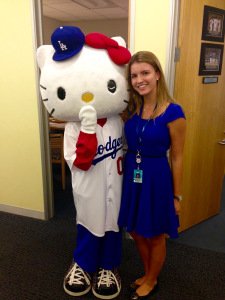 I was hit in the face my first day of seventh grade softball team practice. I cut my toe on a pool jet in my first week of eighth grade swim team practice and had to go to urgent care. My freshman year of high school, I didn't even make the frosh-soph volleyball team.
Playing sports was not my thing, but I was always a fan. I jumped at the chance to go to one of my brother's varsity games or a pro game. The full sensory experience was one of a kind with its sights, smells and sounds.
What I lacked in hand-eye coordination, I made up for in organization and the ability to thrive in a fast-paced environment. I knew I wanted to work in professional sports.
In the spring of 2014 I researched internships at the Dodgers on the team's website and interviewed for an internship in the Dodgers' Corporate Partnerships department. When I received a phone call offering me the position, I sat on it for about a day then accepted.
And I'm so glad I did.
My first official day was Opening Day 2014, and in the year and a half to follow, I've had experiences and met people I'd never thought possible.
Every day, I look forward to heading to work. Game or no game, I know it's going to be an eventful day at the office. No two days have been the same and it's the hustle and bustle that keeps me active, engaged and wanting more.
Game days are usually more interactive. I'll lead clients to the field to watch batting practice, give tours of the stadium, escort former Dodgers to suites for special appearances, upgrade lucky fans with front row seats or surprise a row of fans with piping hot pretzels.
The days when the team is on the road offer unique upsides, too. First, the offices are in Dodger Stadium. I even have my own desk and phone! I also get to spend hours with my smart and kind co-workers, whom I greatly admire. They've taught me a great deal about sponsorship and baseball, while also offering advice and teaching me the realities of working in professional sports. Baseball has long hours and no time for summer vacation, but I've seen them balance their personal lives, relationships, weddings and children while working for one of sport's biggest brands.
I've also done appearances with current players outside of the office at places like sporting goods stores, grocery stores and even LAX.
No matter how many times I brush shoulders with celebrities and athletes as I make my way through the narrow 50-year old hallways, or grab a quick bite to eat in the Vin Scully Press Box, I'm still in awe of where I work. Each time I'm assigned to head to the field, a spark runs through my body. I'm not jaded and I often think to myself to, "play it cool. You work here. You'll do this tomorrow." The mystique of working at Dodger Stadium has not been lost on me and I hope to never take my position for granted.
As a senior, I've already been asked about post-graduation plans. Like a free agent, there is no certainty in my future, but I hope to be signed by the Dodgers for a fulltime offer in May.
— Kimberly Ostiller, Public Relations