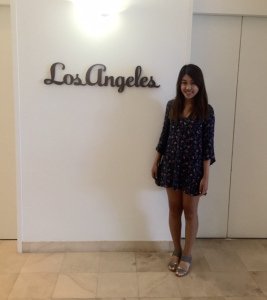 Whenever I think about a magazine internship, the first things that come to mind (thanks to Gossip Girl and The Devil Wears Prada) are coffee runs, lunch orders and dry cleaning.
Luckily, I never had to do any of those things this summer as an editorial intern at the Arts & Culture department of Los Angeles Magazine. In fact, I did more than I could ever imagine.
My boss, the Arts & Culture editor, was the opposite of Miranda Priestly and the environment was warm and welcoming — a stark contrast to the intimidating and cold treatment that I had expected and mentally prepared myself for.
I spent the beginning of my internship opening the dozens of packages of mail that my editor receives on a daily basis that consist of books and music from publishers asking to be reviewed and updating a document that records an ongoing list of books that are about to come out.
In addition to data entry, I helped build article pages on WordPress, compiled lists of interesting things to do in Los Angeles, sat in on editorial meetings, transcribed time sensitive interviews, pitched original ideas for blog posts, wrote my own stories, and even conducted an interview with a renowned journalist.
Even when doing work that is usually deemed tedious, I found an immense amount of joy in every task I was given.
When I opened mail, I enjoyed reading the interesting summaries and titles of books that have not come out yet. When I updated the LA mag Archives, I was fascinated with what used to be relevant (Jennifer Aniston and Brad Pitt in 2002) and the way the magazine used to be formatted and designed.
On lunch breaks, I would feel so lucky to be able to get delicious food at the row of food trucks conveniently situated right outside my building and admire the lamp posts of Urban Light at LACMA across the street.
During these past eight weeks, I've grown to love my temporary home on the tenth floor of the SBE building on 5900 Wilshire Blvd. and an even greater appreciation for the city of Los Angeles. My experience as an intern at LA mag has exposed me to so many events, places and small nuances of the city that I have never known or heard of before. Every single employee I met here is so knowledgeable about food, art, and culture in Los Angeles.
Having lived in Los Angeles for all of my life, it's remarkable that there is still so much I don't know about this exciting and amazing city that is so rich in art and culture. There's so much to discover and learn and I don't plan on ever stopping.
– Erika Lee, Print and Digital Journalism