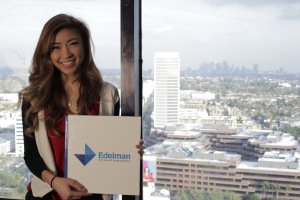 It was in mid spring of the first year of my master's program when I received an email announcing Annenberg's internship and job fair. Among the impressive list of companies was the agency I had always admired: Edelman. At the time I was already set to intern in London over the summer, but I could not shy away from this incredible networking opportunity. When I arrived at the fair, I remember excitedly walking towards the Edelman booth and meeting the HR recruiter, Irene. She was extremely warm and friendly and we talked about Richard Edelman's thought leadership blog as well as the company's initiative to promote women in executive roles through its GWEN network. After handing my resume, I told Irene that I would reconnect with her when I return from London.
Walking away from the Edelman booth, I had a sense of validity that this was the company I wanted to end up at. The work culture, values and growth opportunities speak to why it has been recognized as the leading global communications firm. As luck would have it, upon my return from London, I saw on Edelman's career page that they were looking for a Corporate PR intern. Coming from a business and communication academic background and having interned for a few agencies, this was the perfect blend of my interests and experiences. I emailed Irene right away, and after setting up and going through rounds of interviews with the corporate team, my dream became a reality and I was offered the internship for the fall!
Edelman's internship was an experience unlike any other. It operated like a training program for a junior level position, so as one can expect, the learning curve was high. At Edelman, interns are treated like employees and are integrated into meaningful client work. I found the corporate practice to be a fascinating field. We see business value at the forefront and work with corporate clients to protect and enhance their most fundamental asset: their reputation. As an intern, I supported a number of exciting projects spanning media relations, stakeholder and community engagement and corporate social responsibility. Each day was varied and as my internship progressed, I was taking on more responsibilities. There was a clear growth trajectory and towards the latter part of my internship, I was interacting with clients and was brought onto long-term projects, seeing them materialize from start to finish. I was impressed by the number of enriching opportunities Edelman offered—from coding luncheons to mentorship programs. What I also really appreciated was how my colleagues took the extra time to sit down and learn about my professional goals and exposed me to areas where I wanted to grow.
Four months into my internship, my team extended me a full time offer. I'll never forget how surreal it felt. As I am now wrapping up the final semester of my master's program, I've transitioned onto more client work on accounts ranging from energy to retail to television.
Edelman's unique culture encourages an entrepreneurial spirit that leads people and teams to deliver high caliber results. Working alongside such motivated and intelligent people inspires me every day to learn more, do better and be the best version of myself. Thanks to the amazing opportunities and support from the Edelman team, I managed to turn my dream internship into my dream job and could not be more grateful.
— Christine Alabastro, Strategic Public Relations