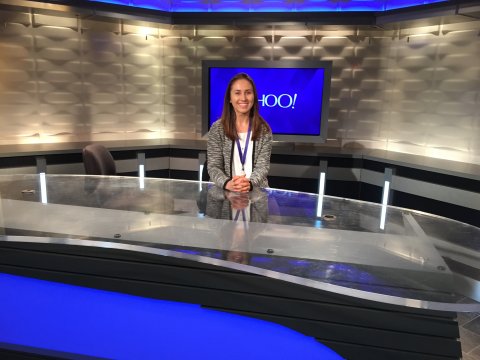 Coming to USC as a junior transfer student, I was a bit anxious by the time spring came around. I felt the pressure of landing an amazing summer internship, as everyone around me would constantly talk about how paramount it would be for determining your postgraduate plans. This definitely freaked me out! As a transfer, I only had internship experiences in my hometown of Carlsbad, interning at local companies that didn't have the notoriety or recognition of the big companies USC students had interned at. Despite my apprehension that my resume wouldn't size up, I decided to dream big and apply to well-known companies. Originally my "dream" was to land an internship with Nike or Under Armour. I had established a wide network of LinkedIn connections, partaken in numerous "informational interviews", and spoke to previous interns to get a sense of what the recruiters were looking for. Yet despite being well-equipped with a professional network, knowledge, and passion, I was in the end rejected by both companies…and I was absolutely crushed! While getting rejected from my dream internship was painful nonetheless, "failing" led me to find another industry I was wildly passionate about.
I came across a post for a Marketing Strategy Intern position at Yahoo. At first, I honestly did not have too much interest in the tech industry, but what captured my attention was the role itself. It was absolutely perfect. The responsibilities, projects, mentorships… everything outlined in the job description sounded like my dream position. Through cold-emailing a Senior Director in Human Resources at Yahoo, I was put through to the University Recruiter and the process began. While interviewing with my potential managers, everything just felt right. They were the best interviews I had ever done; I felt comfortable, well understood, and confident. I ended up receiving the offer for the role a week after my final interviews. I was ecstatic!
I interned at Yahoo's Sunnyvale HQ right in the heart of Silicon Valley and stayed in Berkeley. Yahoo gives all of its interns a stipend for relocation, and there are shuttles all over the Bay Area that take you to and from work. While the commute was not the best, I am so happy I decided to live in Berkeley. I was close to San Francisco and met other interns that have become some of my closest friends!
Despite being just an intern, I was given huge responsibility and some impactful projects to work on during my internship. Within just the first week, I was to spend $100,000 and manage one of our native search advertising partners! I was attending numerous meetings during the day, having quality one-on-one time with my manager (Vice President of Marketing Strategy & Operations), and learning an enormous amount of information and skills.
I worked mainly on optimizing and scaling our marketing campaigns, implementing A/B creative tests, and analyzing consumer insights data. I was also given a main project that I worked on with other interns from the sports product marketing team, integrated marketing communications team, and creative team. At the end of my internship, we presented our project to the entire marketing department…including our CMO! Overall, I had the pleasure of working with many different teams, from finance to engineering to creative, and was given the opportunity to work on literally anything that I was interested in. Yahoo truly wants you to be passionate about your work, and they are very flexible in allowing you to work outside your job description.
While my work was certainly enjoyable, the intern events and Yahoo perks were also pretty awesome. Yahoo gives all of its employees free breakfast, lunch, and dinner, plus each floor is stocked with an array of unlimited snacks! Oh, and also there are baristas to make your morning coffee! Every Friday, the CEO, Marissa Mayer, hosts what is called "FYI". At 4pm, all of Yahoo's employees gather in the main cafeteria and listen to what's happening in the company, usually about new products, features, and company benchmarks… all while sipping wine and eating fancy cheese. Usually after FYI, there would be a company BBQ or other food vendors, and all of the employees can hang out after the work day. In addition to the endless company events, there were also events specific for interns. A few included attending a Giants game in San Francisco, a beach day in Santa Cruz, bi-weekly trivia nights, and parties. Yahoo gives its interns a full experience and I can honestly say that it was the best summer of my life.
There was not one day that I didn't want to go to work, and that's how I knew that I was in the right place. I love the passionate, humble people that work at Yahoo and the opportunities the company provides to all of its employees and interns. You truly feel valued, and to me, that is extremely important when deciding where I want to work. The opportunity to intern at Yahoo has re-shaped my career trajectory and brought out a passion for the tech industry that I didn't know existed within me. The experience was invaluable and I am extremely appreciative of the new opportunities that have arisen because of my internship.
Now, I am happy to say that I still work at Yahoo! I work part-time as an Associate Marketing Strategist in the Playa Vista office while I finish up my Senior year at USC. For now, I have the best of both worlds: working a wondrous job and attending an incredible university.
– Chelsea Spinos, Communication