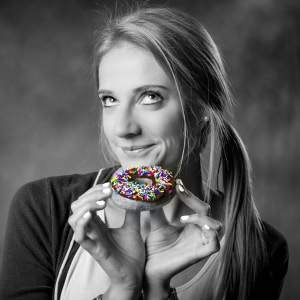 My mom never let me watch Gossip Girl growing up, so naturally, I searched for ways to watch such a brilliant show on my own without her knowing. When Hulu launched in 2007, they gave a young sixth grade me the opportunity to watch each new episode the day after it aired for free online, no subscription necessary. I have always had a special place in my heart for Hulu, since I felt I have sort of been there since their beginning, watching them grow ever since. So, when the opportunity arose for me to intern at the company last summer, it seemed like an obvious choice.
Being a broadcast journalism major and a cinematic arts minor with a knack for creativity and a passion for social media, I was put on the media team, a branch of Hulu's marketing department that handles all stages of the marketing process. The team's schedule consists mostly of meetings, including meetings to discuss budgets, meetings to go over artwork for new shows coming out, and meetings to figure out where in Los Angeles to stick a Seinfeld billboard, for example, so that it will be seen by the target audience as much as possible.
This particular team requires a lot of analytics simply because they need to measure how well their marketing tactics are doing. Having no interest or college-level experience in math, I wasn't a huge help there. I was able, however, to take the data and arrange it in ways that people could understand easily. I worked on two different newsletters that were sent out to the entire marketing department weekly, one focusing on Hulu's "competitors" and what they were doing that week that could impact Hulu's subscriber numbers both negatively and positively, and the other focusing on mobile news.
I spent a lot of my time working with two of my team members on the mobile field because it is Hulu's fastest growing platform. They picked my brain about social media and how my friends and I like to communicate, see ads, use different apps, etc. This was a really exciting project for me because I got to have a lot of say and felt like I was helping out a lot.
The company overall is one of the most amazing places to intern for. The entire space is brand new and decorated with TV memorabilia. There are two small kitchens on each floor that are always fully stocked with protein bars, candy, chips, snacks, drinks – essentially everything you could ever want, plus the big kitchen which has basically every ingredient you could need to cook anything you want. Every other Friday is bagel-donut Friday, which was a personal favorite. The interns are treated first and foremost like part of the team. Never once did I feel like a young, naïve intern, but instead like a valuable part of their team. There are no secrets once you walk through the doors, either, which was a huge help in feeling like you are a contributing member of the team instead of a temporary intern. The interns also get to go on intern outings, like our trip to Disneyland, or our Starline sightseeing tour in Malibu. There were numerous all-employee gatherings throughout the summer as well, some in the office during or after work and some out of the office. The company's annual summer party was at Gladstones in Malibu and interns were more than welcome to come, eat, drink, sing karaoke, and have fun with the rest of the gang by the beach!
Working at Hulu was such an amazing experience for so many reasons. The team I worked with particularly was better than I could have imagined. I was invited to everything they did from important meetings they went to with companies like Buzzfeed and Google, to lunch everyday. They taught me valuable lessons and each day was a great learning experience, especially because I often worked on something new daily. The rest of the staff was nothing but friendly and inviting, as well. I also got to meet interns from all over the world who were doing all sorts of things from public relations to software development. I consider myself pretty lucky to be able to call myself a Hulugan.
– Bailey Poole, Communication