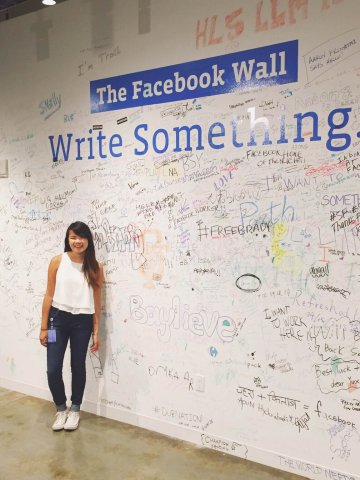 Courtesy of Lauren Wong
It's become a rite of passage for students in the spring semester — find an internship that will give them that ever-important "work experience," possibly laying the foundation for long and prosperous careers post-graduation.
Lauren Wong
is no exception, but her search unearthed an opportunity with the most dominant social media platform in existence.
The Palo Alto, California-native grew up in the shadow of Stanford — the anchor institution of Silicon Valley — and was always interested in the opportunities the technology industry had to offer. Now the junior communication major, with the marketing and communication design double minor, has a summer internship working in content strategy for Facebook.
"I didn't even know what content strategy was until I applied for the position," Wong said. "But I'd always considered Facebook a dream job because it's such a creative, collaborative company. So when I looked through the open internship positions and found content strategy, I realized it was a perfect mix of writing and design skills."
Social networks and other digital distribution channels like Netflix and Hulu were built around content, but as these sites have gained popularity, the key has become differentiation. The exponential increase in the amount of content available — not to mention the corresponding increase in the number of devices on which people view that content — has made it difficult to stand out.
With roughly 1.5 billion active users monthly, Facebook has recognized the importance of not only actively curating all that content and streamlining its distribution, but also developing its own voice to communicate effectively with all those users. The company considered it such a crucial part of its corporate strategy that in 2009 — the same year it surpassed 350 million active users — it developed the content strategy team Wong will join this summer.
She began building her skill set as a journalist for her high school newspaper and has continued developing it by taking on freelance writing and design projects for everything from student organizations and friends to The Huffington Post. She also brings previous internship experience to her position at Facebook, having worked at a social analytics startup called Crowdbooster and social gaming pioneer Zynga.
Wong values the experience she accumulated at both positions, but there was just something different about the allure of working at Facebook.
"I found this sentence on the Facebook Content Strategy Fellowship page, and it really resonated with me: 'We're obsessed with language, we think in pictures and patterns, and we're curious about the ways people and machines talk to one another,'" Wong said. "I wanted to be part of that culture and work with and learn from those people."
Her skills may have gotten her the internship, but Wong is also quick to point out those who have helped her along the way — specifically USC Annenberg Director of Career Development Suzanne Alcantara, who helped her connect with Facebook by tapping into the alumni network, and her writing professor through the Thematic Option Honors Program, Chris Santiago, who has served as a mentor.
"I asked Suzanne Alcantara in the [USC] Annenberg Career Center if she had any alumni contacts in the Bay Area who were in the tech industry, and she gave me the name of a woman who manages the Developer Ops team at Facebook," Wong said. "I applied to the content strategy position, sent her an email with my resume, and we had a brief exchange. A recruiter called me two days later."
Everything worked out, and Wong will be on her way home to work for her dream employer — that is, when she returns from London, where she spent the spring semester. Her skill set fit the position, but she seems to be a natural fit for the company as well.
"I want to translate my love for writing into a tangible product that makes others' lives better, clearer or easier — even if they may not notice," Wong said. "I'm very excited to be immersed in a culture where I can absorb and grow while learning how to make decisions that affect how users have conversations, especially because I'll be learning from some of the brightest minds in the industry."
"I heard that interns even get to attend Q&A's with Mark Zuckerberg," she noted. "I'm excited to be so close to one of the most influential people in tech."