Twenty-five students from Communication and Technology High School filed into the Julie Chen/Leslie Moonves and CBS Media Center on the morning of Nov. 13. Led by USC National Association of Hispanic Journalists President Barbara Estrada, the group seemed a little quiet, yet very eager for the day ahead. Estrada and student volunteers across NAHJ, National Association of Black Journalists, and Annenberg Latino Student Association worked with Jaime Carias, USC Annenberg's civic engagement coordinator, to host an educational event for the high school students. Accompanied by their journalism adviser Heather Buchta, the students partook in a day of reporting and learning alongside Annenberg students and faculty.
The student participants were all members of their high school's print newspaper, The Husky Tail. This is the first year their school has ever had a newspaper, which added to their excitement and eagerness to learn about new media technologies that facilitate the process of reporting. During two workshops led by USC Annenberg students and staff, the high school journalists witnessed the taping of a newsroom broadcast and worked on a reporting assignment using iPhone applications and social media platforms. Senior Linda Rodriguez, one of the Editor-in-Chiefs of The Husky Tail, had the chance to sit behind the ATVN news desk and report from a teleprompter during a mock-taping.
"I was super nervous," Rodriguez said. "This is the first journalism program our school has ever had so all of this is really new to me. Since we're a communication and technology school we have IPads, so it would be really nice to integrate more technology in our reporting."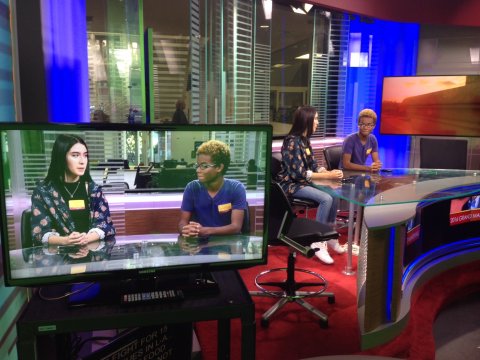 USC Annenberg / Yashashree Pisolkar
Communication and Technology School is a part of Diego Rivera Learning Complex, an umbrella school in the Los Angeles Unified School District that includes three other schools with special emphases. According to Estrada, many high school journalists simply don't have the resources available to gain a well-rounded education in the rapidly evolving field of journalism due to the economic limitations placed on high schools. Estrada viewed this event as an opportunity for the students to expand their knowledge through immersing themselves in the digital technology and tools available in the new Media Center.
Inspired by the desire to give back to the LA community, Estrada worked with NAHJ executive board members to revise the organization's mission statement earlier this semester. Along with providing the chapter's members with job, internship, fellowship and learning opportunities, NAHJ expanded its vision to also focus on giving back to the community.
"As college students, many times we get so caught up in our own professional growth, but it's always great to give back," Estrada said. "Community service is something that we're always encouraged to do throughout high school, so why not do it in college?"
Estrada pitched her idea for an outreach event to Carias at the beginning of this semester. As the civic engagement coordinator, one of Carias' main goals is to connect USC Annenberg faculty and students with the greater LA community. This event seemed like the perfect endeavor.
"USC Annenberg recently launched the Institute for Diversity and Empowerment which values the new ideas that diversify the media, communication, journalism, and public relations world," Carias said. "So the value in this program is that if these high school students are exposed to the world at the college level it could motivate and spark their interest further to pursue journalism as a career, which in turn would diversify the industry."
With these goals in mind, Carias approached the principal of Communication and Technology high school for the possibility of working with the students. According to Buchta, their journalism adviser, the students really didn't know what to expect, but she was sure this would be an eye-opening experience for them.
"For these students, journalism equals a physical paper," Buchta said. "This is a whole new lens for them. It's like you turn the prism a little and you see a different light coming out of the same word, 'journalism.'"
Buchta hopes that as the newspaper matures and solidifies their reporting and writing skills, the staff will have more discussions about the direction they would like the paper to take. In the future, Buchta is sure that her students will look back on this experience as the beginning of their exposure to digital media and the greater world of journalism.
"The best part of this has been opening their eyes to the possibility of multiple careers and that journalism is a major that they can earn a degree in," Buchta said. "And overall, I'm just very impressed with how serving the community is a big part of Annenberg's program. Being an organization that pours back into the community is a great reputation to have."