USC Annenberg Dean Ernest J. Wilson III delivered the 13th annual James L. Loper Lecture in Public Service Broadcasting on Feb. 22 at The Paley Center for Media in Beverly Hills. The Loper Lecture honors the late James L. Loper, a Southern Californian pioneer in public broadcasting.
Wilson was nominated by former President Bill Clinton to the board of the Corporation for Public Broadcasting and served from 2000 to 2010, the last year as chairman. He founded the board's New Digital Media Committee and Public Awareness Initiative Committee. Since 2005, Loper Lecture speakers have included Vivian Schiller, president of NPR, David Fannin, the founding executive producer of Frontline, Tavis Smiley, host of the "Tavis Smiley Show" on PBS, PBS Newshour journalist Judy Woodruff and Guy Raz, host of TED Radio Hour.
During his speech to an audience that included members of the USC Annenberg Board of Councilors, alumni, parents, and friends, Wilson stressed how the current political climate provides an opportunity for academe and public broadcasting to partner in their commitment to truth and advancement of media and news literacy. He also discussed what USC Annenberg is doing to educate its students in these areas.
Wilson noted there are two great American institutions that define the nation: the free press and American higher education. He emphasized higher education and public media should foster stronger ties as both face increasing challenges, including potential national budget cuts and loss of trust in civic institutions and the intellectual elite.
"Both are venerated," Wilson said. "Free press brings us a cornucopia of 'information in the public interest' on a daily basis. Higher education reminds each and every one of us that each successive generation of the timeless virtues of the past and creates new knowledge relevant for today."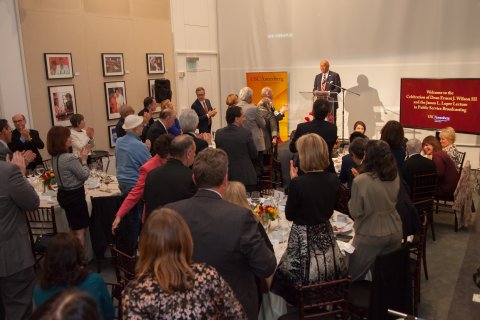 USC Annenberg / Brett Van Ort
He highlighted the strong relationship between higher education and public broadcasting: USC Annenberg students hold careers in public broadcasting across the country and the school's faculty have and continue to contribute to public broadcasting.
"We should work together; we have to work together especially if your legitimacy is questioned. We don't have the luxury to sit back and say 'we'll let somebody else do it,'" Wilson told the crowd. "I can think of no better coalition of the willing than journalism, especially public media on the one hand and academe on the other."
Wilson outlined the ways in which higher education could facilitate outreach to public broadcasting.
"It does require we communicate with one another at USC and other universities and with public broadcasting and we should make a pledge at the end of X amount of time, our listeners and our students will be literate in the fields necessary to distinguish between fake and real news," Wilson said. "To be able to tell a narrative that is compelling in the public interest."
So what, Wilson asked, does that mean for USC Annenberg?
Wilson underscored the critical role that faculty play as mentors and guides to students. Moreover, USC Annenberg provides students with the capacity to analyze, interpret, evaluate and create content across any platform. Wilson recalled how he and School of Journalism and Communication Directors Willow Bay and Sarah Banet-Weiser sat down three years ago and formulated a whole new set of courses to ensure this.
Wilson said USC Annenberg is also trying to develop and nurture empathy, cultural competence and intellectual curiosity — key components of the dean's Third Space thinking initiative.
"I have been fortunate to teach over 300 students at the Annenberg School on these kinds of competencies and the responses have been magnificent," Wilson said.
The dean challenged the audience to be bold, creative and committed.
"The job of the newspaper is to comfort the afflicted and afflict the comfortable. Said differently, it is to speak truth to power, without fear or favor. That is our job, that is our calling," Wilson said. "Don't be afraid. Newspapers will continue. And I would like to think our students are perfectly positioned to continue and fulfill the tradition and legacy of the Loper and Annenberg families, speaking truth to power and providing information."
For more photos, please see below: