Students delivered news on national and international stages this summer, flexing their professional skills at the national political conventions in Cleveland and Philadelphia and at the Olympics in Rio.
USC Annenberg at the Republican and Democratic National Conventions
As part of a trip organized by Geoffrey Cowan, Ev Boyle and Susan Goelz from the USC Annenberg Center on Communication Leadership & Policy (CCLP), six students in a summer class led by professor Laura Davis traveled to the Republican National Convention in Cleveland and the Democratic National Convention in Philadelphia.
According to Davis, assistant professor of professional practice in journalism at USC Annenberg, the goal of the trip was to give the students "really good reporting experience, and get them to better understand the political system and political coverage." Her class, JOUR490: Covering the 2016 Election and the Democratic & Republican Conventions, was created specifically to coincide with the conventions this summer.
Access to this unique experience was limited to six students from any USC program. The only requirement was that the students be passionate about politics, journalism, and political communication.
Rachel Chiu (B.A. Political Science and Communication '19) jumped at the opportunity.
"I'm excited to rub shoulders with some of the big names in politics and media during the conventions," said Chiu before the trip. "I really believe that these conventions will be absolutely historic and unique."
Sarah Collins (B.A. Broadcast Journalism and Political Science '17) agreed.
"I knew it would be the chance of a lifetime," Collins said. "Not only to go to the conventions but also to go this time around, during this unprecedented election cycle."
The group was rounded out by students from a range of USC programs: Kate Guarino (B.A. Print and Digital Journalism '17); Tiana Lowe (B.S. Economics and Mathematics '18); Matt Tinoco (M.Pd Public Diplomacy); and Hannah Vega (B.A. Broadcast and Digital Journalism '17). They were joined at the conventions by students from the Annenberg School of Communication at the University of Pennsylvania, where professor David Eisenhower has been taking students to the conventions every four years since 2000.
Granted insider access to politicians, delegates and journalists, the students had plenty of opportunities to hone their political reporting chops using a variety of media, from traditional written reports to video reporting via social media.
Highlights from the trip are collected on Medium, including a rundown of student work produced at the conventions:
Kate Guarino produced photo essays for NBC that asked RNC and DNC delegates to share their opinions on Donald Trump and Hillary Clinton in one word. Matt Tinoco wrote an investigative piece for Politico focused on Los Angeles real estate developer Geoffrey Palmer, "the single largest Donald Trump donor in the United States." (Matt's reporting made Politico's influential Playbook newsletter on August 6.) Sarah Collins and Hannah Vega helped produce a video at the RNC for Define American. Tiana Lowe wrote more than a dozen articles for The Tab and Heat Street in addition to reporting for Annenberg Media on the anatomy of the Trump coalition. And Rachel Chiu reported on topics including the Democrats in Ohio who switched parties to vote for Trump.
Vega and Lowe also reported from the RNC via a Facebook Live video for Annenberg Media:
Encounters with Governor John Kasich and Full Frontal host Samantha Bee were just a few of the Instagram-worthy moments.
The unique student contributions also attracted the attention of professional journalists covering the conventions. USC Annenberg alum Elex Michaelson, reporting for ABC 7 Eyewitness News in Los Angeles, caught up with the Annenberg students at the RNC in Cleveland.
A summer of real world experience
For many Annenberg students, partaking in a summer internship can often be just as important as the coursework required for their majors.
Jonell Yablonski (M.A. Global Communication '16) joined a group of globetrotting Annenberg students who spent their summer in Rio de Janeiro amidst the pomp and circumstance of the Olympics. She undertook an internship opportunity with O Globo, Rio de Janeiro's leading newspaper, where she produced daily content written in English for the publication's special Olympic tabloid.
She also wrote a story for O Globo about her taxi ride from Geleao Airport to Copacabana, along with fellow Annenberg student Anne Branigin (M.S. Journalism '16), who wrote about using public transportation to reach the same destination:
O Globo
Lauren Bickford (B.A. Communication '18) knew that she wanted to intern for a company that already had a real impact on her daily life—and she found the perfect opportunity at BuzzFeed.
"They are a company I interact with daily, whether I'm watching a Tasty video or reading a news article," Bickford said. She was particularly thrilled that an internship at BuzzFeed would allow her to "work in a stimulating, exciting workplace that equally values creative and analytical minds."
As the only intern in their L.A. office, Bickford took advantage of the offers from her team members to teach her new skills. "My team was beyond excited to take me on, and took the time to teach me anything I was unfamiliar with or needed help mastering," she said. Her main tasks included supporting the sales and client services department, and analyzing industry trends and patterns.
"The internship far exceeded my expectations," Bickford said. "Working there allowed me to learn about the media industry from a unique vantage point that only BuzzFeed could provide."
By the time Claudia Buccio (B.A. Communication '17, M.S. Journalism '18) transferred to USC last year, she already had experience as a reporter, anchor and producer for Santa Ana College's Spanish- and English-language newscasts. When it became time to pursue an internship for the summer, she knew that she wanted to do it at a news station, and to be able to utilize her Spanish language skills that she had acquired while living in Mexico for nine years. She found the ideal match in Telemundo.
"Thanks to an interview I had with a campus recruiter at USC, I was selected as an intern," Buccio said. "Telemundo was the perfect combination of my passion for news and my Mexican-American culture."
As a field producer for special assignments during sweeps season, Buccio interviewed people and helped the photographer gather material for a news package. "This was one of my favorite parts because my goal is to be a reporter, and I was basically doing a reporter's job," she said.
Her assignments included visiting interesting locales like Salvation Mountain and the Hollywood Museum, profiling Mexican craftsmen living in Los Angeles, and interviewing a 4-year-old who is need of a loving home.
"These encounters helped me understand others by developing a sense of empathy," Buccio said. "And it sparked great courage in me to fight for my own dreams, too."
Buccio gained a deeper appreciation for news production by rotating through different positions within the newsroom. "I have a stronger understanding now than I did before about the production side of a newsroom," she said. "[And] I feel more empathy towards producers who are trying to put together our newscasts."
Thanks to her crash course in news production at Telemundo, Buccio has become a faster writer and gained a clearer understanding of the workflow between talent and production, which will help with her current role at Annenberg Media and beyond.
"After this experience, I feel a lot more confident about my skills for this career," she said.
Courtesy of Claudia Buccio
Maymester in New York and the Bay Area
For two weeks in May, Annenberg students immersed themselves in the inner workings of media companies on both U.S. coasts.
A total of 32 students were chosen to take part in the highly-selective Maymester programs in New York and the Bay Area, representing the full range of USC Annenberg's academic and practical disciplines. Sixteen students at each location learned firsthand how top-ranked media companies really work in our age of convergence and disruption.
In New York City, the students visited ABC News, the NBA, The New York Times, Refinery29, TIME Inc., YouTube, The Metropolitan Museum of Art, the Food Network, NBC News, Bloomberg Philanthropies, CNN and HBO.
In the Bay area, students visited Google, Instagram, Pixar, Intel, Bloomberg TV, Lightspeed Venture Partners, Pinterest, Salesforce, Edelman, Pac-12 Networks, and more.
Sebastian Vega, who participated in the program in New York, observed how leading journalists are using modern tools to change the way content is produced and distributed.
"This trip was extremely helpful in introducing me to new ways of thinking about the field I work in," Vega said. "Going to New York to meet industry pioneers and leading news professionals is an experience I'll never forget."
Joy Ofodu was part of the Maymester program in the Bay Area, which participants immediately dubbed Baymester. She appreciated the opportunities to ask questions and have in-depth conversations with staff at her dream companies, such as Google, Instagram, and Facebook.
"It was incredibly useful to be matched with employees at both entry-level and executive roles that I myself would hope to fill," Ofodu said.
"The Baymester prompted me to take a closer look at the value of my education, major and career trajectory," she added. "I can now confidently envision my place and my future at companies I had previously thought had no roles for Communication majors."
Courtesy of Joy Ofodu
NABJ/NAHJ
USCABJ, USC's official chapter of the National Association of Black Journalists, was honored with the Student Chapter of the Year award at this year's NABJ/NAHJ Convention & Career Fair in Washington D.C. in August.
"It's kind of a dream come true," said Kay Angrum (B.A. Broadcast and Digital Journalism '16), outgoing Vice President of the chapter.
The summer honor for the 15-member organization caps several years of tireless work organizing critically important panels and discussions on campus, as well as networking events that facilitated internship for dozens of students.
The chapter, which had become inactive in 2012 but was brought back in 2015, had a singular goal in mind: to win the Student Chapter of the Year award. Achieving that goal was the perfect way coda for Angrum and outgoing chapter president Jordyn Holman, who described the organization as her baby.
"It was something that has had so much time and effort invested into it," said Holman.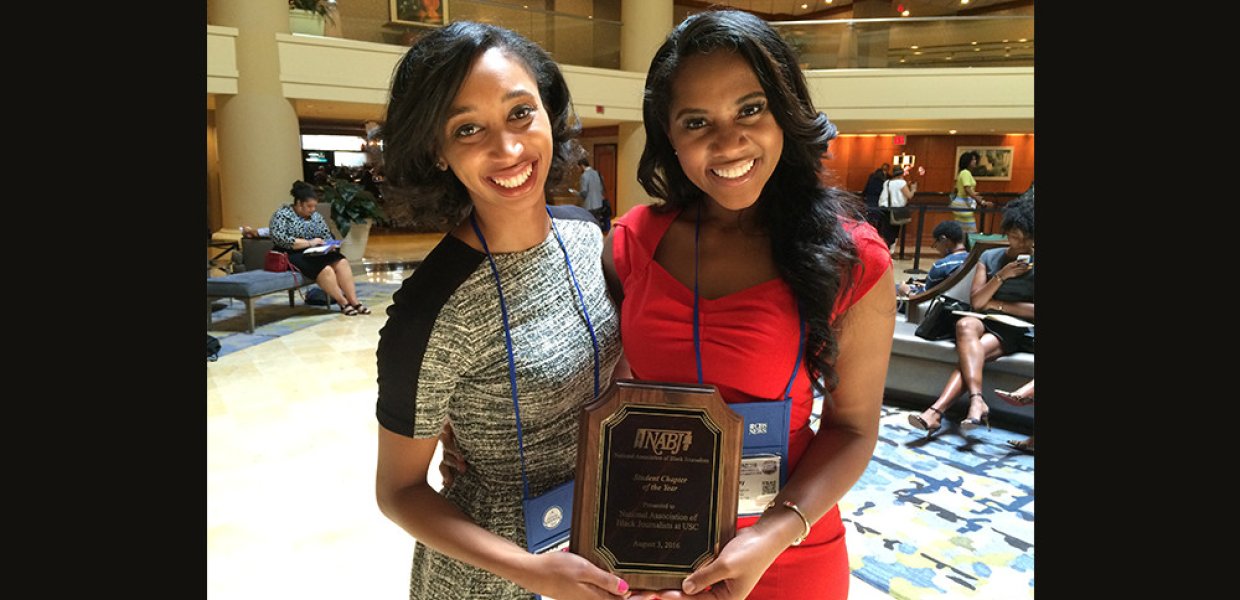 Photo by Anita Angrum