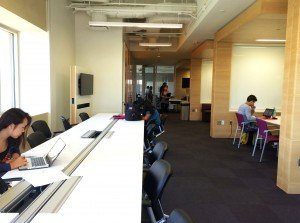 The new
Digital Lounge
in Wallis Annenberg Hall isn't just a space for work, but rather a space to create, experiment, learn and play. Students can look forward to exciting workshops and series of events in upcoming weeks. Now that Annenberg students have
access to the Adobe Creative Cloud
, the Digital Lounge is hosting events to help students learn to use its programs. Last week the lounge hosted a three-day event called
Adobe Days
where students learned everything from Photoshop to designing websites. This week the lounge will host WordPress days, and Annenberg students aren't the only ones taking advantage of the Digital Lounge workshops.
"The WordPress Days announcement looked really cool so I actually sent a picture of the flyer to my friends, and I plan on attending myself," Kaylee Ho, an economics and mathematics major, said. This semester the Digital Lounge wants to focus on hosting more engaging activities rather than just basic workshops,
Erika Hang
, design specialist at the Digital Lounge and 2013 alumna, explained.
"We're doing one for photo blogging," Hang said. "Students can combine Adobe Illustrator and Tumblr to create a photo blog. We're also doing one on creative infographics on Illustrator." The space is a way for students to receive help from their peers, as well as professionals.As students walk into the Digital Lounge, they will find a help desk where graduate students can assist with questions about software or projects.
Johnson Thomasson
, M.S. candidate for Cinematic Arts, Film and Television Production, works at the help desk and assists students with technical support questions. "All of the graduates who are here and available to help are experts on creative cloud and WordPress," Thomasson said. In addition to helping students with their technical support questions, the Digital Lounge also shares
online tutorials on their website
that students can refer to. "We're kind of an all-encompassing technical solutions team," Martin Stack, digital media specialist, said. "Whether or not students can come to the space, they can get support for the tools we offer." Students like
Sean Summers
, a mechanical engineering major, have also used the Digital Lounge as a group study area. Summers particularly likes the large white boards that help his group map out problems they work on together. "It's very conducive to a collaborative environment," Summers said. "There can be a lot of people here but its quiet enough to talk in a group setting without interrupting others."
Courtney Miller
, the new media specialist, is organizing additional activities for the space. Although the lounge is part of the digital epicenter of Annenberg, Miller wants to integrate events that help students disconnect, even temporarily, from the digital world. Her first goal is to take ahands on approach with a series she's named "DIY."
"We'll have a 'DIY' series where instead of being digital, we're going to do some hands on arts and crafts, like making buttons," Miller said. "I think this will do two things: it will inspire them to be creative without digital tools and encourage them to take that creative time and turn off their devices for an hour." For Miller, it's important that students know when and where to turn off electronics. That's why, in addition to the "DIY" series, she will implement a series of meditation sessions called "Digital Detox," which she hopes will start next semester. "In meditation, you learn to tune out everything around you," Miller said. "It's a nice thing to promote because it encourages balance." Miller was inspired to bring meditation to the Digital Lounge after reflecting on her time teaching with
Semester at Sea with the University of Virginia
. Meditation helped her balance running the media department and teach video journalism. "I realized how important it is to be able to tune everything out, so its something I wanted to be able to bring back to Annenberg and to instill in this digital narrative we're doing here," Miller said. One interesting aspect of the space, however, is that you won't find computers.
A
new laptop policy
that went into effect this semester requires that students own their own laptop computers, which they bring to the lounge. "Students were so use to the old digital lab, but it's just a new era," Hang said. "Everyone already comes with his or her laptop so it's just something new to adjust to."