Wallis Annenberg Hall will host its official grand opening ceremony on Wed., October 1, at noon with an exceptional slate of guests scheduled to attend. Dean Ernest J. Wilson III will open the occasion by welcoming guests and introducing trustees, senior officers and deans. Varun Soni, Dean of Religious Life at the University of Southern California, will offer a blessing. Special guest Alex Witt, MSNBC news anchor, will speak after Dean Soni. Witt is the host of Weekends With Alex Witt and a USC Annenberg School of Communications and Journalism alumna. She is anticipated to talk about her time spent in Annenberg and to discuss the new program. Following Witt, Dean Wilson will return to the podium and introduce the eleventh president of USC, C. L. Max Nikias. President Nikias referred to the building as an "island of beauty" on USC's campus two years ago at Wallis Annenberg Hall's ground breaking. Among the many guests attending is philanthropist Wallis Annenberg who is scheduled to speak at the event. Annenberg, whom the building is named after, is the chairman of the board and president and CEO of the Annenberg Foundation. She is also the dean of USC's Board of Trustees, and donated $50 million to initiate the construction of the building. At the ceremony marking the beginning of the initiative, President Nikias noted that Annenberg was among USCs most generous supporters and the university's longest serving trustee. Annenberg will be thanked with a gift for her contributions and support for the project.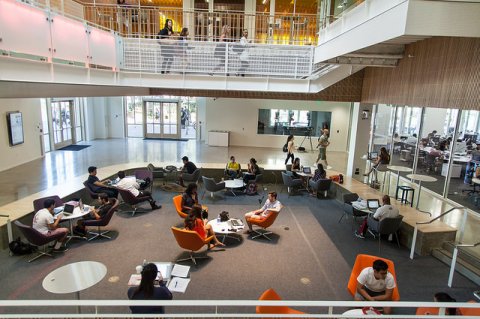 The 88,000 square foot building was designed to exemplify the notion of collaborative pedagogical and production space, and students and faculty have already put it to good use since the beginning of classes this August. The consolidated Annenberg student media center, which brings student organizations like
ARN
,
ATVN
and
Neon Tommy
together in the same room for the first time, is a prime example of the new forms of collaboration made possible at the Hall. Together with Dean Willson, President Nikias and Alex Witt, Wallis Annenberg will cut the ribbon to Wallis Annenberg Hall and thus officially open the grand building. The
USC marching band
will be ready to play "Fight On" as confetti cannons cascade overhead. A reception will follow from 12:30 p.m. to 1 p.m., and guests can expect to attend a tour Wallis Annenberg Hall.