For the next two months, those passing through the ASC East Lobby will bear witness to and be urged to consider the implications of the death penalty in the United States with the advent of a new art exhibition.
"Windows on Death Row: Art from Inside and Outside the Prison Walls" features more than 70 works of art by current Death Row inmates and political cartoonists. The exhibit was the creation of cartoonist and former USC Annenberg fellow Patrick Chappatte and documentarian Anne-Frédérique Widmann, in collaboration with USC Annenberg professor Diane Winston.
"The exhibit is a great educational experience because it really takes you through the sociological, political and legal context surrounding capital punishment," Winston said.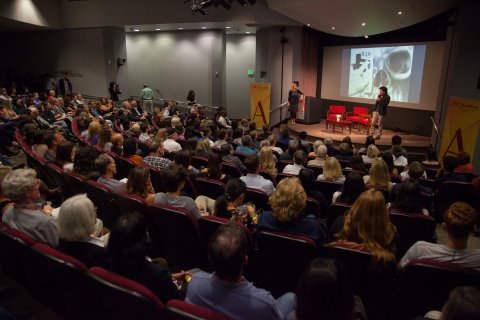 USC Annenberg / Brett Van Ort
Chappatte pointed out during the opening of the exhibit that cartoons can often be very serious.
"They get you to think about the issue and they can show the contradictions," he added.
Chappatte and Widmann are both from Switzerland, a country that does not have the death penalty. So, they've been able to view the American criminal justice system through a unique lens.
Widmann said they both believe in the power of images to trigger important conversations.
"You look at an image and sometimes, it's the image that is looking at you," Chappatte added.
A reception for the exhibit was held on Oct. 22, followed by a lecture from Sister Helen Prejean, a Roman Catholic nun and death penalty abolitionist.
Prejean gained notoriety with her 1993 memoir "Dead Man Walking," about her experience as the spiritual advisor for convicted murderers on Death Row.
At the event, she discussed how her experience has shaped her views on the criminal justice system in the United States and how she felt compelled to act on behalf of the inmates.
"It's what we do when we wake up as citizens. We act," Prejean said to a packed auditorium.
She was also joined by Ndume Olatushani, a man who has been victim to flaws in the judicial system. He was released from prison in 2012, after being wrongfully convicted and held on Death Row for 28 years.
Olatushani's artwork is featured in the exhibit. During his sentence, he taught himself to paint because he believed art would allow him to create a life outside of prison.
Prejean called herself the "storyteller," but more importantly, she said, Olatushani is the "witness" to a flawed criminal justice system.
Olatushani and Prejean are among those who want to dispel the myth that "Death Row is for the worst of the worst," and educate others about the process through which people end up on Death Row. Various factors such as affluence and location can make all the difference, according to Prejean. She pointed out that there are currently 750 people on Death Row in California, which is a quarter of the country's Death Row population.
The exhibit, which will be on display until Dec. 18, is one way they are hoping people can learn about and contextualize this issue.
Winston, who holds the Knight Center Chair in Media & Religion, said that she is struck by the ethical, moral and religious components of capital punishment. She wants that the exhibit and the concerns it raises to force people to think about justice, compassion and "what it means to be human."