A USC Annenberg alumna is poised to land her own show with the Travel Channel. And she's only 25 years old.
Christianne Rojo (Broadcast Journalism, '12) is one of the top five finalists for the Travel Channel's 2015 "Travel Channel Star" competition. The contest is designed to discover a new face to host a five-part series on TravelChannel.com. Rojo sailed through several rounds of judging to the final round, after competing against over 1,000 contestants from across the country.
Rojo said she missed working in front of the camera and wanted to try hosting. So she took a chance on a Santa Monica audition, thinking it would be good practice, and nothing more.
"I really didn't think I had a chance. They made it seem like there was a lot of us, and they hadn't decided yet," Rojo said of making it into the top 15. "It was really shocking. I was like 'Oh my gosh, I can't believe this is happening."
In a panel review of her top five video entry, the judges praised her, saying, "She's the best interviewer we've seen," "She came in researched, she came in prepared, she came in willing to challenge him," and "She's also very insightful, and she has her own perspective on things."
"Trip Flip" host Bert Kreisher exclaimed, "I emailed everyone in production and said she just blew me out of the water."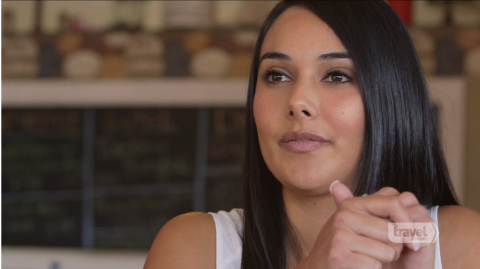 Screengrab from The Travel Channel
Rojo said that she owes her comfort in front of the camera to her training at USC Annenberg, including her time with Annenberg TV News, as both a producer and a reporter.
"They really trained us, and they really took time to make sure that we would be the best that we could be, that we could do anything if we put our minds to it," she said.
"It can sound cheesy when you tell somebody that, but to actually be in a classroom where your professors really believe in you; that was really great and always stuck with me," Rojo, who credited professors Stacy Scholder and Judy Muller with honing her broadcast and reporting skills, said.
On camera, Rojo is almost intimidatingly beautiful and articulate. "She glowed on camera; she looked like an angel," gushed judge Anna Garwood, the channel's director of programming & talent relations. But over the phone, Rojo is humble, gracious, and thankful for the school that gave her the skills to host a show.
"Going in and just filming the webisodes … that in itself, I really feel that it was the tools that I learned when I was in school in those reporting classes and in producing classes," Rojo said.
Poise and professionalism aren't the only qualities that make Rojo stand out. Each contestant chooses a travel speciality, and Rojo surprised the judges by choosing "Spirituality." Though the judges believed that spirituality would be boring, she proved herself and her topic when she went to the Nevada desert and interviewed a Raëlian, a member of a non-violent religious group that believes extraterrestrials created the human race.
After the interview, Rojo had the opposite reaction most people have with someone who believes in aliens.
"It was kind of just a moment that we had, he was like, 'Okay, I get where you're coming from,' and I was like 'OK, I get where you're coming from.' And it was just kind of a moment where we both walked away learning, and I am so humbled by that experience," she recalled.
As a native Californian and first-generation American born to Mexican parents, faith is an arena Rojo has explored in both her personal and professional life. In her submission video, Rojo described the experience of hearing an 80-year-old Mexican woman promise to crawl on her knees to a shrine miles away if her prayer were answered. That moment dovetailed with a class she took with professor Diane Winston.
"That totally sparked a passion that I had for some time in my life, in media and faith," Rojo said. "I always kind of had a vision, even though I stepped back from the world of broadcasting for a little bit after, I had always thought if I ever have a dream job, it would kind of combine the two."
Rojo, who is fluent in both English and Spanish, said at first she found favor with the judges because they believed the network should diversify.
"I thought that was really cool, but really important," Rojo said. "Especially seeing it's the Travel Channel and that they do cover other parts of the world."
Though the judges knocked Rojo in the final five round for letting her faith hold her back from participating in Raëlian sensual meditation, Rojo's stayed true to her beliefs.
In the past several years, Rojo has studied for an M.A. in Theology at Franciscan University, and worked as a youth minister at St. Raphael's in Santa Barbara. But Rojo said that she never forgot her passion for on-camera reporting, practicing in her downtime as not to lose the skills she's learned.
"I know this sounds probably really cheesy, but I try to do teleprompter practicing. Every now and then I'll sit down and try to keep it a little fresh. I'll just practice speaking in front of the camera; I have a Canon," Rojo said.
Rojo said her friends and family rallied around her to promote her on social media. Travel Channel winners will be chosen by a combination of judge's feedback and fans' votes. Rojo, who is currently in fourth place, needs enough votes to land in the top two by Friday.
You can vote for Christianne Rojo via Twitter with the phrase "Christie Rojo should be the next #travelchannelstar!" or on the Travel Channel website.
Voting ends Friday, June 26 at 11:59 EST.