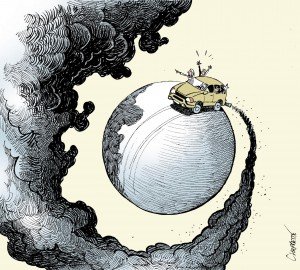 A lifelong globetrotter who currently lives on two continents and spent a good portion of his youth on a third,
Patrick Chappatte
has come to
USC Annenberg
for the year and is settling in as a visiting fellow.
The renowned editorial cartoonist has been working on a
number of projects
in his time at USC Annenberg, even taking an animation class at the
USC School of Cinematic Arts
, but over the past couple months, he's been on the move again. Since the attacks in Paris, the
International New York Times cartoonist
has become a de facto spokesperson for the cartooning field, presenting at a staggering seven different sessions at the recent World Economic Forum in Davos, Switzerland.
"We don't want cartoonists to be used by any sides, but, unfortunately, they can become a weapon of hatred," Chappatte said.
Chappatte notes that editorial cartooning is meant to provoke and trigger discussions, but an incident with Danish publication Jyllands-Posten marked a distinct turning point. The publication's editorial staff instructed cartoonists to draw their own depictions of the prophet Muhammad and published the results in the fall of 2005, setting off an international controversy that erupted into violence across the Middle East.
"The latest sad news, if it shows one thing, it shows that a cartoon is a powerful tool for communication — for good or for bad," he said. "We're in the middle of a conflict now where our work has become a symbol of something much bigger."
Not currently mentioned in the same breath as traditional journalism, Chappatte is a firm believer that cartooning is the next way to bring news to new audiences.
"When you open a newspaper, and you have a two-page comic, you may read through it when you wouldn't have read through a half-page story," he said. "Maximizing the reach of a story through cartoons has been a major focus of mine for the last 10-15 years, but it's also led to a number of other opportunities to generate discussions where they might not have happened otherwise."
One such example is Chappatte's work in geographic areas of political turmoil such as the Ivory Coast, which was torn apart by a rebellion and a civil war. As a visiting journalist, Chappatte didn't settle for simply observing and reporting via cartoons — he involved local cartoonists from different sides of the conflict.
While these cartoonists held strong opinions shaped by their own experiences, often times, they lacked autonomy and were instructed by their editors on what to draw. Chappatte's goal was to bring together multiple perspectives to get an unfiltered view of the conflict, so he took them away from their usual newspaper jobs for three days, tasking them with working together on a project addressing the issues affecting their country.
"The first day they were shouting at each other, but they came up with a book looking back at 13 years of political crisis in Ivory Coast," Chappatte said. "I'm very proud of what they did."
He put together similar projects in Lebanon, Kenya and Guatemala — always with the goal of telling the most complete story possible by pulling in multiple perspectives.
For Chappatte, evolving the cartooning field is all about adding context — either from alternative perspectives or from a cartoonist's ability to share of his or her own observation. Turning cartooning into a longer form of storytelling has been a passion of his for the better part of his career.
"Using the techniques of graphic novels to tell news stories is an emerging field within journalism," he said. "I've done something like 30 graphic novel stories, covering topics ranging from Gaza to gangs in Central America."
However, his current project — on which he is working with his wife, Anne-Frédérique, a Swiss broadcast journalist — is focused much closer to his current home. The two are working with professor Diane Winston, the Knight Chair in Media and Religion at USC Annenberg, to address an issue pertinent here in the U.S.: capital punishment. The trio is working with other established cartoonists from around the country and with victims' rights groups and inmates on death row to put together an exhibit that addresses the death penalty from all sides. Slated to be part of the university-wide Visions and Voices initiative, the multi-faceted art display will be housed in the ASC East Lobby beginning in the fall of 2015.
"The idea is to allow a conversation on the death penalty—one of the few big moral issues that is still a debate in this country," Chappatte said. "All other western countries have abolished it, so it's both a national and international issue."
Despite the contentiousness of this issue of capital punishment, Chappatte approaches it the same way he approaches all of the stories he tells — with a desire to tell a complete story in as simple and impactful an image as possible.
Fortunately, none of that requires staying in one place.