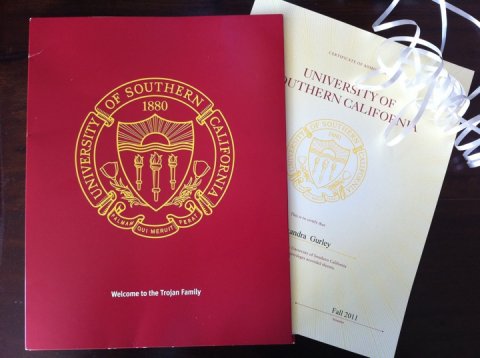 Courtesy of Alexandra Gurley
As a senior in high school in New York, attending USC was my ultimate dream. After a particularly competitive year of admission rates for out of state students and the feared "thanks, but no thanks" letter from USC, I still held on to the hope of being a Trojan. I was accepted into some other great schools across the country but USC's sense of community, incredible opportunities and USC Annenberg's highly regarded
professors
made me realize I needed to be at USC.
That's what really influenced my decision to move to California in order to transfer into USC. I packed my bags, flew across the country and registered for classes at Santa Monica College, a community college across town.
Even though SMC has one of the highest transfer rates into USC, getting that esteemed acceptance letter was still no easy feat. Many classmates I met intended to transfer as soon as possible but got caught taking endless classes that wouldn't help them at USC. Some of them got stuck in community college years after I had been accepted.
One of the most important things I learned during the transfer process was how adamant you need to be about following the articulation agreement. This document shows what classes are part of the USC curriculum and are accepted for credit. You may have to be willing to take classes that aren't completely ideal but the end result will be worth it. Plus, you can definitely get some of your general education requirements out of the way. I was able to avoid taking the dreaded "Writing 140" at USC by taking an English class at SMC. But getting these classes at a community college can be tough, so it's vital to get an early registration time, which you can usually do by joining an honor's program.
Keeping your GPA up and keeping in touch with USC faculty and the admissions office is also incredibly important. Showing that you're interested and determined to join the Trojan family will go a long way.
Most of all, be your own advocate. Some people you run into, whether it's professors or your current college's faculty, may not understand the transfer process. It's necessary for you to do your own research and make sure the decisions you're making are correct and will help you reach your transfer goal.
So whether you've decided your first school isn't for you or have always known you wanted to be a Trojan, transferring into USC is one of the best decisions you can make in your college career.