A graduate of USC's Annenberg School, Kamala Kirk is the Managing Editor for Beauty Launchpad Magazine and regularly contributes to multiple publications and digital platforms. Her work has been featured on E! Online, TotalBeauty.com, TravelAge West Magazine, Malibu Times Magazine, 805 Living, Luxury Travel Advisor, Trojan Family Magazine and more. In her spare time, she works on screenplays with her writing partner.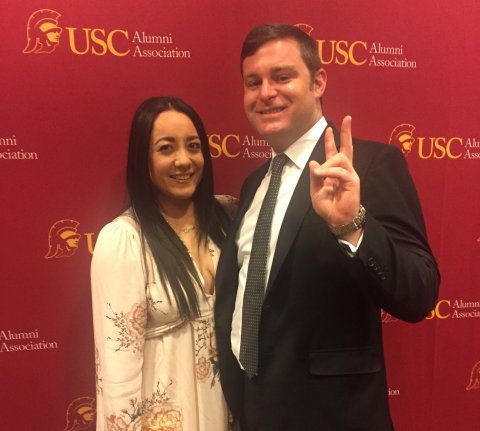 Kamala Kirk
I recently had the good fortune of receiving an invite to attend USC's 84th Annual Alumni Awards and I could not have been more excited. I've been to my fair share of galas and award shows in the past, but this event was especially dear to me because it was for a cause that is extremely close to my heart. I graduated from USC Annenberg in 2011, which to this day remains one of my biggest and proudest accomplishments. Even though it's almost been a decade after graduation, I am still discovering new ways to be involved with my alma mater; thus, the opportunity to spend an evening celebrating, honoring and supporting fellow Trojans and their achievements was a dream come true.
Since 1932, the USC Alumni Association has sponsored the annual Alumni Awards gala, which recognizes distinguished and outstanding members of the Trojan family. The impressive list of previous honorees includes such notable alum as astronaut Neil Armstrong and architect Frank Gehry, and all event proceeds go towards the Alumni Association's programs and services for members around the world. The awards gala was held at The Westin Bonaventure Hotel in downtown Los Angeles and was a beautifully appointed affair. Attendees came dressed in their finest, accompanied by family, friends and colleagues—many of whom flew across the country (and even from other parts of the world) to support one another and enjoy the evening's festivities.
The awards included dinner and a silent auction, as well as performances by the USC orchestra led by Parmer Fuller and a touching rendition of "Don't Cry For Me Argentina" by Annika Ellwanger-Chavez of USC's School of Dramatic Arts. USC President Max Nikias spoke at the event, along with Rod Nakamoto, President of the USC Alumni Association Board of Governors; Corii Berg, Alumni Awards Committee Co-Chair; Patrick Auerbach, Associate Senior Vice President for Alumni Relations; and Nadine Watt, Alumni Awards Committee Co-Chair.
Seven distinguished alumni were recognized, each receiving an award for his or her individual achievements and contributions. The Alumni Merit Award recipients were Wanda Austin, former president and Chief Executive Officer of The Aerospace Corporation; Grant Gershon, Kiki & David Gindler Artistic Director of the Los Angeles Master chorale; and Wilfred Steven Uytengsu, President and CEO of Alaska Milk Corporation. Olympic medalist Allyson Felix received the Young Alumni Merit Award, while the Alumni Service Awards went to television industry network veteran Vicki McCluggage and Dan Cassidy, a founding law partner of Liebert Cassidy Whitmore.
The Asa V. Call Award, which is the most distinguished alumni honor, was given to Trustee Rick Caruso, who is Founder and CEO of Caruso—a real estate company that has developed successful properties such as The Grove and The Americana at Brand. The honorees' speeches, which were incredibly inspiring and heartfelt, were among the evening's highlights. Despite their diverse backgrounds and different accomplishments, one thing they all shared in common was their passion and dedication to USC. In fact, USC was the bond shared by everyone who was in attendance that night, and I felt a very special connection with all of the honorees.
Then in true USC fashion, the Song Girls and the Trojan Marching Band came out and we all rose to the occasion and did the Salute to Troy, which brought back a wave of nostalgia from my earlier days spent at USC football games. I was overcome with the immense feeling of gratitude for the opportunity to have attended USC, which has led to so many opportunities in my life; I also experienced a newfound desire to challenge myself to strive for higher levels of success and do more for my school and the community around me. I left that night feeling positive, excited, thankful and inspired.
I am so grateful for my experience at the USC Alumni Awards, which I look forward to attending again next year. The evening served as a reminder that every single one of us has the ability to achieve great things and make this world a better place, and that there are so many different ways that we can get involved and give back to the school that gave us so much, whether it's donating one's time, supporting a specific cause, being a trustee or member of a board or organization—all we have to do is get involved. I plan to keep working towards my ambitious goals as a writer, provide ongoing supporting to and encouraging other aspiring writers, and continuing to be a part of USC's Annenberg Alumni Ambassador Program and Advantage Mentorship Program, both of which bring me so much joy. And who knows? Maybe one day I'll make it onto the stage at a future Alumni Awards.