"Until stores change and the gender binary becomes a gender spectrum in the fashion world, I want to normalize people who own and operate clothing from both sides of the store," said Ellen Ford on her podcast Outfit.
For instance, Ford goes on to say, "My wardrobe is half men's and half women's and you know what? I get style compliments from women who are generations older than I, boys on skateboards who haven't taken the SATs yet, and every gender and age in between."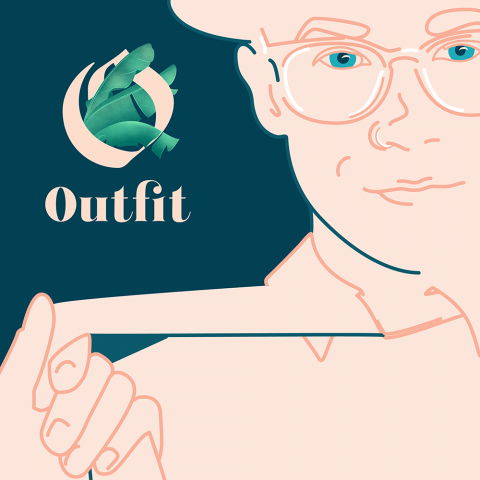 Photo courtesy of: Ellen Ford
Her podcast was created to explore the relationship between gender, presentation, sexuality and wardrobes for people in the LGBTQ community. Before starting this project, Ford, who will be receiving a master's degree in
Specialized Journalism (the Arts)
in May had never worked in audio storytelling.
She created the podcast in a directed research class with Willa Seidenberg, the director of Annenberg Radio News. "Producing my first story felt like magic," she said. "I really got hooked on audio because it was performative and I could integrate comedy into my work, which was important to me."
Born and raised in Kentucky, Ford was working there as an engineer in the construction industry when her company moved her to Los Angeles. Soon after she arrived, she realized she no longer wanted to work in construction and started Googling "arts," "journalism," and "graduate school." She found her match at USC Annenberg. Entering the program allowed her to tap into her creative side, and gave her the opportunity to study the arts while developing communication and journalism skills.
"This is a really good place to figure out what you are good at and where you have a strong critical eye," she said.
Podcasts, for example, "came out in a beautiful way," Ford said. "Only from a series of failed attempts could these podcasts have been born." During her first semester, Ford pitched a couple of "mediocre" ideas to Sasha Anawalt, professor of professional practice and the director of the Specialized Journalism (The Arts) master's program. Anawalt let her roll with these ideas and "stumble a little."
It wasn't until Ford came up with the idea for Outfit that she felt she found the conversation she wanted to have with listeners. In the initial episode, "The Dress," Ford talks about how, in the past, she felt the judgment of others as she was figuring out what her own sense of style was going to be.
Outfit is written like a "fashion memoir," Ford said. "It came from my personal journey of my relationship to clothes and how it relates to myself and other people in the community who have come out."
Within a year, her Instagram following has grown to 16,000 — a reflection of how she has connected with her audience authentically.
"It's not just a talk show. It's not just fashion tips. It's much smarter and deeper that," she said. Ford weaves ideas about brand influence and inventiveness into conversations about gender normativity and gender stereotypes.
"I want to make sure the podcast reaches the right people," she shared with her listeners in one of her episodes. "That is important to me — I don't want anyone to feel like they are alone out there — you have me, all the guests on my podcast, including my dad, and everyone else who is listening."
Leon Wu and Antonio Soto, from the bespoke suits company Sharpe Suiting, were guests on the show. Afterward, they offered her an opportunity to join their team. "The podcast has opened up amazing opportunities for me," Ford said.
Ford credits much of the podcast's success to the supportive faculty at USC Annenberg — "They showed me exactly what I couldn't screw up on and the freedom to experiment from an honest place," she said.
---
Outfit was featured in Elle Canada as a Top Ten Fashion podcast of 2018, as a Top Podcast on Toppodcast.com and landed on iTunes New and Noteworthy list.