Dany Rodríguez Martínez began studying robotics at 12 years old. Then in college, she orbited to space projects while earning a bachelor's degree in communication from the Universidad Panamericana in Mexico. Through her pursuit of science, she was given the opportunity to unlock an interest in public relations.
Born and raised in Mexico City, Rodríguez Martínez is the first in her tight-knit family to study in the United States. As the only child of two lawyers, she credits her parents with encouraging her devotion and passions.
"My parents always supported my artistic and scientific activities: from theater to music to robotics and space," she said. "And of course, they inspired me to visit the U.S."
Today, Rodríguez Martínez is a Fulbright Scholar and a Dean's Scholarship winner, pursuing her master's degree in public relations and advertising. She discovered USC Annenberg while researching transmedia for the International Astronautical Congress and reading the work of Henry Jenkins, Provost Professor of Communication, Journalism, Cinematic Arts and Education.
"My first impression of USC Annenberg was that it was a cutting-edge and innovative university, redefining communication as a field of study and a profession to the world," she said.
Rodríguez Martínez aims to foster cross-educational projects between USC Annenberg and the USC Viterbi School of Engineering — bridging the gap between science and communication.
"My professional goal is to foster science and tech initiatives through public relations," she said. "To investigate the role that PR specialists have in connecting STEM initiatives with the decision-makers in the world. I really believe that communication has the power to change many things. And I want to drive that change hand-in-hand with science and technology."
Tell us about your journey of discovering your love for public relations.
PR as a specialization for me emerged in Mexico when I was an undergraduate at the Universidad Panamericana. The dean of the communication school connected me with a nanosatellite project in the engineering school. While still pursuing my degree in my junior year, I led the communications and PR efforts for Misión Colibrí, which is a space laboratory developed between Universidad Panamericana and Massachusetts Institute of Technology.
My tasks included convincing media outlets, governments, private companies and civil organizations of the value of investing in one of the first Mexican nanosatellites that will test new space technology. It consists of a miniaturized and cost-effective mechanism for measuring atmospheric density, which is data used for space debris monitoring and climate change analysis.
What could have remained another lab engineering project acquired a new dimension by seeing it through the eyes of a communicator. That's why I decided to pursue a degree in public relations, because it's about identifying and cultivating positive relationships between an initiative and its stakeholders.
What is the most impactful thing you learned as a communicator in the science field?
Sometimes, we think that only those pursuing STEM careers can be part of the space or tech industry, but no. Communication, marketing, law and medicine also have a great part in what the space industry is doing. I like to say, "space has enough space for different disciplines."
Well said! Congratulations on being a Fulbright Scholar, what does this distinction mean to you?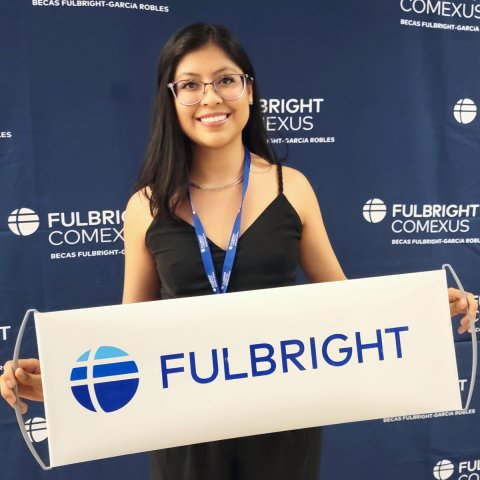 Courtesy of Dany Rodríguez Martínez
For me, being a Fulbright Scholar means principally three things. First, recognition, because it celebrates all of the effort, dedication and perseverance I've pursued as a professional. The Fulbright Mexican Commission only accepts 100 students per year. It was a long and rigorous process. Second, a promise. I make a promise to drive positive change to the world through my ideas, my projects and my career. Third, an opportunity, to become part of a global network of arts and science ambassadors whose main objective is to promote cultural understanding, international collaboration and peaceful relations worldwide.
How did it feel to become a Dean's Scholar and get involved with USC's Center for Public Relations?
I must say it's a huge honor to be awarded the Dean's Scholarship at USC Annenberg. It feels like a warm hug and a commitment, of course, to contribute to our community. What I love most about it is the opportunity to work as a graduate assistant inside the Center for Public Relations where I will be supervised by Professor Fred Cook. I have a researcher nerd spirit and I haven't found any other university in the U.S. — or maybe in the world — that has its own center that not only fosters PR practices but also research.
After USC Annenberg, what are your future aspirations?
I aim to join a technology company, research center, a STEM foundation, start-up or a space agency (that's the dream job), where I can build effective and creative public relations strategies. I would love to help companies share with key stakeholders the value they bring to society.