At USC Annenberg, we don't just cover the news, we make it. In this special edition of "Quoted" we've gathered a selection of news stories on the new Wallis Annenberg Hall, including coverage of the grand opening event on October 1.
---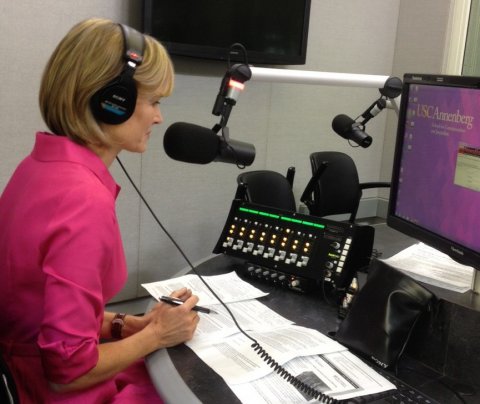 USC Annenberg

KPCC: USC opens new $60-million J-school building
KPCC's Take Two echoed the themes of the Grand Opening by anchoring their coverage in an in-depth conversation on the future of the news. Hosts spoke with Journalism School Director Willow Bay on October 2 about our moment's unique media challenges and possibilities.
Bay said the generation of journalists to be trained at Wallis Annenberg Hall have "never had more tools to create gorgeous-looking, deeply engaging, powerful news reporting."
"It is certainly true that there have been profound changes, we're living through an era of profound technology-driven change in this business, much of it disruptive; but I can't help but see opportunity," Bay said.
---
Local Broadcast News Coverage of Building's Opening
The building's opening was covered by CBS News Los Angeles affiliate KCAL-TV (VIDEO). They quoted USC Dean of Religious Life Varun Soni's benediction, where he said: "It is right here, at Wallis Annenberg Hall, that the ancient craft of storytelling will converge with digital media."
CW News Los Angeles affiliate KTLA-TV (VIDEO) also covered the event, and called the building a technological marvel whose opening had "all the fanfare of a USC football game."
Los Angeles' independent broadcaster KSCI / LA18 (VIDEO), which broadcasts local news in Vietnamese, Mandarin Chinese and Korean to Southern California's over 2.5MM Asian American residents, was also present for the Grand Opening event.
---
LA Curbed: Take a Look Inside USC's Flashy New Media Building
Along with a series of images from USC Annenberg's Flickr page and a video on the school's new building, LA Curbed noted "all the bells and whistles" of the new Wallis Annenberg Hall. Specifically highlighted were:
the 20,000-square-foot media center with a newsroom
studios for "digital, broadcast and radio and direct-to-Web vodcast production"
more than $8-million worth of technology
four-story atrium
a Greek-style assembly forum
a 148-seat auditorium
the cafe
---
Julie Chen Visits USC Annenberg
Earlier this semester, Entertainment Tonight featured a lecture by USC alumna Julie Chen of CBS' "The Talk," who was Wallis Annenberg Hall's first official guest speaker on August 26.
Wonderful night speaking to students at my alma mater in the new @USCAnnenberg! Thanks for having me. #ASCJ #fighton pic.twitter.com/9eI567Oy4N

— Julie Chen (@JulieChen) August 27, 2014
The Huffington Post also covered the talk.
---
Eyewitness News: Reporter and USC Annenberg Alumnus Visits Building
At the beginning August, ABC 7 Eyewitness News aired a segment (VIDEO) on Wallis Annenberg Hall's construction featuring Eyewitness News Reporter and Annenberg alumnus Elex Michaelson's visit to the Hall on its final media day.
Video: Perhaps the most innovative part of the new #USC #Annenberg School is this do it yourself studio. It rotates to allow for different backgrounds. Users can control the cameras, video feeds, graphics, TelePrompTer all by themselves while broadcasting their own show.
---
PBS MediaShift: How Much Does Physical Space Matter in Journalism Education?
PBS MediaShift's special report on Wallis Annenberg Hall highlights the new space and it's impact on learning. "The building itself offers opportunities for learning in formal and informal settings," Journalism School Director Willow Bay said. One such setting is the Media Center, where "all the Annenberg news organizations — print, online, radio and television — gather to create, collaborate and innovate."
---
Voice of America: Internet, Technology Offer New Tools for Journalists
There are now more ways to tell a story than ever before, Voice of America points out, and USC Annenberg is teaching the next generation of journalists with the help of a state-of-the-art newsroom in the new Wallis Annenberg Hall.
---
MyNewLA: USC to Christen $59.3 Million Journalism, Communications Building
MyNewsLA.com quotes Dean Wilson and touts the new building as a technological marvel that will "house high-tech classrooms, collaborative meeting areas and a state-of-the-art student newsroom focusing on innovative media technologies."
---
The Daily Trojan: Wallis Annenberg Hall Open for Fall Classes
The Daily Trojan on Wallis Annenberg Hall: "The central features of the building is called the forum, described as, 'a four-story atrium with skylight, open seating and media display tower,' which will serve as the lobby for the building."
---
Medzerian: New campus digs at USC leave room for professional uncertainty
David Medzerian, senior editor of the Los Angeles Register and an Instructor in our Journalism school, meditates on the first days of a new academic year and shares first impressions of the new building: "At its heart is the student media center, nicer than any newsroom the students will ever work in after graduation."