Truman Burbank is on his knees digging around in his garden. His rear end is to the camera as his wife, Meryl, dressed in her nurse's uniform, arrives home on her bike. "Hi, honey," she says. "Look what I got free at the checkout." Pulling out the Chef's Pal from her perfectly arranged grocery bag, she looks straight into the camera. "It's a dicer, grater, peeler, all in one!" she pitches with a bright smile. "Never needs sharpening — is dishwasher safe!"
In The Truman Show — starring Jim Carrey and Laura Linney — these not-so-subtle product placements awkwardly embedded throughout the film seem ridiculous. Truman is the only one not "in the know" that his entire life is being filmed for public consumption, with no breaks for commercials. The brazen enthusiasm with which his family and friends hawk their wares is completely lost on him. Having his life constantly invaded by brands is part of his reality.
Twenty years after the film's debut, we stand in Truman's shoes. Sponsored posts and influencer recommendations infiltrate our lives to create a seamless, 24/7 advertising and marketing barrage.
"Back when The Truman Show was released, people's standard for advertising and endorsement was based on television, billboards and magazines," said Robert Kozinets, Jayne and Hans Hufschmid Chair of Strategic Public Relations. "The thought of regular people, like me, endorsing something was kind of silly. But with the advent of technology and then media turning into social media, regular people now had permission to start speaking about brands in their lives in a whole new way."
Kozinets explains that marketers in the late aughts registered this, bringing about the influx of influencer or "word-of-mouth" agencies. The idea of using influencers to market a product is not new. For centuries, companies have been relying on the endorsements of the famous to showcase their brand's prestige.
In 1765, British entrepreneur Josiah Wedgwood distinguished his china by producing a cream colored tea set for King George III's wife, Queen Charlotte. The set quickly became known as Queensware, and for consumers "Wedgwood china" became synonymous with elegance.
"Celebrities for years have sold their name and image to promote goods and services, but it was done in a more untouchable, unknowable way," said Lindsay Miller, online news and cultural director at PopSugar.
In the '50s, Ronald Reagan and Rock Hudson plugged cigarettes, and later Elizabeth Taylor attached herself to a number of fragrances — but there was still a separation from the star and the product. Audiences were aware these were advertisements that did not necessarily reveal anything about the celebrity as a person. Then social media exploded in the 2000s.
"We now had a ticket to an inside look at celebrities' lives," continued Miller, who graduated with a bachelor's degree in print journalism in 2006 and a master's in professional writing in 2010. "This humanized celebrity in a major way and opened the door for these 'real people' to make their mark in their chosen field of passion or expertise. It democratized the idea of celebrity itself."
However, Kozinets also points out that "influencer" as used to describe this new, democratized celebrity is just an industry term. He cautions that it's not how people actually think about it.
"We don't want to follow an influencer now," he said. "We want to follow someone who speaks in an authentic and helpful way. We're looking for someone to help us solve a problem or get a new perspective on our life."
The challenge comes with managing this authenticity. For Kozinets, and USC Annenberg alumni experts in the field, a modern-day influencer's trajectory and success hinge on how they assert their expertise and forge partnerships.
Build followings and friendships
Sophie Elkus was the kind of friend you'd turn to if you had no idea what to wear on a date. She had this knack for combining an exaggerated bell-bottom flare with a pared-down, feminine silk blouse.
Growing up in Pacific Palisades, a coastal neighborhood on Los Angeles' Westside, Elkus filled her bedroom with "vision boards," collecting images torn from Vogue and Elle, and dreaming of a career in fashion. When she was a junior in college, she started her fashion blog, Angel Food Style, and her first fans were her sorority sisters at Kappa Alpha Theta.
"Initially, I just posted text and some photos," she said. "It was two-dimensional, and I didn't have any personal connection to my audience. Once social media blew up, it allowed my readers to see me every day and feel like they were right there with me."
Graduating from USC Annenberg in 2014 with a degree in public relations, Elkus watched her friends go off to mostly office jobs, while she dedicated herself full-time to her blog, building her social media following and collaborating with brands.
Now, at age 26, as she continues to build her microcelebrity status, Elkus herself is at the cusp of two much-sought-after generations for marketers: Gen Y (or millennials, 1980s to the mid-1990s) and Gen Z (or Gen Blend, mid-1990s to early 2000s). In particular, according to Forbes, Gen Z is poised to make up 25 percent of the U.S. population, more than the baby boomers or millennials.
"Gen Blend judges with their eyes first," writes Deanne Yamamoto, managing director at Golin LA, in the USC Center for Public Relations' annual Relevance Report. "They don't want polish or perfection. Instead, they want people who look like and believe in the same things that they do."
Yamamoto, who graduated with a B.A. in communication in 1992, notes that "the story behind the story" is key for influencers like Elkus.
"It's why celebrities are dwarfed by the Instagram influencers and YouTubers who are their makeup artists, designers and personal chefs," Yamamoto writes. "Influencers are seen as trustworthy and relevant because they have expertise in the types of products they promote and engage with."
A recent survey by digital agency Deep Focus found that more than 60 percent of Gen Z prefers to see real people, not celebrities, in ads.
"I think folks got tired of aspirational advertising," said Joy Ofodu, who has been designing microinfluencer campaigns since graduating in May with a bachelor's degree in communication. "Sure, it's cool to see Kobe Bryant and Ayesha Curry selling things, but nowadays we want to know that companies are actually about what they say they're about."
The easiest way to demonstrate that, according to Ofodu, is to put the product in the hands of everyday people. She believes brands should let the influencer show off the product to their networks, as they are better able to explain why it matters to them.
"A few years back, it was tempting for people to think 'Oh, this person has two million followers, we should definitely do something with them,'" Miller added.
Not necessarily anymore. Miller noted that brands are starting to move away from working with people who are famous for being famous. They want to see the individuals promoting their product as having legitimate clout in whatever arena they're influential in, whether it's fashion or beauty or sports. Marketers are less concerned with followers and more interested in engagement.
"To be really successful now," Miller said, "you need to have a strong point of view or some real level of expertise to have staying power."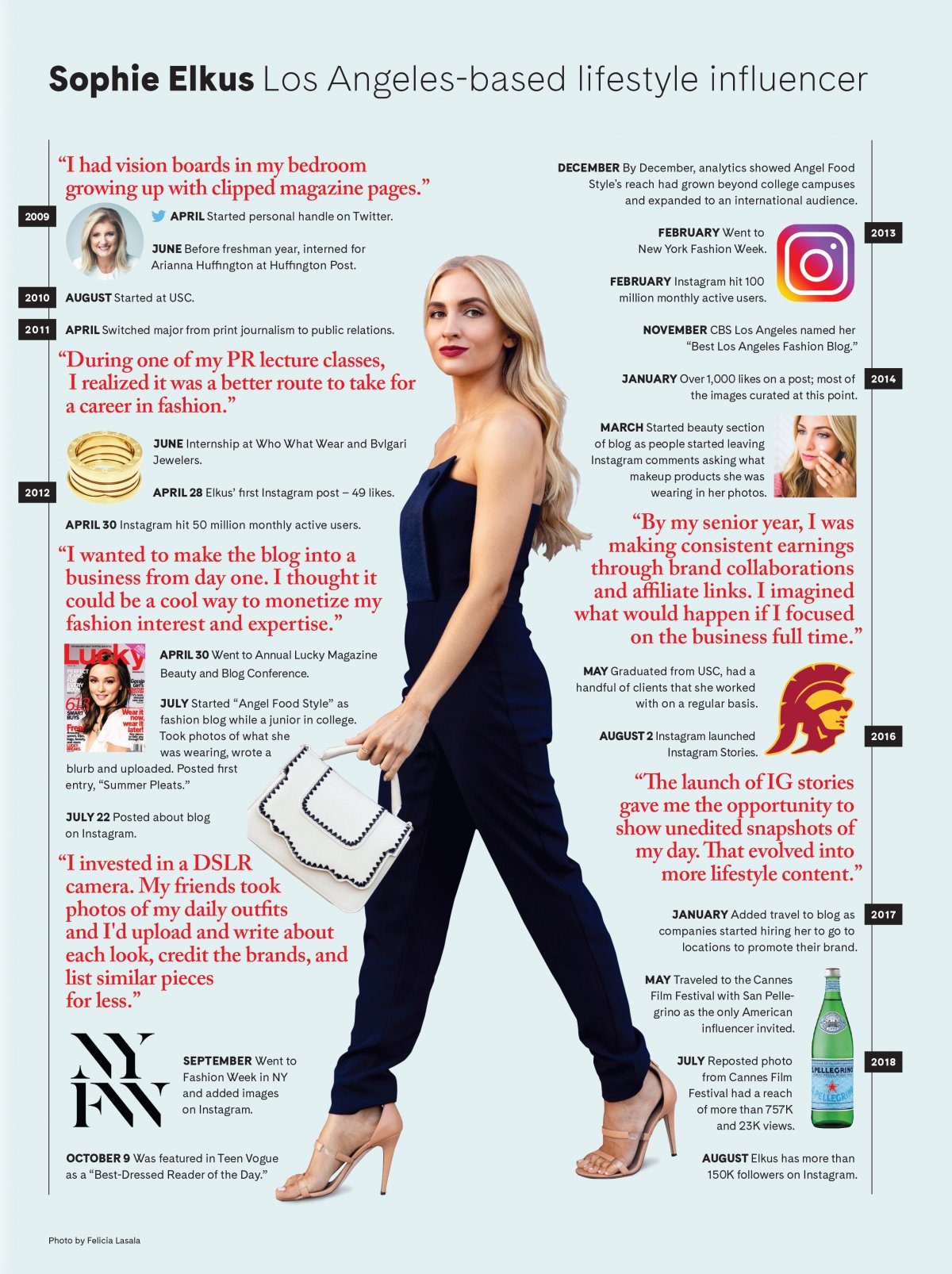 This is not an ad buy
Even though brands recognize the power of influencers, Elkus points out that some of her clients are still reluctant to give away all the creative power.
"A lot of brands are still figuring out how to do this," she said. "Brands hire bloggers and influencers to take advantage of the trust they've built with their audience; brands use that trust to promote a product that the influencer genuinely likes. But if a caption is edited too much, it no longer retains the voice of the influencer and is no better than printing an ad in a magazine."
Tiffany Everett, who started her career in PR working for clients like Activision and Nike, explained that traditionally if a company such as Nike engages a star athlete to promote its brand, the expectations are clear.
"A paid star athlete will talk about how they love Nike and Nike will drive that message," she said.
However, Everett, who currently works as the director of digital for Golin and earned a B.A. in communication in 2002, advises her clients to consider influencers their partners rather than giving them stringent rules and guidelines.
"As a brand, if you reach out to an influencer because you like their content and are impressed by their audience, respect their process and see yourself more as a collaborator with them," Everett said. "Avoid giving them too strict guidelines, like mentioning your brand 10 times within their video. Instead, help them find natural ways to incorporate your brand in ways their fans will be most receptive to."
"This is not an ad buy. This is not a TV commercial. This is a partnership," she said.
Establishing a true synergy between a brand and what an influencer is already sharing is critical. Otherwise, as Ofodu observes, the result is "odd" when someone all of a sudden starts pushing "mascara to the masses" when she's never advocated for a specific product on her Instagram feed before. Ofodu believes that it takes time and discretion to select a brand that your audience will believe that you are actually using. "Better yet," she adds, "if you don't even know it was an ad in the first place."
Yamamoto encourages brands to rewrite the rulebook if they want to win the hearts, minds and e-wallets of Gen Z.
"The world according to Gen Blend is changing at internet speed," she said. "Brands that are inclusive, thoughtful and swift to act will be relevant, swipe right. Otherwise, swipe left."
Kozinets will be enlisting his students to start writing the playbook this spring, when he teaches a new course focused on the quickly evolving field of influencers and influencer marketing.
"This isn't just about promotion, this isn't just about public relations," he said. "This is the frontier of where capitalism is going. It's personalized, it's expertise-based, it's technology all wrapped into one."