The 26th Annual Kenneth Owler Smith Symposium held on April 14 gathered public relations executives, CEOs, and USC Annenberg students and faculty for a multi-part look at the changing face of public relations.

Titled "Back to the Future: A Conversation About the Future of Public Relations," the symposium was organized by the USC Annenberg Center for Public Relations (CPR) and included the first ever meeting of CPR's Board of Advisors. It also featured a review of CPR's recently released Global Communications Report, and a wide-ranging discussion between legendary public relations executive Al Golin, chairman and CEO of public relations firm Golin, and School of Journalism Director Willow Bay.
Golin, a public relations pioneer, captivated the audience by sharing how he launched his career in 1956 with a cold call to McDonald's founder Ray Kroc. Golin said he told Kroc directly that McDonald's--then just a fledgling fast-food company--was so young and poorly financed that public relations would be the most economical way to get their story across to the public. After a half hour meeting, Kroc told Golin he'd landed the company's business, thus beginning a 60-year relationship.
"They couldn't afford advertising for many years, so public relations really had to do everything for them to gain exposure because nobody had ever heard of them," Golin recalled. "They had to sell franchises, so we had to sell the business story of owning a McDonald's before we were worrying about customers buying hamburgers."
For the students in the room, Golin added that people need to listen and build trust with brands just as he did with McDonald's.
"You never get complacent about any relationship, whether it's personal or business. We always treated them like we just got them, like a new client. We never took them for granted," Golin told the audience.
Golin also shared his thoughts on what skills were important to success in the public relations industry. He said one the key traits he looks for is curiosity, but that good judgment was also critical.
"I think you need to know the difference between right and wrong and good ideas from bad ideas."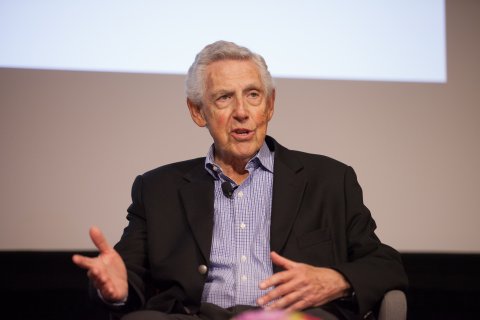 USC Annenberg / Brett Van Ort
The symposium also featured the release of a new
Global Communications Report
, a comprehensive survey of senior public relations executives. Among its key prediction is that the worldwide PR agency business will grow from its current estimated size of $14 billion to $19.3 billion over the next five years. Paul Holmes, of The Holmes Report, led a discussion about both the report and the Center itself during the symposium.
Fred Cook, director of CPR, told Holmes that his team is doing a great deal this year to revitalize the center. He said the mission of the center is to forge stronger connections between the public relations industry and USC Annenberg and its students.
"We are looking to have a lot of students involved in the future of all of our activities," Cook said. "One of the main things that I think is important for us is to engage the professional community with the student body."
Attendees were also able to meet CPR's new Board of Advisors. During this session, Dean Ernest J. Wilson III called the Public Relations program "the jewel of the school" because of its forward thinking, the closeness of its faculty and the cutting-edge nature of its research.
The new Board of Advisors expressed appreciation and excitement at the prospect of working directly with Annenberg students.
Board member Adrienne Cadena, vice president of Havas Street, said being a recent Annenberg graduate (she received her undergraduate and graduate degrees from USC Annenberg) would help her understand what students are looking to get out of the program. She added that millennials sometimes get a bad rap and that they may be uniquely suited to success in today's public relations environment.
"I loved what the Dean was saying about breaking down the silos of journalism, PR, and communications because now you have to know everything. Everything is integrated, you have to know the digital space, you have to know social media, you have to know all the aspects of communications. I think that's something millennials can bring to the table," Cadena said.
Another Board Member Bill Imada, founder, chairman and chief connectivity officer of IW Group Inc., echoed Golin by saying he believed nurturing curiosity and good judgment were the keys to creating the next generation of public relations professionals.
"You all have an opportunity to push back. I want someone who can challenge me every single day in the office about what's happening in the world," Imada said. "I encourage people to test, question, and criticize what they see and challenge themselves further."
Annenberg students attending the symposium were grateful for the opportunity to learn from the professional public relations community.
Clelia Rigaud, a second-year graduate student in Public Relations, attended the entire symposium. Even though she will be graduating soon, she said she was eager for the chance to find out what was going on in the field outside the classroom.

"I thought the most useful part was to hear what they are looking for when hiring someone and what skills are the most crucial in order to succeed," she said.