USC Center for Public Relations
Global Communications Report
Public relations executives from across the globe contributed to the future of our dynamic profession by participating in a Global Communications Report we conducted this spring in conjunction with the Holmes Report, the Institute for Public Relations, the Global Alliance for Public Relations and Communication Management, the International Association for Measurement and Evaluation of Communication, the PR Council, the Worldcom PR Group and PRSA.

The Global Communications Report is designed to provide unprecedented insight into the evolution of the global communications industry by analyzing emerging trends in talent, structure, compensation and diversity on both the client and agency sides of the business. More importantly, the Report will help those entering the PR industry better understand the skills and traits they will need to be successful.

To access the Executive Summary of the Report, please click here. 
Journey through the 26th Annual Kenneth Owler Smith (KOS) Symposium
Join us for a journey from the past to the future during the 26th Annual Kenneth Owler Smith Symposium on April 14 with Fred Cook, CEO of Golin, and newly-appointed Director of the USC Annenberg Center for Public Relations (CPR), featuring a conversation with Willow Bay, Director, USC Annenberg School of Journalism, and Al Golin, Chairman of Golin, about how dramatically the business has changed since he started his agency 60 years ago.
Please click on the photos here and here from the 26th Annual KOS.
The USC Center for Public Relations -- Shaping the Future of Communications
Based at the Annenberg School in the heart of Los Angeles, the USC Center for Public Relations (CPR) is truly at the center of one of the world's most dynamic professions -- connecting corporations, agencies, academics and students to define the future of our industry and to develop those who will shape it.
Fred Cook_USC Announcement from Golin on Vimeo.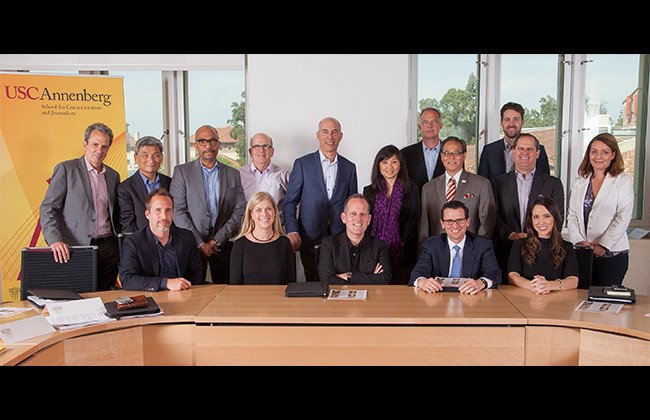 Meet Our Board of Advisors
The USC Annenberg Center for Public Relations (CPR), a think tank that connects the school and its students with the $14 billion global PR industry, recently announced a new Board of Advisors. The Board will be led by new Center Director and Golin CEO Fred Cook, the first active CEO to lead a center at the USC Annenberg School for Communication and Journalism.
The PR Center's 27-member Board of Advisors is a who's-who roster of industry-leading communications professionals from the agency and corporate world.  Please click on each link below to learn more.
Meet Our Team
Contact Us
For more information about The USC Center for Public Relations (CPR) please contact:
Fred Cook
fcook@usc.edu

Director, The USC Center for Public Relations (CPR)
USC Annenberg School for Communication and Journalism
3502 Watt Way 
Los Angeles, CA 90089 
Meet Our Sponsors